David Cameron and Boris Johnson have laid wreaths at the 7/7 memorial in Hyde Park at the beginning of a day of remembrance ten years after terrorists detonated four bombs across the capital killing 52.
The Prime Minister has tweeted ahead of a day of remembrance a decade after the London July 7th bombings.
David Cameron tweeted to say that: "the threat continues to be as real as it is deadly – but we will never be cowed by terrorism."
At 11.30am today, the country comes together to remember the victims of one of the deadliest terrorist atrocities on mainland Britain.
Ten years on from the 7/7 London attacks, the threat continues to be as real as it is deadly – but we will never be cowed by terrorism.
Advertisement
The leader of a prominent Muslim organisation set up a month after the 7/7 attacks to campaign against terrorism and prevent radicalisation says there is still work to do, ten years after the attacks.
Mohammed Shafiq from the Ramadhan Foundation was in London on the day of the bombings and said he "saw the best of London, people of all faiths coming together in unity to send a defiant message to the terrorists that you may wish to divide our communities but you will fail and they did indeed fail".
Today ten years on from the 7/7 terrorist attacks we remember all those killed and injured and their loved ones. They were killed by evil men who were driven by hate and a poisonous ideology, which has distorted Islamic teachings. British Muslims stood with the victims on that day and do so again today; we reject this terrorism and ideology and commit ourselves to work with all to protect the safety and security of our country and fellow citizens. The terrorists were not acting in the name of Islam, their crimes are an affront against our peaceful religion and Muslim scholars from around the globe have rejected this ideology.

Sadly we still have more work to do, there are too many young people being groomed by ISIS online and in recent days more families choosing to put their own and their children's safety at risk by travelling to Syria. We need to engage young people, give them a voice and hear what it is that drives them to carry out this violence. Not to do this or ignoring young people will not help us defeat this ideology. As British Muslims, we stand with the Police and intelligence agencies for the hard work they are doing to protect our nation and stand ready to help them.
– Mohammed Shafiq, Ramadhan Foundation
Paul Dadge become the unwitting face of the 7/7 rescue effort after a picture of him helping a woman in the aftermath went around the world.
Read the full story ›
A woman from Sheffield who survived the 7/7 bombings says she will take time out of her day today to remember those who lost their lives.
Read the full story ›
David Cameron has warned that the threat from terrorism remains "as real as it is deadly", as the UK marks ten years since bomb attacks killed 52 people in London.
In a statement, the Prime Minister - who will attend services across the capital later - called the attacks "one of the deadliest terrorist atrocities on mainland Britain".
He added that the recent murder of 30 "innocent Britons" in Tunisia was a "brutal reminder" of the threat still faced, adding: "But we will never be cowed by terrorism."
We will keep on doing all that we can to keep the British public safe, protecting vulnerable young minds from others' extremist beliefs and promoting the shared values of tolerance, love and respect that make Britain so great.
– David Cameron
Advertisement
A list of commemorative events as the UK marks a decade to the day 52 were killed and hundreds injured in London terror attacks.
Read the full story ›
London was in a celebratory mood on 7 July 2005, but everything changed when three suicide bombers attacked the capital's transport network.
Read the full story ›
The Imam of Leeds' largest mosque has joined survivors of the 7/7 London terror attacks, plus leaders from the main faiths, to honour the 52 people killed almost ten years ago.
Imam Qari Asim walked with Christian and Jewish leaders toTavistock Square, where a bomb destroyed a bus in 2005.
Four suicide bombers from West Yorkshire exploded their devices on the transport system, bringing carnage to the capital.
Imam Asim said it was important to send out a message of solidarity with the victims of 7/7.
A woman who lost both her legs in the 7/7 London bombings will be joined by faith leaders today to retrace where the devastating bombings took place nearly 10 years ago.
Gill Hicks is walking from King's Cross to Tavistock Square alongside the religious leaders in a "moment of quiet remembrance" to pay tribute to the 52 people who died.
She will carry a floral tribute reading "Together" along with Imam Qari Asim, of Leeds' largest mosque Makkah Masjid, the Rev Bertrand Olivier, vicar of All-Hallows-by-the-Tower in the City of London, and Rabbi Laura Janner-Klausner, from Movement for Reform Judaism.
My life and those around me changed forever on July 7 2005. I believe in the power and brilliance of humanity - my life was saved by strangers, people who never gave up, people who risked their own lives to save mine.

To them, I was a precious human life - my rescue wasn't dependent on my faith, my colour, my gender or wealth.
– Gill Hicks
Rabbi, reverend and imam #walktogether united against terrorism and in memory of 7/7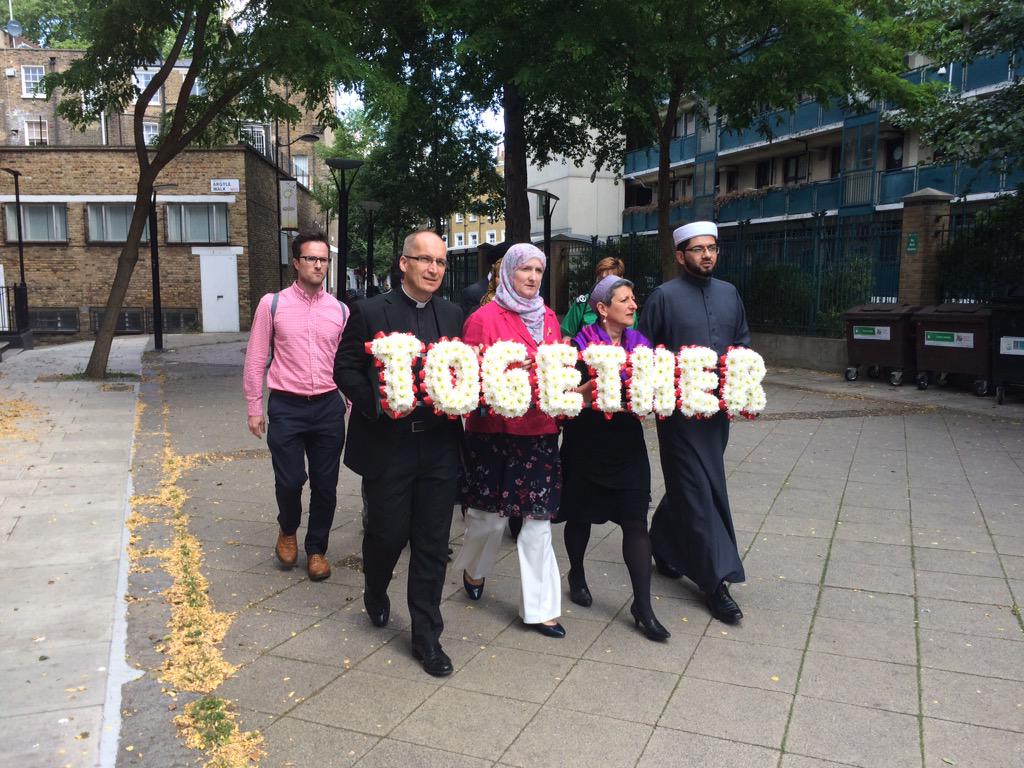 Load more updates