SEVERE One lane closed on M62 westbound between J23, A640 (Huddersfield) and J22, A672 (Rishworth Moor), because of a broken down vehicle.
Plans for more than £1.3bn of road improvements have been announced by Highways England.
The work, which will begin in 2020, includes installing smart motorway between junctions 20 and 25 of the M62, as well as improvements to the M621 between Leeds and Bradford.
Work will also be carried out on the A63 road in and out of Hull.
Advertisement
On the #M62 westbound between junctions J26 and J23, there are currently delays of 1 hour caused by congestion ... http://t.co/HSwF5QfuOE
SEVERE M62 lane closed on exit slip road and slow traffic eastbound at J26, M606 (Chain Bar), because of an accident involving two lorries.
Advertisement
Police are appealing for witnesses to a collision involving two HGV lorries on the M62.
The motorway was closed between 23 Outlane and J22 Saddleworth yesterday following the crash in which one of the drivers suffered serious head injuries.
Police believe that one of the HGV cabs collided with the rear of the second one, causing both to cross the central reservation and enter the eastbound carriageway.
The 48-year-old driver of the lead HGV cab suffered serious head injuries and was airlifted to the Leeds General Infirmary where he is in a critical but stable condition.
Meanwhile, the other driver involved received treatment for minor injuries at Oldham Royal Infirmary.
Police are appealing for any witnesses to contact them.
This is an indication of what we are dealing with on the M62. Delays will continue until the carriageway is clear. http://t.co/ov1xEyqOwh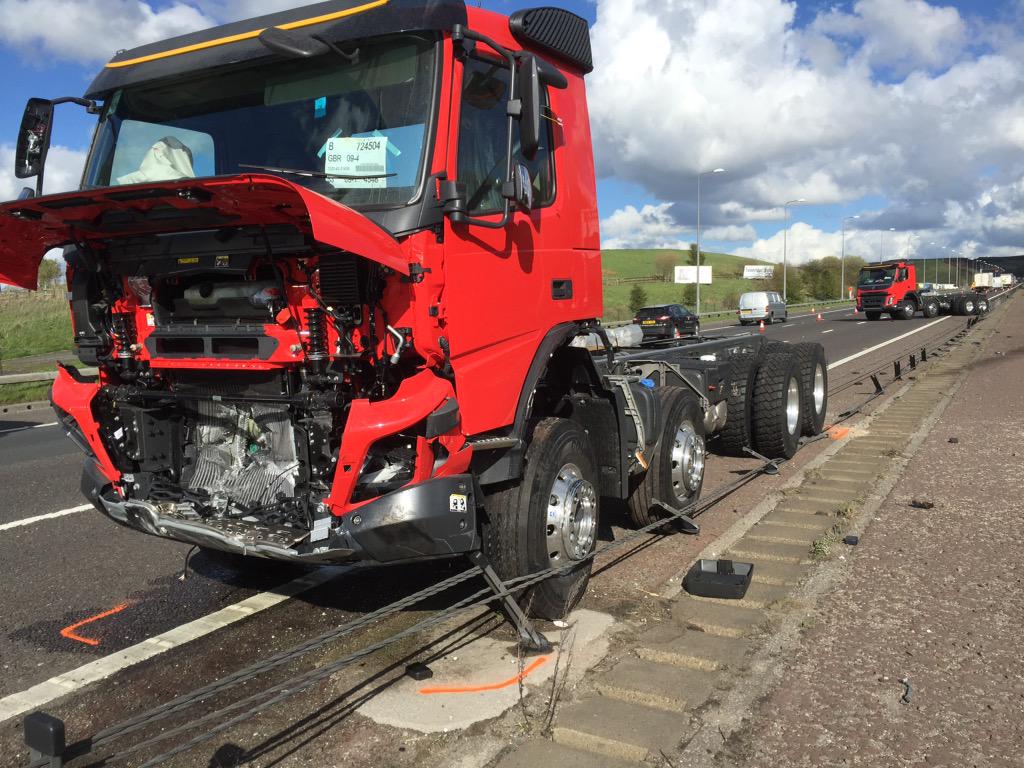 Two lanes are closed and there is queueing traffic due to an accident on the M62 eastbound in West Yorkshire.
It happened when two lorries and a car were in collision between junction 27 M621/A650/A62 (Gildersome) and junction 28 A650/A653 (Tingley).
Lanes one and two of three remain closed heading from Leeds towards the M1.
Another lane has re-opened on the M62 after an accident earlier this evening.
The congestion has affected Hull FC fans travelling to tonight's Super League game in Wigan.
We've re-opened a further lane past the scene of the earlier accident on the #M62 w/bound, J38 - J37. Clean-up crews are still hard at work.
Load more updates