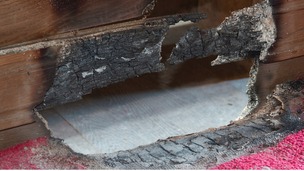 An investigation has started following an arson attack at St Peter's church in Wintringham, North Yorkshire.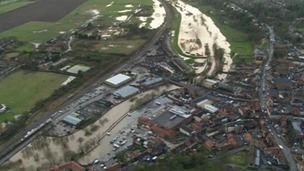 An investigation will be carried out into the flooding that occurred in Malton and Norton.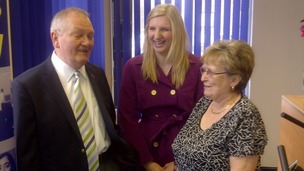 Rebecca Adlington has opened the new premises of the Encephalitis Society. The Malton-based charity is the only resource of its kind.
Live updates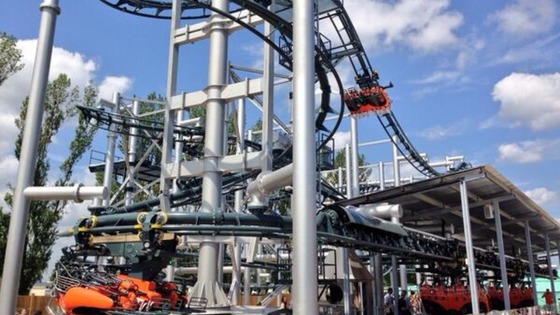 There is a boost to Yorkshire's tourism as one of the county's theme parks reveals a new ride.
"Hero" cost £8 million and has been designed to give thrill seekers the sensation that they're flying. The resort hopes that the attraction will increase the number of tourists visiting North Yorkshire.
North Yorkshire Police is at the scene of a serious road traffic collision near Malton.
Officers were called at around 8.20am after a motorcycle collided with a Nissan Cabstar pick-up truck on the B1248 Scarborough Road at Norton, near Westfield Nurseries.
The motorcyclist, a local man in his 20s, suffered a serious leg injury in the incident and is being treated at the scene by paramedics.
The B1248 is currently closed in both directions.
Anyone who witnessed the collision is urged to contact North Yorkshire Police on 101.
Advertisement
Thirsk and Malton MP Anne McIntosh is calling for more "natural" flood defences to stop towns in the region being devastated in harsh weather.
Female doctors 'a burden'
One of our region's MPs is at the centre of a controversy over the working hours of female doctors.
Anne McIntosh sparked a row after she said that women doctors who went part time after having children were a "tremendous burden" on the NHS.
Calendar presenter Tina Gelder spoke to Anne McIntosh and asked her first why she was singling out women doctors.
Female doctors 'a burden'
The North Yorkshire MP Anne McIntosh has caused controversy by claiming female doctors who want to have children are putting "a burden" on the NHS.
Female doctors 'a burden'
The NHS is facing a huge burden from female doctors who will want to have children and only work part-time, an MP has claimed.
Tory Anne McIntosh (Thirsk and Malton) said that "in the normal course of events" the 70% of medical students who are women will want to marry, start families and then go part-time.
The qualified lawyer said this puts a strain on the NHS and creates a "tremendous burden" in training female doctors who will not end up working full-time hours.
Advertisement
The Malton MP, Anne McIntosh, has welcomed the announcement that Malton's Minor Injuries Unit will be reopened on weekday evenings and during the day at weekends. It follows the controversial reduction of hours at the unit to save money in December.
I welcome reinstating daytime opening hours during the weekend. The Unit serves the farming community, many racehorse trainers and others who are at risk of injuries and need swift treatment. I am delighted that the voice of local people responding to the consultation has been heard and that the Minor Injuries Unit will be open during the day, seven days a week.
– Anne McIntosh MP, Thirsk Malton and Filey
The controversial reduction of minor injuries services at Malton hospital has been overturned. In December, opening hours at the hospital's Minor Injuries Unit were reduced to weekdays, 9am to 5pm, to save money. Now weekday evening and weekend daytime services have been reinstated.
When tests showed that new mum Frankie Wedgewood was expecting again, the young woman knew that was impossible.
And she was right. In fact Frankie, who lives in North Yorkshire, had a potentially fatal cancer - a rare form that actually mimics the symptoms of pregnancy.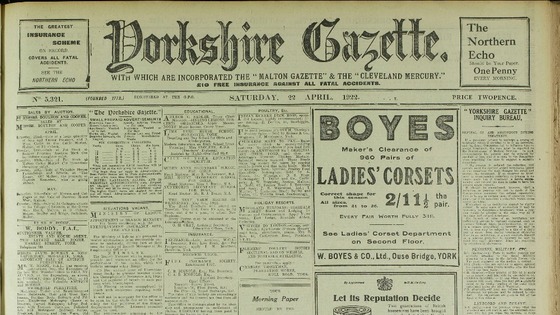 Staff at Malton library have been helping the production team of "Downton Abbey" to make sure the programme looks authentic. They were approached to create props and an exact duplicate of a newspaper from 1922 has been made for use in the next series.
Load more updates
Back to top