A British figure skater, who competed as part of the Youth Team GB Olympic Squad, is due to be sentenced today after admitting 16 sexual offences against five school girls.
Jamie Whiteman, from Mansfield, groomed teenagers who had a schoolgirl crush on him, encouraging them in a string of sexual acts as he moved from one girl to another over 20 months.
Whiteman pleaded guilty to one charge of making indecent photographs of children, eight charges of inciting or causing children to engage in sexual activity, one charge of voyeurism and four charges of sexual activity with a child.
The s/bound carriageway of the #M1 has been reopened following the lorry fire. Please bear with us as we try to get everyone moving safely.
Advertisement
The M1 motorway has been closed in both directions between Junction 28 and 29 this afternoon after a lorry caught fire.
Pictures posted on social media showed thick black smoke in the sky.
The blaze, close to Mansfield, is now believed to be under control but the motorway lanes remain closed.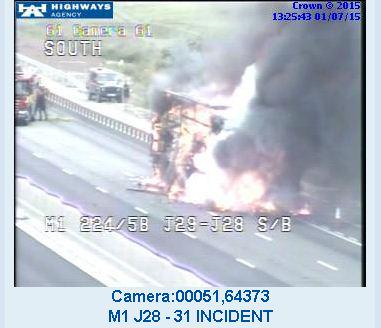 Crews dealing with lorry fire on M1 - M1 closed between j28-29 Working with partners to re-open Asap&will inform when http://t.co/Tgx6dIc1aC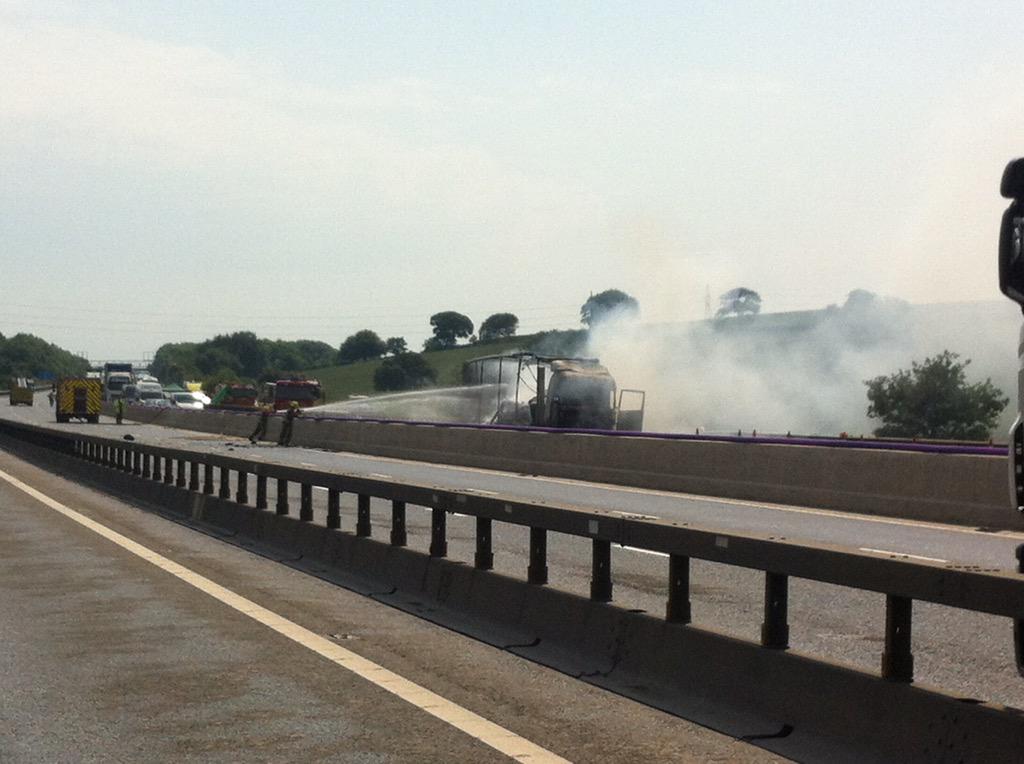 A British Olympic figure skater has been warned he could be jailed after admitting 16 sexual offences against five schoolgirls.
Read the full story ›
Police are being investigated over concerns they failed to act thoroughly on reported sightings of the schoolgirl Amber Peat before she was found dead.
It's just under three weeks since the body of 13-year-old Amber was found by officers less than a mile from her home in Mansfield - three days after she went missing.
Amber was found hanged after vanishing from her home following a row with her mother and stepfather. The police watchdog is investigating whether officers missed opportunities to find her. Sally Simpson reports.
Nottinghamshire Police says it has voluntarily referred itself to the IPCC in relation to its handling of the Amber Peat case.
We made a voluntary referral to the IPCC and will fully support their investigation. Referrals like this are part of standard procedure for cases with such high public interest, we do this to ensure transparency.
– Nottinghamshire Police
Advertisement
The Independent Police Complaints Commission (IPCC) has launched an investigation into Nottinghamshire Police's response to the disappearance of tragic Mansfield teenager Amber Peat.
It is believed the force voluntarily requested that a review is carried out by the watchdog.
Amber, 13, went missing from her home in Mansfield earlier this month. Her body was found after a four-day search. Test revealed the cause of death as hanging.
Detectives investigating a hit and run incident in Mansfield, in which a man was knocked to the ground, say he is lucky not to be injured more seriously.
The victim escaped with minor injuries and bruising after a car mounted the pavement and struck him.
Officers believe the driver may have been involved in an altercation with a group of people outside a nearby pub shortly before incident.
Phil Brewster reports:
Police in Mansfield are appealing for witnesses following a hit-and-run in the town.
Officers investigating the incident have released CCTV in the hope it may bring someone forward with information.
The victim was stood on Leeming Street at around 4.45am on Monday 6 April, 2015, after leaving the Rewind night club on 6 April, 2015.
He was struck by a dark-coloured Skoda Octavia which mounted the pavement. The car also collided with an electric box before heading off in the wrong direction up a bus lane and travelling down Clumber Street, again in the wrong direction.
It is believed the car was parked in Leeming Street prior to the incident and that the driver may have been involved in an altercation with people outside the Bowl in Hand pub.
Detective Constable Kelly Holloway: "Unbelievably the victim did not sustain major injuries and is currently recovering well. Had the car not struck the electric box this incident could easily have ended in tragedy.
A 19-year-old man has been arrested on suspicion of malicious communication following the publication of an offensive Facebook post.
The man, who lives in the London area, is accused of making the post on social media during the inquiry to find missing school girl Amber Peat.
The man was arrested by the Metropolitan Police and is currently in custody.
Load more updates