Live updates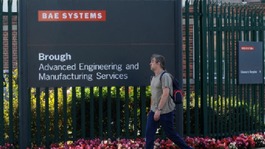 Defence giant BAE Systems today confirmed talks over a potential merger with Airbus aircraft manufacturer EADS.
Read the full story
BAE merger talks
Union officals representing workers at BAE systems in East Yorkshire have reacted with concern to news of a potential merger with another firm.
It's reported BAE - which employs around eight hundred people at their plant in Brough is considering teaming up with the parent company of Airbus. It's understood a final deal hasn't been reached but talks are said to be at an advanced stage.
Advertisement
Back to top