Live updates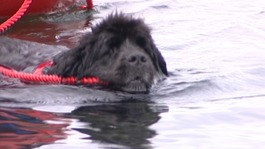 A group of Newfoundland dog enthusiasts have been training their animals to perform water rescues.
Read the full story
Some Newfoundland dogs in South Yorkshire have been making a real splash. It is a little known fact that these gentle giants of the canine world are incredible swimmers and in some parts of Europe are used as water rescue dogs.
A group of enthuasists from Doncaster have started their own club to show just what their beloved pooches are capable of and show their potential as real lifesavers. Charlie Garforth went to see them in action.
Advertisement
Back to top