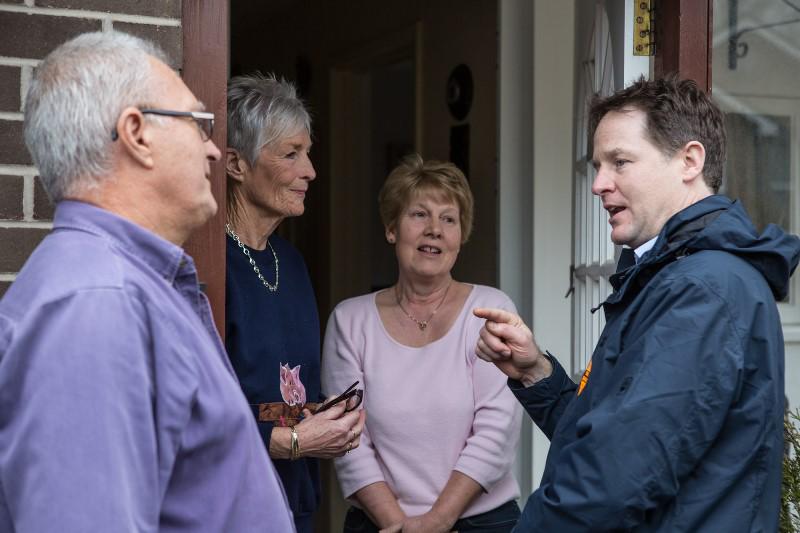 Senior Liberal Democrats are once again pledging their loyalty to Nick Clegg tonight, as a botched coup to oust him as leader continues to cause embarrassment.
The Sheffield Hallam MP said he 'didn't believe for a second' that the Business Secretary Vince Cable had been plotting against him.
The Liberal Democrat peer Lord Oakeshott resigned on Wednesday after leaking a poll showing Nick Clegg could lose his seat, claiming Vince Cable knew about the research.
Our Political Correspondent Paul Brand reports:
Advertisement
It is the Liberal Democrat Spring Conference in York this weekend and its leader - Sheffield MP & Deputy Prime Minister Nick Clegg - says he is relishing a head-to-head with UKIP's Nigel Farage.
As Mr Farage's party vies to take on all parties at the forthcoming European Elections the conference is likely to focus on Europe and Tax - and the Lib Dem leader insisted there is still plenty on offer from the party to voters in our part of the world.
Claire Ashforth was there to meet him.
Claims have emerged that South Yorkshire is missing out on millions of pounds of European Union funding - because the cash is being diverted to Scotland instead.
The Deputy Prime Minister and Sheffield MP Nick Clegg today denied Labour claims that he's been 'asleep at the wheel' by allowing a 50 percent cut in EU money. He says funding will actually rise this year.
But his opponents say he's fiddling the figures, with cash being shifted to other regions. Our Political Correspondent Paul Brand reports on the row.
Nick Clegg has accused Labour of 'shocking hypocrisy' for claiming that the government has cut EU funding for South Yorkshire.
The Deputy Prime Minister insisted that spending would go up this year, from £20m to £23m. But the funding is actually dished out in lumps of six years, and in 2007-2013 it was £350m, with most of that spent at the beginning of the period, which is why spending was so low last year.
In 2014-2020 it will only be £178m - a 50% cut on the previous round. Labour say Nick Clegg - a Sheffield MP himself - has been 'asleep at the wheel', allowing a huge cut to South Yorkshire while richer regions have been given more money.
Click below to watch Calendar's political correspondent Paul Brand quizzing Clegg over the cuts:
Liberal Democrats have accused Prime Minister David Cameron of scuppering plans to allow voters to get rid of MPs who misbehave - a plan Sheffield Hallam MP, Nick Clegg was keen to push through.
The coalition agreement of 2010 included a promise of early legislation to introduce a "power of recall" allowing voters to force their MP to face a by-election by raising a petition of 10% of constituents.
But the Lib Dems said that Mr Cameron has now blocked a bill to create a recall power from inclusion in the final Queen's Speech of the Parliament.
If no bill is included in the Speech, expected in May, there is virtually no chance of it becoming law before the UK goes to the polls for next year's general election.
The coalition agreement sealed by Mr Cameron and Lib Dem Deputy Prime Minister Nick Clegg in the wake of the inconclusive 2010 election included a promise on recall in response to widespread voter discontent about the House of Commons' expenses scandal.
The agreement stated: "We will bring forward early legislation to introduce a power of recall, allowing voters to force a by-election where an MP is found to have engaged in serious wrong-doing and having had a petition calling for a by-election signed by 10% of his or her constituents."
Advertisement
Watch Deputy Prime Minister Nick Clegg in action as he takes on three times world squash champion Nick Mattews from Sheffield. The pair were at the Hallamshire Tennis and Squash Club at the launch of a scheme to get more youngsters interested in the game.
And the Sheffield Hallam MP didn't have a lot of choice when the champion challenged him to play!
Deputy Prime Minister Nick Clegg proved himself a good sport - by daring to take on world squash champion Nick Matthews from Sheffield.
Nick became world champion for the third time in November and tonight he launched a new scheme which he's hoping will deliver the squash stars of the future.
Mr Clegg, the MP for Sheffield Hallam, joined him at the Hallamshire Tennis and Squash club - and bravely accepted his invitation for a knockaround.
Sheffield Hallam MP and Deputy Prime Minister Nick Clegg was in West Yorkshire today to deliver a multi-million pound boost to two local firms. More than 300 new jobs will be created thanks to cash from the Regional Growth Fund.
Packaging firm Really Useful Products in Normanton near Wakefield has been given £1million towards its expansion plans which will create 175 jobs.
And £2million has been given to Leeds bed maker Harrison Spinks which will help create 138 jobs, and protect 40 more, as it develops a new recyclable spring technology to replace foam in their beds.
Then Mr Clegg popped into the Calendar studio to answer viewers questions, but the Deputy Prime Minister appeared to be unsure exactly how much the National Minimum Wage is.
For those who do not know, it is £6.31 an hour for 21 year olds and over.
Nick Clegg has asked for boxing gloves for Christmas - but has declined to admit who he will imagine punching with them.
The Deputy Prime Minister said he used them at weekly kick-boxing sessions because it "gets stuff out of my system".
But the gloves supplied by his gym were "slightly smelly" so he hoped to get a Liberal Democrat-yellow pair as a present from his wife, Miriam.
Mr Clegg was talking on a festive version of his weekly Call Clegg phone-in on the radio - recorded at the Children's Hospital School, Great Ormond Street.
"This is so going to be misinterpreted - but I've actually asked for a pair of boxing gloves", he said. "Not to wear them in the House of Commons, although come to think about it, maybe I should. It's because once a week, I go to a gym and... I do these exercises.
"The boxing gloves in the gym are slightly smelly. So I thought I may as well just ask for my own boxing gloves and I'll take them to the gym. "It's just really good exercise. So I've asked Miriam for a pair of 12oz boxing gloves."
Load more updates