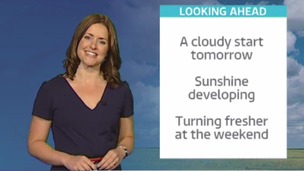 Calendar weather update with Amanda Houston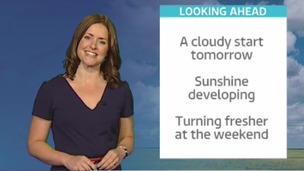 Calendar weather update with Amanda Houston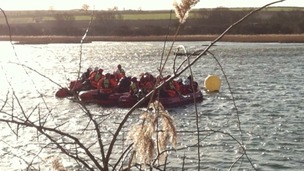 Memorial services are being held today to mark the 60th anniversary of the Great Flood, which claimed dozens of lives on the East Coast.
Live updates
A seagull has been rescued after being discovered covered in yellow paint.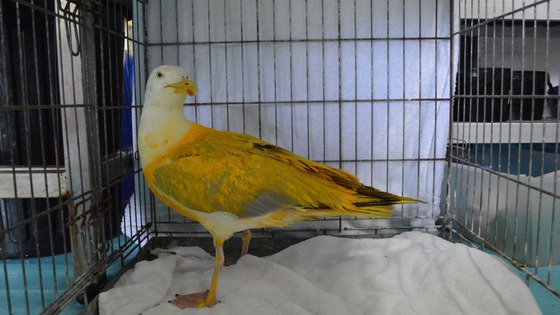 The Scarborough Sea Life Centre investigated reports from holidaymakers in the area.
It was first thought the bird had a rare plumage but after trapping the bird, aquarist Andy Jayes realised it had been covered in red paind.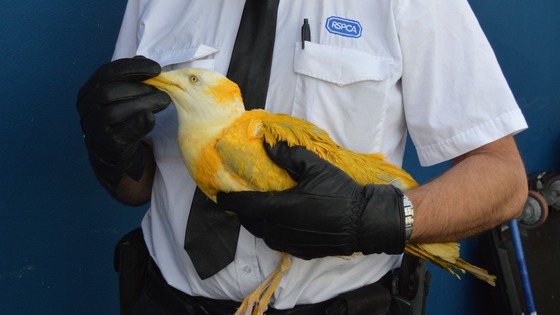 RSPCA Inspector Geoff Edmunds, who collected what proved – underneath the paint-job – to be a herring gull, speculated it may have been the victim of a prank linked to the Tour de France.
We know there were sheep spray-painted with washable yellow paint to mark the visit of the Tour de France. It's likely someone thought it was a clever idea to paint a seagull as well.
– Lia Bull, Scarborough Sea Life Centre

Though still able to fly short-distances, the gull would inevitably have died as a result of the damage to its plumage.

It is now recuperating at a specialist RSPCA wildlife centre in Cheshire.
Advertisement
Ice hockey players and ice skaters in Grimsby, who have been campaigning for their local rink to reopen, are celebrating after councillors today agreed to spend more than £200,000 to install a temporary rink in the town. And they announced plans to look for a private investor to build a new centre. Fiona Dwyer reports.
Sheffield's world squash champion Nick Matthew has been chosen to carry the English flag at tomorrow's Commonwealth Games opening ceremony in Glasgow.
Matthew, who was voted by his fellow athletes to be England's flagbearer, will be defending both the individual and doubles titles he won at the Commonwealth Games in Delhi 4 years ago.
He is the second Yorkshire athlete to carry the flag, with Hull's Karen Briggs having done so at Auckland in 1990 and says he is honoured to have been chosen:
Advertisement
Two years on from the London Olympics, boxing star Nicola Adams is back in the medal hunt.
Yorkshire will be well represented at this summer's Commonwealth Games in Glasgow with Adams and Sheffield squash player Nick Matthew among the favourites.
Chris Dawkes has been to meet Leeds boxer Qais Ashfaq who is hoping to punch his way into the reckoning:
A housing charity says it has seen a 76 per-cent rise in calls from people in Yorkshire and Northern Lincolnshire who are struggling to pay for their homes.
Shelter says it spoke to more than 600 people asking for advice after struggling to pay their rent or mortgage, or going into debt because of their housing costs.
Nadeem Kahn from the charity says it is a recurring theme:
Emmerdale viewers were left in suspense after bride to be Kerry was caught red-handed kissing her future brother-in-law.
We sent Daniel Harris behind the scenes to find out if groom Dan would even come to the ceremony:
More from Emmerdale: Producer Kate Oates give you a HUGE peek into the incredible months ahead in the Village
Humberside Police have one of the highest rates of Taser use in the country according to a new report.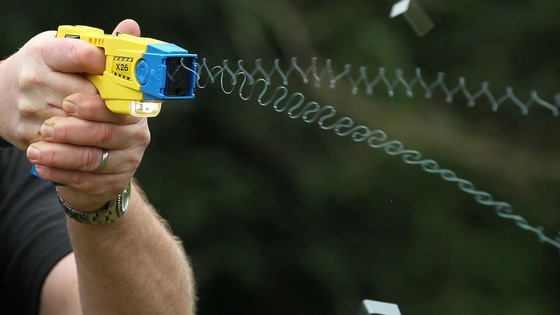 The Independent Police Complaints Commission (IPCC) found that the force used the weapon, which delivers a 50,000-volt shock, 462 times last year.
The average of 25 uses for every hundred officers is second highest in the country, beaten only by the Staffordshire force.
Lincolnshire were third highest in the country with 23 uses per hundred officers, 259 uses in total.
West Yorkshire Police used tasers 300 times with a significantly lower average of 6 per 100 officers.
North and South Yorkshire reported 157 and 73 uses with averages of 11 and 3 per 100 officers respectively.
Load more updates
Back to top