A brand new training academy set to create hundreds of hi-tech jobs has been launched in north Lincolnshire today.
The R J Mitchell Aircraft Maintenance Academy will train the next generation of fast jet plane engineers.
Based at Humberside Airport it takes its name from the designer of the famous World War Two fighter the Spitfire. Martin Fisher reports.
Advertisement
A former policeman, who stabbed his pregnant girlfriend to death has been jailed for a minimum of 28 years.
Jonathan Sutton from Huddersfield stabbed his girlfriend Emma Siswick 81 times because he wrongly believed she was cheating on him.
Sutton also stabbed two boys, aged nine and 11, in an attack that was described as "little short of torture".
The defendant pleaded guilty to Ms Siswick's murder and the grievous bodily harm of the two boys at Leeds Crown Court.
The court heard that Sutton initially attacked his partner with a glass after discovering a text message on her phone and deciding that she was being unfaithful to him. He then stabbed her with a knife before attacking the boys.
Three rooms of the house on Reinwood Road, Huddersfield, were left covered in blood.
Mr Justice Edis said Ms Siswick, 37, was pregnant at the time of her murder but the couple, who had been together just over three years, had discussed terminating the pregnancy.
He said there had been no previous assaults in the relationship, despite frequent arguments.
You have committed three offences which are as serious as it's possible to imagine.

Looking at the photographs of the house where all this happened ... is a truly horrific experience. There are three different sites in that property where very serious assaults with knives were carried out. There's blood everywhere.

You inflicted 81 separate cut injuries to Emma. She fought you to try to save herself.
– Mr Justice Edis
The murder happened after Sutton discovered a "harmless" text message and decided Ms Siswick was being unfaithful to him, which she was not.
Mr Justice Edis described the attacks on the children as "truly horrific" and told Sutton he had caused them "irreparable harm".
Your motive was anger and possessive rage

In all of your relationships, you have been obsessively jealous of the women you lived with, checking them and their conduct in ways which were demeaning and humiliating and no doubt, to them, deeply unsettling.

Because of your weakness in that regard, it appears that you simply lost your temper and in anger, without premeditation, killed her.

You were an obsessively jealous man who lost his temper.
– Mr Justice Edis
Sutton received concurrent life sentences for each of the three counts he admitted. He was told he would serve a minimum of eight years for the two charges of wounding with intent and a minimum of 28 years for Ms Siswick's murder.
Aer Lingus has launched a new route from Leeds-Bradford to Dublin airport.
For the first time in 14 years, the airline will operate two daily return flights between Leeds Bradford and Dublin and expects to carry 70,000 passengers on the route in 2015.
The Leeds-Dublin route will be serviced by the airline's newest aircraft which were delivered brand new in June this year.
This route will provide a link to the US through Dublin for Leeds-based passengers who can connect to Aer Lingus mainline transatlantic services. This includes flights to New York, Boston, Chicago, Orlando, San Francisco and Toronto.
Dublin airport provides customs and security pre-clearance for passengers travelling to the US which means they are treated as domestic passengers on arrival and so avoid long delays often associated with security checks in the US.
Leeds Bradford is a popular destination and we look forward to welcoming passengers on board and growing this route further
– Simon Fagan, Chief Commercial Officer, Stobart Air
A pensioner was knocked off his mobility scooter and left to die in the road.
82-year old Jim Dakin was riding legally along a cycle lane in Lincoln a week ago when he was the victim of a hit and run driver who struck his scooter from behind.
He fought for his life in hospital for four days but died on Tuesday. )olice have staged road blocks to try and find the driver.
Kate Hemingway reports.
Kevin Ollerhead, the lorry driver accused of the causing the death of 18-year old Bethany Jones was cleared of all charges by a united jury.
The trial heard that the collision happened on April 26 last year after the 24-seater coach suffered mechanical problems and came to a "near standstill" on the motorway.
The coach left South Elmsall, near Pontefract, at 11.00 am to travel to Liverpool for a hen party ahead of the wedding of Stefanie Firth.
The passengers on the bus very quickly became aware of signs of mechanical failure, including a smell of burning, and asked the minibus driver to stop the vehicle.
Johnson did stop the coach, which had a badly burnt-out clutch, and made a brief examination but said he could not find a problem and continued the journey.
The speed of the coach gradually slowed to a crawl until it was travelling at just 5.5mph in the nearside lane of the M62, just after junction 32, near Pontefract.
Mr Ollerhead, who was driving his lorry at 52mph, crashed into the back of the bus, shunting it 50 yards along the road and into a crash barrier, leaving it lying on its side across an exit sliproad.
He told the court he was a professional driver and there was nothing he could have done to avoid the accident.
Advertisement
England rugby league coach Steve McNamara insists that his men will not underestimate Samoa when the teams meet tomorrow morning.
Samoa secured their place in the competition back in May when they beat rivals Fiji in a qualifying match.
The England Knights were far too strong for the Islanders when the two sides met 12 months ago running out convincing 52-16 winners at Salford.
However, former Bradford boss McNamara insists that he will keep his side grounded as they enter into the tie knowing that they will have some tough opponents to contend with.
McNamara said: "I think it's only the press that are saying Samoa are the underdogs.
"We fully understand the quality of personnel in their group. Their players have been involved in finals and Grand Finals, they are a very talented team.
"They've got an ability to break tackles and run over teams so, defensively, we are going to have a real challenge on our hands."
The Chuckle Brothers have released a charity single with Tinchy Stryder.
The Chuckle Brothers speak exclusively about their collaboration with Tinchy Strider on Calendar at 6 http://t.co/eNCOwre21y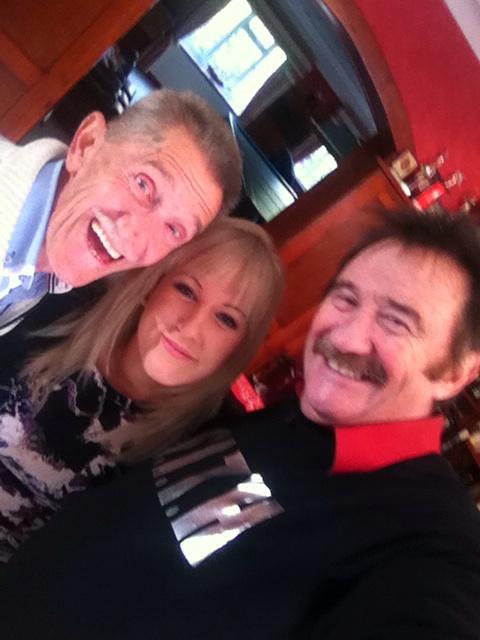 You can watch their video here.
Catherine Zeta Jones has been spotted shopping in Whitby.
The Darling Buds of May star - who played Mariette Larkin, has since gone on to become one of the UK's biggest names in Hollywood.
But it didn't stop her bagging a bargain in the town's independent stores while she filmed the new Dad's Army movie.
Roxanne Barlow snapped the actress as she left Home Works clutching her new purchase - a poster of Audrey Hepburn.
She then visited Venus Trading, where she bought a 'Lucille Blouse" for £29.99.
Manager Jaime Ruff said: "She had a good peruse of the stock, she seemed to be very chilled out.
"She bought a modern vintage blouse. We didn't bother her for a photo as she just wanted to shop."
Load more updates