Live updates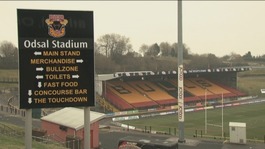 The Bradford Bulls Chairman, Peter Hood has stepped down, taking fellow board member, Andrew Bennett with him.
Read the full story
Hood leaves Bradford Bulls
Peter Hood says his departure as Bradford Bulls Chairman is to pave the way for new investors who have held talks with the club's largest shareholder, Chris Caisley.
"Chris has indicated to me and also to Club CEO Ryan Duckett that he has investors waiting in the wings who are ready, willing and able to get on board, but apparently they are not prepared to do so under the present regime. Andrew Bennett and I have concluded that the interests of Bradford Bulls and its players, coaches and staff are best served by us making way for Mr Caisley and his cohort now, rather than awaiting an EGM at which we are bound to be out-voted".
– Peter Hood, Former Bradford Bulls chairman
Advertisement
Hood leaves Bradford Bulls
The Chairman of Bradford Bulls, Peter Hood has announced he's to leave the club. Fellow director Andrew Bennett has also quit.
Back to top