At about 11pm last night (16/7/15) officers from the Safer Roads and Neighbourhood Support unit were on patrol in a marked police car when a Volkswagen Golf drove off at speed on seeing them.

The Golf drove into Princeville Road and parked at the side of the road. The officers parked alongside the vehicle to prevent it driving off but it mounted the kerb and then reversed ramming a second police vehicle which was blocking its path.

An officer got out of the first police car to approach the Golf which drove into him knocking him over before making off from the scene.

He was taken to Bradford Royal Infirmary for treatment before being released.

The Golf was later found unattended in nearby Northside Terrace and has been recovered for forensic examination.

Enquiries are ongoing to trace the driver.
– West Yorkshire Police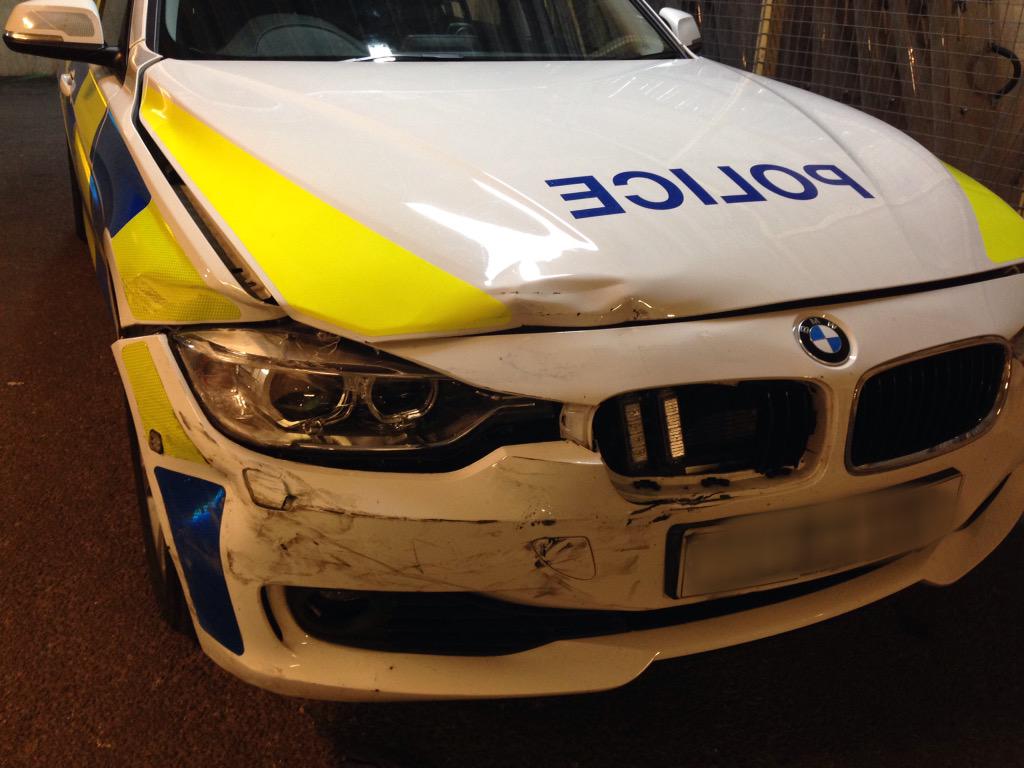 Advertisement
Police forces in Yorkshire and Lincolnshire have revealed that at least 26 convicted sex offenders have gone missing.
Read the full story ›
Freedom of information requests to every police force in the UK to find out the number of missing registered sex offenders.
Read the full story ›
West Yorkshire Police Federation says the public is being put at risk due to the "devastating consequences" of multi-million pound cuts to policing budgets in West Yorkshire.
The force has lost almost 1000 officers over the past five years and says it "needs boots on the ground if we want to fight crime and keep the public safe."
The federation has released a video highlighting what it fears will be the consequences of £163 million cuts to the West Yorkshire Police budget. Chris Kiddey reports
We have chosen to run this information and awareness campaign because we believe the public have a right to know what the £163 million cuts to the policing budget mean. That crime is not falling; it is changing. That cuts have consequences. We face the pressures of terrorism, child sexual exploitation, safeguarding and vulnerability issues, cybercrime as well as traditional crimes and duties officers have to perform. Officers are not fools and neither are the public. Political rhetoric about reducing bureaucracy, new IT, new powers have not reduced demand sufficiently, if at all. You still need boots on the ground if you want to fight crime and keep the public safe.
– Nick Smart, chairman of West Yorkshire Police Federation
Council tax payers in Lincolnshire will soon be paying more to safeguard policing levels in the county. A recommendation by the Police and Crime Commissioner Alan Hardwick for a 1.95% increase in the police precept was accepted by the county's Police and Crime panel earlier which voted unanimously for the increase. It means on average residents will pay around seven pence a week more. Mr Hardwick says the money will guarantee the number of police officers and PCSO's can be kept at current levels.
Advertisement
Police forces across Yorkshire have taken part in a moment's silence in memory of those who were killed in terrorist attacks in Paris yesterday.
We will engage in a minutes silence at 10.30am this morning in memory of those who lost their lives in Paris yesterday #PoliceTributeToParis
Police Staff UNISON members in Humberside Police have voted 'yes' to strike action over pay along with Police Staff across the country.
Members in Humberside Police include 999 Call Handlers, Police Community Support Officers, Investigating Officers, Custody Detention Officers, Crime Scene Investigators, Enquiry Desk Officers, Catering Staff and many other wide ranging roles.
Police Staff members continue to take the brunt of this Government's savage cuts to policing. 20% of Police Staff jobs have been lost since 2010 nationally – almost twice the percentage of Police Officer posts that have been cut.
UNISON is clear that holding back on pay in 2011 and 2012 did not save a single Police Staff job and the government's austerity measures are set to keep on coming. Members have had enough.
Our members are dedicated members of the Police Service, but dedication alone is not paying the bills. The price of everything is going up around us, but our pay is not. Member's income is worth 13% less than it was in 2010 and if this continues will be worth 30% less by 2018. This simply cannot go on.
– Harry Berry, Branch Secretary
The unacceptable offer of just 1% is reflective of this Governments total disregard for public sector workers. We now await the decision of the national Police Sector Committee to decide when we will take strike action and what form action short of strike action we will take, which could include a ban on overtime and call outs and working to rule

We want to be clear that nobody wants to take industrial action, but we feel we are left with no choice. We want the employer's side to come back to the national negotiating table to improve the current offer"
– Tony Green, Assistant Branch Secretary
Police forces in North, South and West Yorkshire, Humberside and Lincolnshire have been told they require improvement, in a new HMIC report
Read the full story ›
West Yorkshire Police is giving people the chance to hand over guns and other weapons.
Load more updates