Humberside Police officers are among the fittest in the country after tests were carried out on forces across England.
Forty-three forces took part in fitness tests which will become mandatory later this year and Humberside were one of just two who boasted a 100% pass rate for both male and female officers.
On average one per-cent of male officers and eight per-cent of female officers failed the 15 metre bleep test.
Gwent, West Mercia/Warwickshire and the West Midlands were the country with pass rates of less than six per-cent.
The new fitness testing, which will become compulsory in September, was brought in after recommendations made by Chief Inspector of Constabulary Tom Winsor.
He recommended officers take a bleep test annually, with participants having to complete a 15-metre shuttle run in shorter and shorter periods.
Mr Winsor also recommended that from 2018 the tests should be made harder, using challenges based on the type of things an officer might face on duty, but this is being considered by the College of Policing in case it negatively impacts on women.
A post-mortem examination of the body of a man found in a Barnsley stream has provisionally concluded that he died from drowning.
The body was found in water close to Valley Road, Wombwell, at around 6pm on Monday.
Enquiries continue into the circumstances surrounding the man's death but officers believe at this stage that the death is not suspicious.
Formal identification has not yet taken place.
Advertisement
The #A61 at #Baldersby is completely blocked at the present time due to an #RTC please seek an alternative route and RT
Police are investigating after the discovery of a body in Barnsley.
Police were called to Wombwell, Barnsley, last night after a report of a body in a stream.
The body of a man was discovered at the back of Valley Road, by a dog walker at around 6pm on Monday evening.
An underwater search team was deployed to recover the body from the water.
South Yorkshire Police has launched an investigation to determine how the man died.
A Northallerton man who had more that 3,000 indecent images of children has been jailed.
James Oliver, aged 30, of Danelaw Gardens, Brompton, was sentenced to two years and eight months' imprisonment at Teesside Crown Court on Thursday 8 May 2014.
Oliver pleaded guilty to 11 counts of making indecent images and six counts of distributing indecent images over 11 months, between January 17 and December 15 2013.
Following Oliver's arrest in December last year, officers found 3,007 images stored on his computer along with 71 indecent videos.
One of the videos in his possession was of a teenager committing a sexual act on himself which Oliver then shared using an online messaging service.
Police in Hull are searching for a man who failed to appear at court in January.
45-year-old Leonard Haddlesey originally from Beverley was due to appear at Hull Crown Court back in January 2014, but failed to turn up.
Mr Haddlesey is now wanted on a 'Fail to Appear Warrant' issued by Hull Crown Court.
Officers believe he could be living locally still, possibly in the Anlaby area or East Hull, but has done very well to evade capture up until now.
Advertisement
The driver of this vehicle incredibly lucky to escape with minor injuries after losing control & ending up in a pond http://t.co/JMF9F1FZjp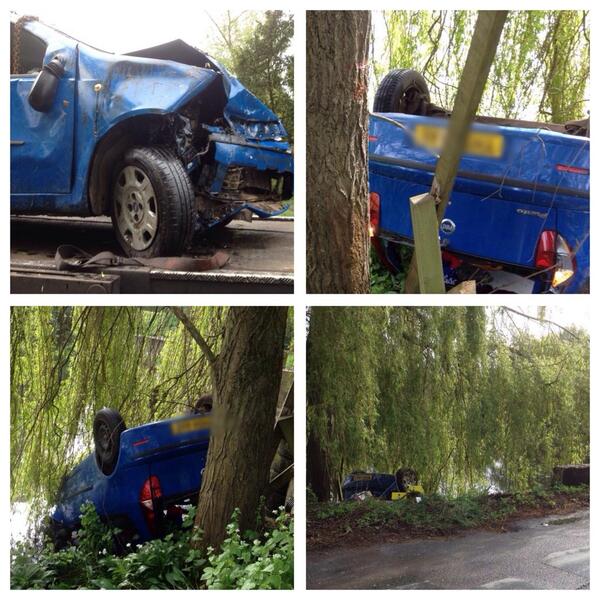 The 28-year-old man who was found injured at an address in Princess Street, Lincoln, remains in hospital being treated for a serious head injury.
He was taken to hospital on April 29 following the incident and his condition is currently described as stable.
Three men (two aged 47 and one aged 38) who were arrested on suspicion of Grievous Bodily Harm in connection with the inquiry have since been released on police bail.
Detectives investigating the incident are still keen to hear from anyone who may have seen or heard anything to do with the incident.
They would also like to hear from anyone with any information relating to a disturbance linked to the same address in Princess Street that is believed to have happened on Sunday 27th April.
Police are appealing for information and witnesses after a car fire in Lincoln in the early hours of this morning.
Just after 2am officers received a report that a blue Mini Cooper parked on a driveway in Fulmar Road, Lincoln, was on fire.
Police officers and fire fighters attended and the fire was extinguished. Nobody was injured.
Officers are investigating the incident and whether the cause of it was deliberate.
Police in Lincolnshire are trying to find the owner of several items after a man was found with them.
A man was stopped by officers in the Monks Road area of Lincoln on April 25 in possession of the items.
They include dog ornaments, a tribal shield replica, and some paintings. He was also on a red Ellis-Briggs bike with no gears, which is described as not in good condition.
Anyone who recognises the items is asked to contact police.
Load more updates