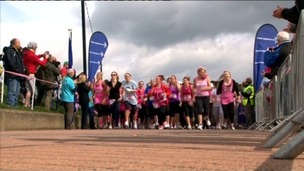 Thousands of women have taken part in Race for Life this weekend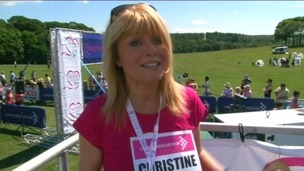 Thousands descended on Temple Newsam for the Race for Life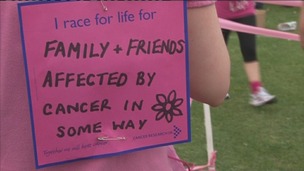 Women in Cleethorpes and Ilkley take part in Race for Life events.
Live updates
Revving up for Race for Life in Sheffield
There are just days to go before the first of this year's Race for Life events start in our region and thousands of women are getting ready to walk, jog or run for Cancer Research UK.
Today final preparations were underway in Sheffield, where a team of intrepid runners from the charity were out testing a new route round Meadowhall as Emily Kerr reports
Foundation for Hedon mum who lost cancer battle
The family of a Hedon woman who lost her battle with cancer have set up a charity foundation in her memory. The Kerry Key Foundation is being launched two days between what could have been her 37th birthday.
Advertisement
Increase in under 50s diagnosed with breast cancer
New figures show the number of women under the age of 50 being diagnosed with breast cancer each year in Yorkshire and Lincolnshire has risen to nearly 804,000 across all age groups.
But the good news is more are surviving it than ever before. Work funded by Cancer Research UK is advancing treatments into all types of the disease.
Men make mark in Race For Life
The Race For Life season is almost upon us and women around the region are gearing up to run, jog or walk for Cancer Research UK. But it's not just the ladies who are making their mark. The men have a vital role to play - as volunteers - as Sally Simpson has been finding out.
For more information about how you can get involved, go to www.raceforlife.org.
Cancer survivor encourages others to Race for Life
A Leeds woman is using her experience of cancer to encourage more people to registar for this year's Race for Life events.
Anne Howorth has fought the illness twice - her sister and husband have also been diagnosed with the disease. She has been telling Matt Price, why she feels it is so important for women to take part.
To find out more about Race for Life - and for details of your nearest event - head to the Race For Life website.
Race For Life: Charity work in mother's memory
There's just weeks to go before the UK's largest women-only fundraising event - Race For Life. And women across our region are being urged to sign up. One who has already is Sarah Threadgall, whose mother died from cancer when Sarah was just 18. Here is her story.
For details of how to sign up to an event near you, go to the website. That's raceforlife.org
Advertisement
Oldest Race for Life participant dies
The oldest person in our region to take part in the Race for Life for cancer charities has died.
Winnie Hudson from Bedale was just a few weeks off her 106th birthday. She died in her sleep. A funeral service of celebration was held on Tuesday in Wycar Methodist Chapel in Bedale.
Race for Life in region
Thousands of women are expected to turn out this weekend for the Race for Life events around our region.
The first race will be held in Clumber park in Worksop, at 10am, with another at 2pm. Around four thousand have entered this race, in support of friends and family affected by cancer. Some are even battling it themselves.
The park will play host to another race on Sunday, at 10.30am, with around 3,500 entrants.
Tomorrow, there will be a race in Savile Park, in Halifax at 10am. More than two thousand people have entered.
Finally, at Pontefract Racecourse tomorrow, the race will be at 10.30am.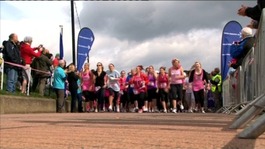 Sheffield Race for Life
Thousands take part in latest Race For Life
Thousands of women hit the ground running in Sheffield, raising cash to fight cancer. They were taking part in the annual Race For Life event and luckily, the weather was on their side. Adam Fowler was there.
Load more updates
Back to top