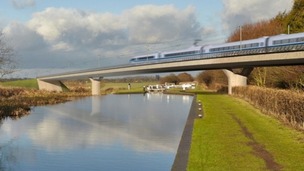 The Government has hailed a "landmark victory" for its HS2 high-speed rail scheme, despite legal flaws in the consultation process.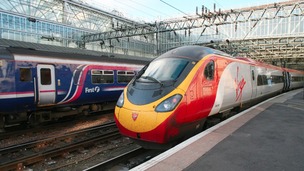 Rail passengers endured more morning misery today when an overhead line problem led to major disruption to key services.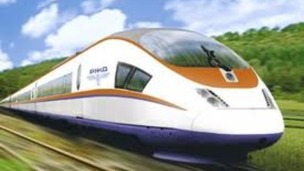 £32bn high speed rail link between London and Yorkshire has been revealed.
Live updates
A special "safety train" has been set up on a Nottinghamshire rail route to stop the rising number of young people trespassing on the track.
The 30-mile stretch which ends in Worksop will be patrolled by police and rail officials, after figures revealed railway trespass rises during school holidays.
Anyone spotted on the tracks could face a prison sentence or hefty fine - as Hannah Stokes reports.
Unions call for review into East Coast privatisation
Three rail unions are calling for a judicial review into the Government's decision to privatise the East Coast mainline.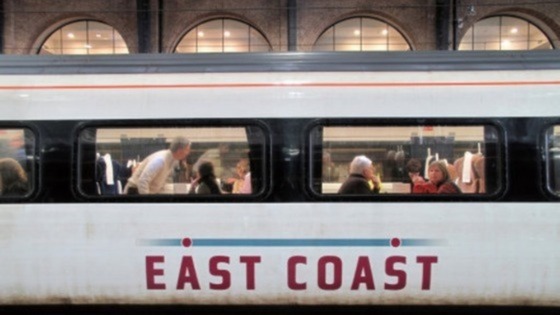 ASLEF, RMT and TSSA believe that their members' jobs and conditions, as well as the interests of passengers and taxpayers, are threatened by the Government's failure to adequately consult over the future of East Coast.
The unions have significant concerns that despite the Brown review of rail franchising recommending that the procurement for rail franchise should take place over a minimum of 24 months, the Government is rushing through the privatisation of East Coast
They argue that, in its haste to push services back into the private sector, the Government has cut corners, including breaching its own commitment to proper consultation of stakeholders, including passenger groups and the rail unions.
ASLEF, RMT and TSSA are conscious of the disastrous end to the InterCity East Coast franchises run by GNER and National Express as well as the Department for Transport mistakes in the InterCity West Coast franchising competition.
The Unions are concerned that there is again the risk that overbidding by private operators and inadequate and rushed evaluation of the bids will, as on previous occasions, lead to cuts to staff and services and even the franchise collapsing again.
Advertisement
Network Rail will begin significant refurbishment on Selby's rail swing bridge this summer.
The work means many services to and from Hull will be disrupted between 26 July and 8 September.
Engineers will refurbish the structure itself and the hydraulics on the swing span during the project.
We're investing £8m on steelwork repairs, work to the hydraulics on the swing span, waybeam replacements and wholesale grit blasting and painting of the entire structure. Once the work is completed the structure should be maintenance free for 25 years and we will be able to run trains at line speed, removing a speed restriction. I thank passengers for their patience while we complete these essential works.
– Phil Verster. Network Rail
Proposals to electrify part of Hull's rail network
A Yorkshire MP says that it's only a matter of time before the rail line between Hull and Selby is electrified.
MP for Haltemprice and Howden, David Davis told our Political Correspondent Paul Brand that he was hopeful funding would be announced in the upcoming budget.
Proposals to electrify part of Hull's rail network
A Yorkshire MP who met Transport Secretary Patrick McLoughlin today over plans to electrify part of the rail line to Hull says the scheme could benefit the whole country.
The MP for Beverley and Holderness, Graham Stuart, said the whole country could benefit from an improvement in the network:
Proposals to electrify part of Hull's rail network
Hull North MP Diana Johnson was part of a delegation which met the Transport Secretary earlier today to discuss plans to electrify the rail line between Selby and Hull.
She told Paul Brand that Patrick McLoughlin said the proposals were strong:
Advertisement
Proposals to electrify part of Hull's rail network
A delegation of MPs, councillors and business groups has met with Transport Secretary to make a case for the electrification of the rail line between Selby and Hull.
A financial plan using public and private money has been made and the cross party group of politicians is pushing for the work to be done in time for Hull's year as UK City of Culture in 2017.
A delegation of local councillors and MPs are travelling to London later to meet the Transport Secretary Patrick McLoughnlin.
They are to discuss plans to electrify Hull's railway network.
It's proposed to electrify the line from Selby to Hull in a £94m scheme.
A massive engineering operation is underway to shift over one hundred thousand tonnes of soil that's threatening to engulf one of the busiest rail lines in our region.
One of the tracks on the line linking Sheffield with London is closed at Unstone just north of Chesterfield because it's too unstable to use. It's believed recent heavy rain is to blame for the landslip. Martin Fisher has been to see the damage.
There are delays of up to 50 minutes on East Coast services between Kings Cross and Leeds due to overhead line problems at South Elmsall, with no estimate of when a normal service will resume. This is also affecting Northern Rail service.
Load more updates
Back to top