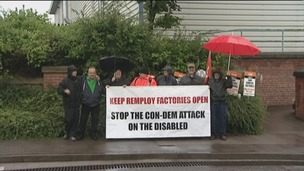 Remploy employees have taken to their picket lines again today.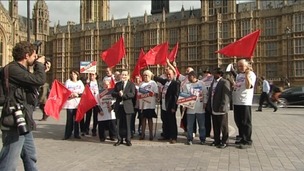 Remploy staff who face losing their jobs are heading to London to protest about factory closures.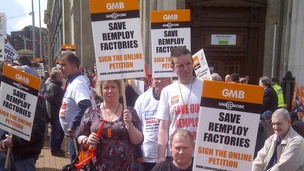 A protest is taking place in Sheffield by Remploy workers.
Live updates
Workers at the Remploy factory in Chesterfield, who have been on strike this week, are protesting in the town.
It is part of a long running dispute to save their jobs and conditions of work. A demonstration is being held outside the Town Hall as they try to get the government and Remploy to reverse their policies.
Workers at Chesterfield's Remploy factory face a bleak future with the threat of job losses at the plant which manufactures specialist equipment for the health service. The plans to close and privatise Remploy factories represents a huge attack on workers with disbalities, some of the most vulnerable workers in our community.
– James Eaden, President of Chesterfield TUC
Advertisement
Remploy protestors
Remploy protestors
Remploy protestors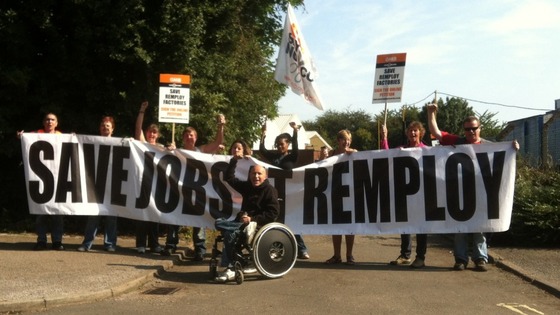 Remploy workers protesting in Chesterfield. They are on strike all week due to uncertainty over the future of the factory, which is being sold.
Disabled workers in Chesterfield are going on strike for five days in protest against the government's decision to close dozens of Remploy factories.
There have been protests all across the region over the closures which will see more than 1500 disabled workers being made redundant. The decision was made after a review into the future of Remploy, which found money would be better spent helping disabled people find work in mainstream employment.
Advertisement
Remploy workers have announced a 5 day strike at the Chesterfield and Springburn factories from 3rd September. Members of the GMB and Unite unions are protesting about the terms of transfer for new buyers of the factory.
The Department for Work and Pensions has removed the obligation for a new employer to provide a pension for the workers.
Twenty-four Remploy sites have closed this month leaving their workers on the dole. Three more, including the Leeds site, are due to close later in the year. The future of the 18 other factories is yet to be determined. A further 9 others, including Chesterfield, are due to be sold off.
Members at Remploy Chesterfield and Springburn are concerned that no information about three potential buyers has been given to them. The DWP has removed the obligation for a new employer to provide a pension. We understand that all three potential buyers may want to make redundancies based on the individual disability.
Two weeks ago 24 factory sites were closed and senior management stayed away from all these sites. Not a single person was personally thanked for their work and some of these people had worked at Remploy for over 30 years. Factory Managers who had worked hard to develop their abilities left in tears.
The Olympics brought a bright light to the UK and the Paralympics are underway where all disabled people can celebrate but on Thursday 16th August a dark cloud descended on 25 Remploy factory sites and in all the other sites a cold veil of tears fell across Remploy factory sites. The commitment and hard work of the Remploy Employees will never be forgotten."
– Phil Davies, GMB National Secretary
Demonstration by Remploy workers
Demonstration by Remploy workers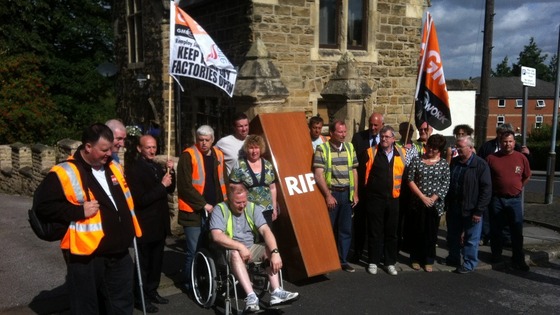 These workers have turned out to protest against the closure of the Remploy factory in Pontefract. Many have worked here for decades, and are now resigned to a life on benefits, as of tomorrow.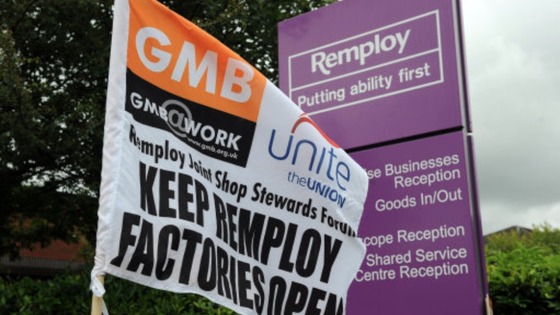 A demonstration is being held this morning in Pontefract against Government plans to close Remploy factories.
The protest, organised by Unite the Union and the GMB, will start outside the factory in the town and then march to the cemetery on Skinner Lane.
Load more updates
Back to top