40 protesters detained by police after they stopped and climbed on a coal train in Nottinghamshire have been released.
The Greenpeace activists blocked the 400-metre freight train on sidings leading to Cottam power station for ten hours yesterday after flagging it down using the stopping signals.
A life-size polar bear puppet was used to stop the train from moving.
British Transport Police have confirmed they arrested 3 activists and spoke with 37 others.
Investigations will begin today into how a group of climate change protestors managed to stop a freight train loaded with coal.
50 Greenpeace activists boarded the train yesterday as it was heading to Cottam Power Station near Retford.
They stopped the train for eight hours before being detained by police.
Advertisement
A group of climate change activists, who seized a freight train carrying 1,500 tonnes of coal in Nottinghamshire, have been detained by police, according to Greenpeace UK on twitter.
Climate change activists have hijacked a freight train delivering fifteen hundred tonnes of coal to a Nottinghamshire power station.
The Greenpeace campaigners say they plan to stay with the train until midnight. From the scene, Gareth Owen sent this report.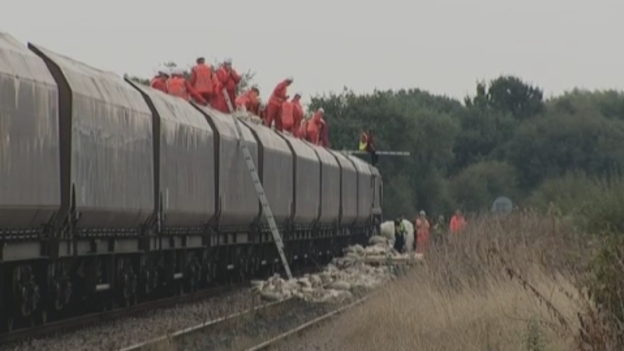 Fifty Greenpeace activists have stopped and occupied a freight train delivering 1,500 tonnes of coal to Nottinghamshire's Cottam power station.
French energy giant EDF, which operates Cottam and West Burton A coal-fired power station and West Burton B gas-fired power plant in Nottinghamshire, said: "EDF Energy can confirm that individuals have boarded a freight train carrying coal to Cottam power station in Nottinghamshire.
"The safety of our employees and the public is our priority and we are currently working with British Transport Police to ensure everyone involved is safe and out of harm.
"We operate a diverse mix of electricity generation and produce more low-carbon electricity than any other generator in Britain from our nuclear power stations and wind farms."
Meanwhile DB Schenker Rail UK confirmed that one of their trains has been brought to a stand by a number of protesters on the Cottam branch line near Retford. The train was travelling from Humber International Terminal to Cottam Power Station carrying 1,500 tonnes of coal.
Greenpeace activists have used a life-size polar bear puppet to stop a coal train heading for Nottinghamshire's Cottam power station.
The charity says the "highly realistic, life-size, moving polar bear puppet - previously used in National Theatre productions - has just walked up to the front of the locomotive, where it's now stopping the train from moving."
The animal is intended to symbolise the global movement to save the Arctic from climate change, which is mainly driven by coal.
Advertisement
Nottinghamshire Police have confirmed that a missing man from Retford has been found safe and well.
Kevin Tissington has been reported missing by relatives, but officers say they have no further concerns for him.
Police are concerned about a man who has gone missing from Retford.
Kevin John Tissington was last seen by a family member in Worton Street, yesterday afternoon.
The 49-year-old is white, 5ft 5ins tall, of heavy build and bald.
When last seen he was wearing a dark top with the word 'Grumpy' on the front and dark combat-style trousers. He was carrying a large rucksack and had his arm in a sling as a result of a shoulder complaint.
Mr Tissington has an interest in trains and is known to enjoy visiting the Quarries area in Sutton-cum-Lound.
Anyone with information is asked to contact Nottinghamshire Police.
Police are continuing to search for Rosemarie Senior and her two young children after partner Sidney Winson has been found.
The search was launched last Friday amid concerns for the welfare of the 24-year-old mother, her 27-year-old partner, three-year-old daughter Nora and two-year-old son James.
The family were last seen in Chancery Lane, Retford at about noon and initial investigations indicated the family had travelled to Ireland.
Last night Mr Winson was found safe and well in Cannock, West Midlands, having returned from Ireland.
The search now continues for Rosemarie and her children. Police believe they could be in Dublin and would like to make contact with them to ensure they are safe and well.
Load more updates