A Yorkshire charity has found that four in five parents are calling for speed limits to be lowered to 20mph in built up areas.
Road safety charity Brake has released the figures ahead of road safety awareness week.
A new round of funding has been set aside to repair roads across North Yorkshire.
Following a £24 million government grant and an additional £10 million pledged last month for pothole repair, a further £15 million is being spent on essential road repairs in the county.
The County Council say around half of the most recent allocation comes from the Department for Transport, with the remainder being invested by the council.
They say the extra funding should secure a programme of highway maintenance through to 2021.
This year a total of £50 million has been set aside for the county's roads.
North Yorkshire is the biggest county in size with a largely rural and dispersed population. For that reason maintaining our road network is vital if we are to support our businesses, attract inward investment and contribute to good quality of life for our residents.
– Cllr John Weighell, Leader of the Council
Advertisement
Hundreds of thousands of potholes could be filled in Yorkshire and Lincolnshire thanks to the biggest investment in roads since the 1970s.
Lincolnshire is getting a significant share of the fund - £5,429,664, as is North Yorkshire, which is getting £5,176,164. The government believes that is enough to fill around 100 thousand potholes in each of the two counties:
Hundreds of thousands of potholes could be filled in Yorkshire and Lincolnshire thanks to the biggest investment in roads since the 1970s.
Read the full story ›
Residents of a Lincolnshire town are one step closer to securing a new pedestrian crossing on a particularly dangerous stretch of the A15.
After an accident near Thurlby in January that involved two young school children the speed limit has been reduced from 60mph to 40mph.
But people down the road in Northorpe want to go one step further and get a pedestrian crossing.
The criteria for introducing a pedestrian crossing are set by the Department for Transport. Over the last few weeks the number of vehicles passing the site in both directions was counted, as well as the number of pedestrians who crossed the road.
Counts of numbers of vehicles and pedestrians are normally taken within the period 0600 to 2200 to cover a typical working day. This information is then analysed to determine whether a crossing is appropriate.
Lincolnshire County Council, which commissioned the survey, will now create a detailed design for the new scheme and progress with the necessary legal processes, which includes holding a public consultation.
A similar study looking at whether a crossing is required in the adjoining village of Thurlby is still being analysed.
Yorkshire roads are becoming unfit for purpose according to the Asphalt Industry Alliance.
John Bullock says roads need resurfaced every 10-20 years, but on average, Yorkshire roads have not been resurfaced in 66 years.
The passage of time makes pot holes an increasing problem.
Advertisement
Councillors in Grimsby have voted to increase the speed limit on a controversial stretch of road - completely going against the advice of the police.
The local authority has sided with thousands of drivers who signed a petition against the change to a 30 mile an hour limit. Eight-five per cent of drivers using the road were caught breaking the law after the stricter rules were introduced.
Matt Price reports.
Police have warned that injuries to people in a car crash near Sheffield were made worse by some of them not wearing seat belts.
West Yorkshire's roads unit tweeted this picture of the crash.
2 vehicle RTC, Nopper Road at South Cossland. 5 injured parties, made worst by some occupants not wearing seat belts. http://t.co/z4WvG3eUut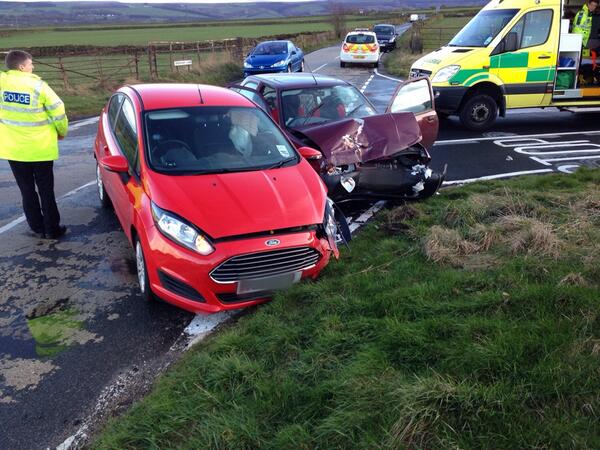 Humberside Police are warning motorists to avoid the Market Weighton bypass which has been fully closed.
A1079 Market Weighton bypass now fully closed until further notice. Avoid the area if possible. Traffic heavy. Be patient. #1544
It's also been reported that the air ambulance has landed near what is thought to be a two vehicle collision on the road.
Police say the vehicles involved are believed to be a red Mitsubishi Colt and a white Citroen Berlingo van.
An occupant of one of the involved vehicles has sustained injuries requiring urgent hospital treatment resulting in the need for attendance of the air ambulance.
The A160 Eastbound has been closed due to multi-vehicle accident between A180 (Brocklesby Interchange) and Habrough Road / Top Road.
Motorists are advised to avoid the area.
Load more updates