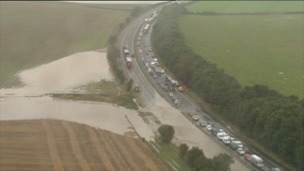 North Yorkshire Police is warning motorists not to make unnecessary journeys because of the floods.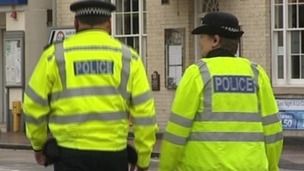 Lincolnshire Road Safety Partnership are re-launching a campaign responsible for dramatically reducing the number of deaths on the roads.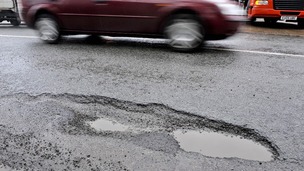 A £2 billion project to improve roads in Sheffield begins today.
Live updates
Potholes blight region's roads
National
AA: A third of motorists suffer pothole damage
The president of the Automobile Association, Edmund King, said "about a third" of AA members had made insurance claims in the past two years as a result of cars being damaged by potholes.
Road repairs programme announced by council
A programme of road improvements to repair the damage caused by last year's severe flooding has been announced today by North Yorkshire County Council.
The Council is to spend an additional £857,000 tackling highways drainage issues – on top of a £723,000 programme already agreed. In addition, the council had already allocated £2 million to pay for road repairs.
Advertisement
Region's roads labelled as "higher risk"
Two roads in West Yorkshire and Lincolnshire have made it onto a list of busy higher-risk roads despite the fact that speed cameras and traffic management schemes have drastically cut serious accidents on 10 previously dangerous stretches of road.
Fatal and serious crashes on the 10 most improved routes have dipped from 541 in the period 2001-2005 to 209 in 2006-2010, according to figures from the Road Safety Foundation
Over the two survey periods, fatal and serious crashes fell from 34 to just nine. Speed enforcement with fixed and mobile cameras is in use on all but two of the 10 most improved roads.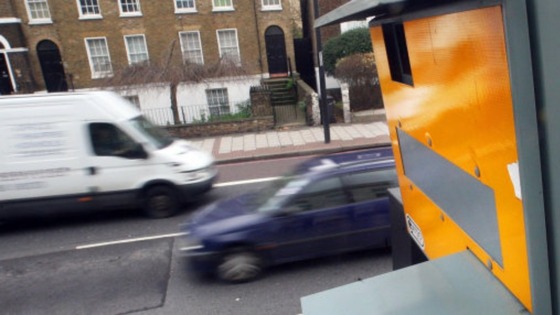 Changes to the layout and traffic management at junctions are common features. Other measures include new traffic signals to control traffic flow; restricting turning movements on to roads with high traffic levels or poor visibility; widening entry and exit lanes and advanced warning signs.
The A642 from Wakefield to Huddersfield and a section of the A1101 from Outwell in Norfolk to Long Sutton in Lincolnshire have been named as high risk roads. It is because they have higher-than-average traffic flows, a high crash density and an above-average risk rating.
Britain's persistently highest-risk road is a stretch of the A537 from Macclesfield in Cheshire to Buxton in Derbyshire.
Flooding: Traffic problems
Shuttle bus for flooded residents
North Yorkshire County Council has announced it will provide a free shuttle bus following the closure of Tadcaster bridge due to flooding.
The free service will run between 8am and 7pm, Monday to Saturday until further notice.
The shuttles will be two 25 seater buses operated by Harrogate and District's Coastliner service. The route the buses will take will be:
Tadcaster East (Bus Station > Commercial Street > York Road > A64) to
Tadcaster West (Leeds Road > Garnet Lane > Woodland Avenue > Stutton Road > Leeds Road > High Street > St Mary's Church)
The buses will then run in the opposite direction.
Flooding: Traffic problems
The northbound carriageway of the A1 north of Dishforth has now reopened. (One lane remains closed in the Hackforth area).
From
@NYProads
on Twitter:
Flooding: Traffic problems
Flooding still causing travel problems
The A1(M) Northbound is still close from J49 A168 (Dishforth) to A66 (Scotch Corner). The Southbound side has now re-opened but there is no estimated time for the Northbound side to open. Many surrounding routes and villages are still flooded. Diversions arevia the A168, A19 and A689.
A659 Bridge Street at Tadcaster remains closed due to bridge inspection work between Kirkgate and Oxton Lane. There is no access to the bus station.
A19 Main Street Southbound at Fulford is closed due to flooding from Fordlands Road (Germany Beck) to A64 York Bypass (Fulford Interchange).
And flooding's also causing problems on the trains. A replacement bus service is running on Northern Rail between Harrogate and York.
Advertisement
Flooding: Traffic problems
Road closure between Otley and Pool-in-Wharfedale
The A659 Pool Road is closed due to flooding between A660 at Otley and A658 at Pool. Several vehicles have been abandoned with some cars submerged up to their rooves.
Flooding: Traffic problems
Road closure in Tadcaster
Bridge Street (the A659) in Tadcaster between Kirkgate and Oxton Lane is closed for bridge inspection work following flooding yesterday.
Flooding: Traffic problems
Travel update - road closures from flooding
In Skeeby the A6108 Richmond Road closed due to flooding at Olliver Lane. A1(M) in both directions is closed, with queueing traffic due to flooding between J49 A168 (Dishforth) and J60 A689 (Bradbury).
In Morton on Swale the A684 closed due to flooding between Station Road and Potter Lane.
Burley in Wharfedale A65 closed due to flooding between A660 / A65 (Burley in Wharfedale) and B6382 Wheatley Lane (Ilkley) and A660 closed due to flooding between A65 / A65 and A659 Bradford Road.
Wensley - A684 closed due to flooding at Chapel Lane.
Harewood - A61 Harrogate Road blocked due to flooding at A659 The Avenue (Harewood Bridge).
Uckerby - B1263 blocked, traffic congestion due to flooding between Uckerby and B6271 Bolton Road.
Ripon - Boroughbridge Road closed due to flooding between A61 Ripon By-Pass and Skelton Road.
Richmond - Gilling Road closed due to flooding between A6108 Darlington Road and Waters Lane.
Normanby - Barugh Lane closed due to flooding at Westfield Lane.
Barnby Dun - Fordstead Lane closed due to flooding between Thorpe Bank and Marsh Lane.
Flooding: Traffic problems
Highways Agency warns not all A1 slip roads cordoned off
The A1 (M) is still closed, and is expected to remain closed until at least tomorrow morning, in both directions due to flooding between J49 A168 (Dishforth) and J60 A689 (Bradbury).
The Highways Agency is warning drivers that some of the slip roads have not been cordoned off but the whole stretch of the road should not be used in either direction.
Load more updates
Back to top