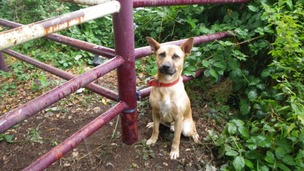 RSPCA officers are appealing for help after a dog was found dumped in Ilkeston, Derbyshire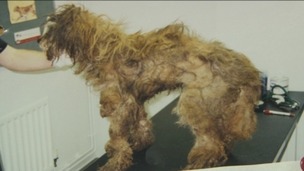 West Yorkshire had more people convicted of animal cruelty last year than anywhere else in the north with 216 reports and 82 convictions.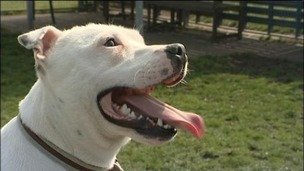 A beaten dog has a bright future ahead
Live updates
Man jailed for selling wild birds
Man jailed for selling wild birds
A man from North Derbyshire who illegally caught and sold wild birds has been jailed for eighteen weeks. Russell Yates, 41 years old, of Peveril Road, Tibshelf, admitted a string of offences when he appeared for sentence at Chesterfield Magistrates Court.
RSPCA branch reopens in Hebden Bridge after floods
The RSPCA branch in Hebden Bridge is re-opening after several months of being shut because of the floods. It has now relocated to bigger premises in the town. The shop is currently struggling for donations.
Advertisement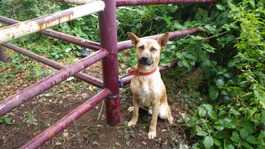 RSPCA officers are appealing for help after a dog was found dumped in Ilkeston, Derbyshire
Read the full story
RSPCA rescue animals cut off by York flooding
Three cats and seven kittens have been rescued from a house in York after it was cut off by flooding. Four chickens from a nearby house were also brought to safety.
The rescue took place on Friday afternoon after a local inspector followed up on concerns raised with the owners the previous evening.The property – on High Street, Cawood – could only be reached by boat but once launched the rescue only took about an hour.
"The rescue went very smoothly and to plan. The water was very deep, above the signposts, but it wasn't flowing so it was like a big pond. One of the kittens was feisty but the others were pretty happy to get in the carriers and come with us."
– RSPCA chief inspector Mark Gent
RSPCA cat crisis
Video: RSPCA faces cat crisis with centres full to capacity
Rescue centres in the east of the region are calling on cat owners to be responsible and get their animals neutered. The advice comes as many shelters close their doors to the rising number of unwanted kittens.
RSPCA cat crisis
Cat crisis at RSPCA centres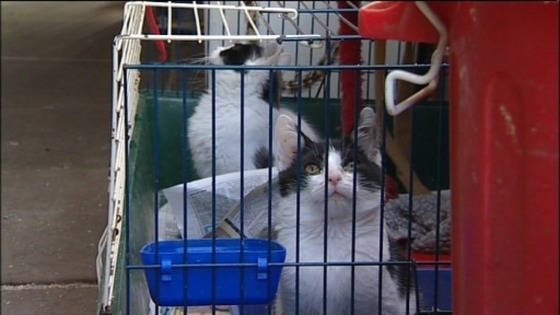 The RSPCA says it is facing a cat crisis, with centres in the region full to capacity. It is so bad that some branches cannot take any more and others have as many as 100 waiting for new homes.
RSPCA branches and animal centres across the East of the Calendar region are reporting unprecedented numbers of felines in their care. Volunteers and branch staff say the pressure is putting them at breaking point and are calling on the public to help by giving the cats a new home.
The cat crisis is believed to be down to a number of factors RSPCA volunteers say:
— Owners can no longer afford to keep them and are giving them up
— Their cat falls ill and owners cannot afford the vet bills
— Many cats are falling pregnant and having large number of kittens, because their owner failed to neuter them.
Advertisement
Two cats shot in the head in Mansfield
The RSPCA is appealing for information after two cats from the same house in Mansfield were shot with air rifles last month. Gizmo, a Siamese cross, was shot about five weeks ago near his home in Houfton Road. He came home between with an eye wound.
Mr Hart took Gizmo to the vets where it was found that he had actually been shot in the eye. The pellet went so deep into Gizmo's head that it ended up being lodged next to the top of his spine. Vets decided it was too risky to operate to remove the pellet, but Gizmo has now made a good recovery.
Then, just a couple of weeks later, another of the family's five cats, Nelly, also came home at about 9pm. The black and white cat had been shot in the head. Vets were able to remove the pellet and Nelly is now doing well.
Thankfully these two cats survived, but they went through a horrific ordeal and they are extremely lucky to have a caring owner who got them to a vet for treatment. Sadly air weapon attacks on animals are a huge problem and those behind them must know that they are causing a great deal of suffering to the animals and distress to their owners. We need anyone with information about these attacks to come forward – please call our inspector information line on 0300 123 8018 and spare other animals from suffering."
– RSPCA inspector Keith Ellis
Warning: this report contains images some people may find distressing
Our region is worst part of the country for cruelty to animals. With cases of abuse on the rise nationwide, prosecutions for cruelty are at their highest in the Calendar region.
The RSPCA is warning the crisis is stretching the charity to breaking point as more people are taken to court and jailed for cruelty and neglect.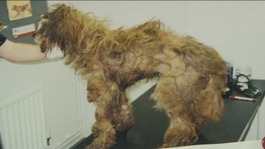 West Yorkshire had more people convicted of animal cruelty last year than anywhere else in the north with 216 reports and 82 convictions.
Read the full story
A bright future for Dodger
Dodger the dog back on his feet
Load more updates
Back to top