Ben Thaler from Wakefield will referee the 2015 Ladbrokes Challenge Cup final, Hull KR v Leeds Rhinos at Wembley Stadium on Saturday.
The match will be Thaler's first Wembley appearance as a referee having had the role of video referee and reserve referee in previous finals.
He will be assisted by touch-judges Joe Cobb and Clint Sharrad, whilst James Child and Richard Silverwood will be the video referees.
I first got into refereeing in 1994. It was the week before the Challenge Cup final and I remember thinking how amazing it would be to referee at a stadium like Wembley. This is the first time I have been given the refereeing role at a Challenge Cup final. It's the pinnacle for any referee in sport. No matter what game I am working at, from League 1 through to large events like this, I always approach them in the same professional manner. It's a huge occasion and I'm sure Hull KR and Leeds will put on a great show. I've had phone calls from former referees Fred Lindop and John Holdsworth to congratulate me on this appointment. Stuart Cummings and Steve Ganson have been brilliant too with their support and guidance.
– Ben Thaler
Over 79,000 tickets have already been sold for the 2015 Ladbrokes Challenge Cup final.
Hundreds of people turned out at Bradford and Bingley rugby club to watch the final game in a tournament that brought together more than 400 mixed ability players from nine different countries - some from as far away as Argentina. Hannah Miller reports
Advertisement
Former Leeds and Wakefield rugby league player Richie Mathers has been handed a six-month ban for breaching the game's rules on betting.
The 31-year-old, who is in his first season with London Broncos, was found guilty by a Rugby Football League independent tribunal of providing inside information on the Broncos' Challenge Cup tie against Leigh on March 20, which they lost 64-12.
Mathers, whose suspension runs to January 28, did not play in that match after picking up an ankle injury earlier in the month.
A statement from the RFL said: "London Broncos player Richard Mathers has been suspended from all rugby league activity for six months after being found guilty of breaching the sport's rules relating to betting.<
"An independent tribunal found Mr Mathers guilty of providing inside information on his club's playing strengths and pre-match preparations, and of encouraging other people to bet on the outcome of a match using the social media messaging application, Whatsapp."
Hull Kingston Rovers will soon be making their first Challenge Cup final appearance for 29 years.
To mark the occasion the players and coaching staff have recorded a new anthem. Chris Dawkes reports.
The first mixed ability rugby world tournament will start tomorrow in West Yorkshire. It's a sport which gives people with disabilities the chance to play full contact rugby. 400 players representing 10 nations will gather in Bradford centenary square for the opening ceremony in the afternoon. The group stage of the tournament will then begin on Tuesday before the eventual winners are crowned next Friday. The tournament organiser hopes the tournament can help bring equality to rugby.
The Rugby World Cup is coming to Leeds next month and you can see all the coverage on ITV. But did you know that another world event is coming exclusively to Yorkshire just next week?The first ever Mixed Ability World Tournament for disabled and able bodied players will be taking place in West Yorkshire with the opening ceremony coming to Bradford on Monday. 400 players representing 10 nations will then battle it out in Bingley. Ben Turner reports.
Advertisement
Around eight hundred people in Lincoln this morning turned out to have their picture taken with the Rugby World Cup.
The trophy was on display at Lincoln RUFC at Longsdale Park. The trophy has been on a tour of the Calendar region over the last few days. Yorkshire plays host to two games next month.
Wakefield Wildcats have confirmed Simon Grix will be joining the club on loan from Warrington Wolves.
The loose forward will join the club with immediate effect ahead of the Super 8s campaign.
Grix, has yet to play this season as he continues his recovery having suffered a frature to his leg during a game against St Helens at the end of the 2014 campaign.
Leeds Rhinos fans were queuing from as early as 7 o'clock this morning to get their hands on tickets for the Challenge Cup final at the end of the month.
The Rhinos booked their place in rugby league's showpiece event thanks to a 24-14 victory over St Helens.
It will be the fifth time in the past six years the Rhinos have played at Wembley but last year's win was their only triumph since 1999.
The Robins will be flying south this summer after Hull KR ended a 19-year wait to reach the Challlenge Cup final with a 26 to 18 win over Warrington this afternoon. They will now face the cup holders Leeds in an all Yorkshire final at Wembley at the end of the month.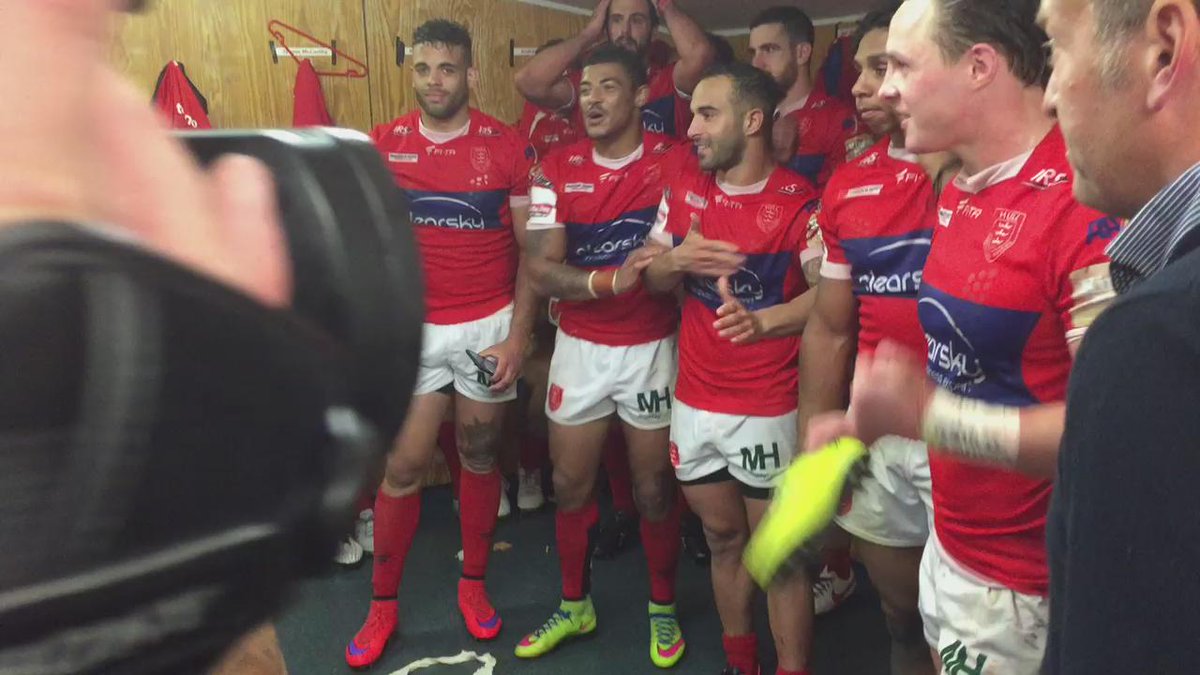 Load more updates