Wakefield preserved their Super League status with a nail-biting 24-16 win over Bradford in the inaugural one million pound game at Belle Vue
The Wildcats' 17-year stay in the top flight went on the line in the one-off game to decide the final place in Super League for 2016, and it needed a try from hooker Scott Moore a minute from time to finally settle the game.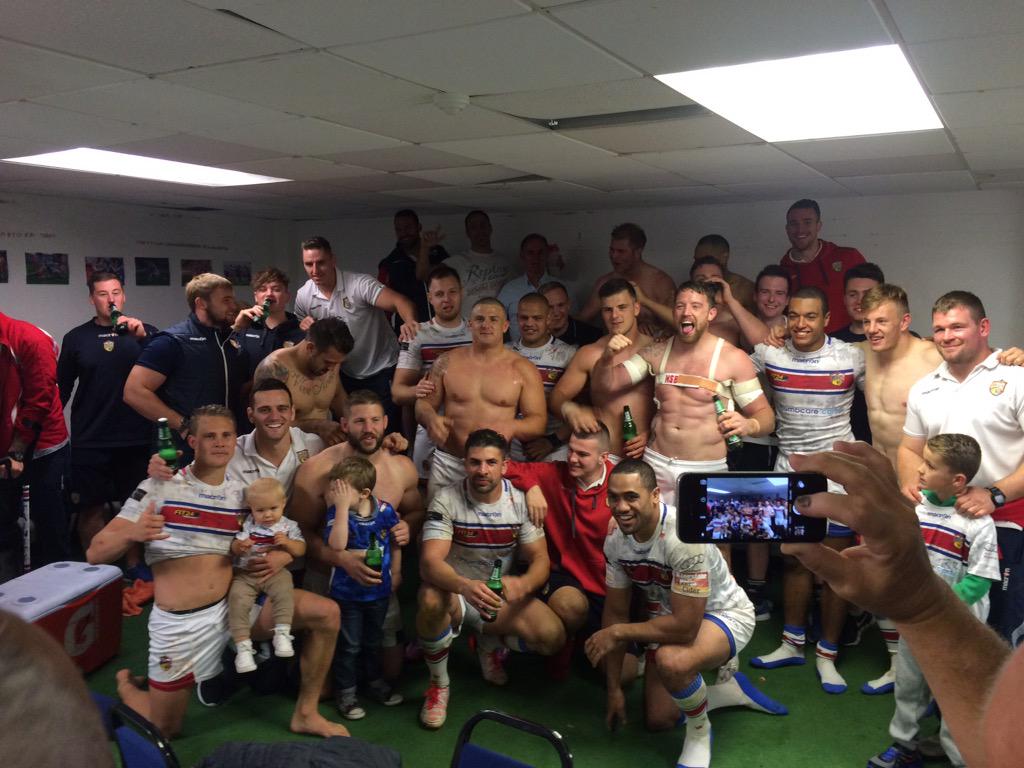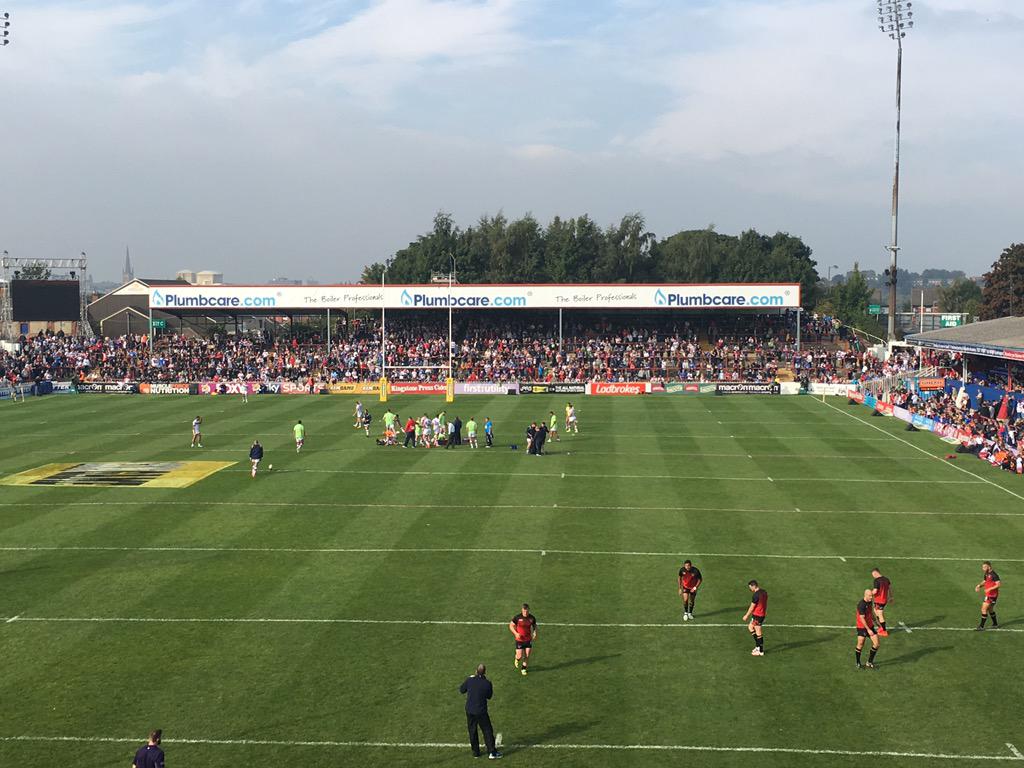 HERE come the two sides! It's time for the £1MGAME - with a Super League spot up for grabs... http://t.co/KFSN4Zq6Un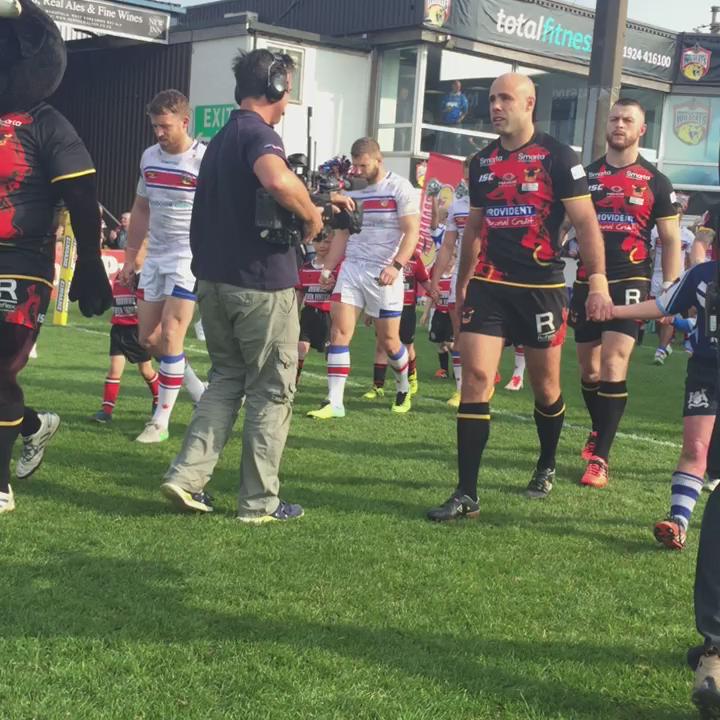 Advertisement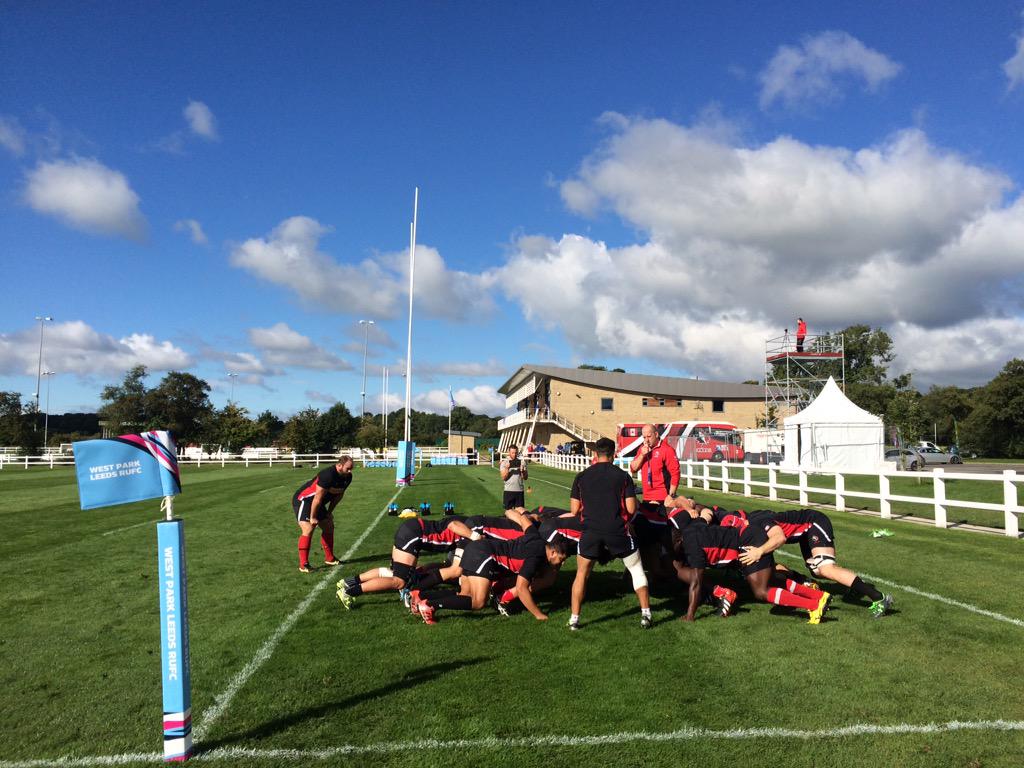 Canada's rugby union side got back to training in Leeds today after their 50 - 7 thrashing by Ireland.
The team are based at West Park Leeds RUFC on the outskirts of the city and face Italy at Elland Road on Saturday.
England play Fiji in the opening game of the Rugby World Cup at Twickenham.
There are two games in Yorkshire - both at Elland Road. Italy play Canada, and Scotland take on the USA. They all arrive in Leeds next week for the matches on Saturday the 26th and Sunday the 27th of September.
However, Yorkshire has already played a significant role in England's preparations for the tournament.
John Shires reports:
The Parliamentary Rugby League Group has laid a wreath at the Cenotaph in remembrance of those involved in rugby league who have died while serving their country.
The ceremony was restored to Challenge Cup Final weekend tradition by HM Armed Forces in 2014, and takes place the day before the final. This year's ceremony drew larger crowds from the rugby league family showing their support to the Armed Services, and was bolstered by hundreds of visitors to the capital.
"...to my mind, this ceremony represents the best of rugby league. Above all else, rugby league is a family and we look after one another. Like any family, we remember those we have lost and this both a poignant ceremony and fitting tribute to those in the game who have done so much for the country and for us."
– The Group's Chairman, Leeds North West MP Greg Mulholland
"I am proud to be a part of this ceremony, as part of Leeds Rhinos, as a rugby league player and as a person. Those we honour today were not just players and fans of our great game, they were and are true heroes and in this small gesture, we recognise and reflect on their profound courage and are grateful for all they have done for those they left behind."
– Jamie Jones-Buchanan, Leeds Rhinos
"This is a hugely important part of the Challenge Cup Final weekend. It sets the foundation for what is a celebration of the sport the following day, and gives us pause to reflect and give thanks to all those who have given so much so that we might run out at Wembley and enjoy a great day. It touches you and it was an honour to be involved in such an occasion."
– Hull KR Captain, Terry Campese
Conducted by Her Majesty's Armed Forces and lead by Vice Chief of Defence Staff and President of Great Britain Armed Forces Rugby League, Air Chief Marshal Sir Stuart Peach, the ceremony began as Big Ben struck 11 o'clock. Joining GBARFL and Parliamentary Group Chairman Greg Mulholland MP were RFL Chairman Brian Barwick and Denise Edwards of the Royal British Legion. Challenge Cup Finalists Leeds Rhinos and Hull Kingston Rovers were represented by their Chief Executives Gary Hetherington and Mike Smith, and players Jamie Jones Buchanan and Liam Sutcliffe for Leeds and Hull KR's captain Terry Campese.
Advertisement
Hundreds have turned up to wish Hull KR well as they head off to the Challenge Cup Final at Wembley.
Sorry, this content isn't available on your device.
Castleford have suspended Australian winger Justin Carney pending an internal investigation.
In a brief statement on the club's website, the Tigers say the 27-year-old Australian has been suspended with immediate effect.
"Castleford Tigers RLFC can confirm that Justin Carney has been suspended from the club with immediate effect, whilst an internal investigation is undertaken," the statement said. "Castleford Tigers will not be making any further comment at this time."
– Castleford Tigers
Carney has been a huge success since he joined the Super League club on a two-year contract from Sydney Roosters almost three years ago. The winger has scored 63 tries in 62 appearances despite serving five separate suspensions for foul play in his three seasons so far. He was in the Tigers team that lost to Leeds in the Challenge Cup final at Wembley 12 months ago.
Carney, who also played for Canberra Raiders, last year signed a new five-year deal with Castleford and recently expressed an interest in playing for England, for whom he qualifies under the residency rule later this year.
The announcement comes at a crucial time for the Tigers, who play third-placed Huddersfield in their next Super 8s match next Thursday needing a win to keep alive their hopes of a semi-final spot
Ben Thaler from Wakefield will referee the 2015 Ladbrokes Challenge Cup final, Hull KR v Leeds Rhinos at Wembley Stadium on Saturday.
The match will be Thaler's first Wembley appearance as a referee having had the role of video referee and reserve referee in previous finals.
He will be assisted by touch-judges Joe Cobb and Clint Sharrad, whilst James Child and Richard Silverwood will be the video referees.
I first got into refereeing in 1994. It was the week before the Challenge Cup final and I remember thinking how amazing it would be to referee at a stadium like Wembley. This is the first time I have been given the refereeing role at a Challenge Cup final. It's the pinnacle for any referee in sport. No matter what game I am working at, from League 1 through to large events like this, I always approach them in the same professional manner. It's a huge occasion and I'm sure Hull KR and Leeds will put on a great show. I've had phone calls from former referees Fred Lindop and John Holdsworth to congratulate me on this appointment. Stuart Cummings and Steve Ganson have been brilliant too with their support and guidance.
– Ben Thaler
Over 79,000 tickets have already been sold for the 2015 Ladbrokes Challenge Cup final.
Hundreds of people turned out at Bradford and Bingley rugby club to watch the final game in a tournament that brought together more than 400 mixed ability players from nine different countries - some from as far away as Argentina. Hannah Miller reports
Load more updates