Seagulls and their bacteria-laden droppings could have cost Scarborough's south bay beach its top rating for water cleanliness, according to environment officials.
The bathing water at the beach failed to reach the very highest standards this summer and will miss out on a coveted blue flag. The Environment Agency says Yorkshire Water's sewerage works are not to blame - and it may instead be down to guano from the large number of seabirds. An investigation is now underway.
One beach in North Yorkshire, Staithes, near Whitby, failed to meet even the minimum pollution standard. The beach has the consistently worst pollution levels in the whole of England and Wales. Officials blame farm and livestock waste running into the village's stream which spills onto the beach.
Nine days before Christmas in 1914 was the major turning point in the Great War resulting in thousands signing up to fight.
That is because it was the first time the Germans had killed civillians on home soil. The seaside town of Scarborough was one target and 18 people were killed there.
Now a group of volunteers are trying to trace their relatives in time for a special centenary next month. Sarah Clark reports.
Advertisement
Football clubs playing outside their home town is not anything new - Rotherham spent 4 years playing in Sheffield at the Don Valley stadium recently, whereas Grimsby Town actually play their home games in Cleethorpes.
But how about having to travel 20 miles to watch your team play at home?
That is the situation facing fans of Scarborough Athletic, the club that was formed 7 years ago after Scarborough FC went bust. But as Chris Dawkes reports, plans are in place for a return home.
Historians are trying to track down relatives of 18 people who were killed 100 years ago in the German shelling of Scarborough.
Read the full story ›
Police have arrested a group of people on suspicion of supplying Class A drugs in Scarborough during a series of early morning raids.
Specialist search officers and detectives visited a number of properties around Scarborough and arrested 12 people as part of an ongoing operation to tackle drug dealing in the town.
A man from Scarborough is beginning a seven year jail sentence for historic sexual and cruelty offences against two children.
Mark Andrew Scotter, 38-year-old, carried out offences of rape, attempted rape, gross indecency, ill treatment and neglect against a boy and a girl between 2000 and 2003.
He was sentenced at York Crown Court after being found guilty following a trial.
Advertisement
A North Yorkshire Police officer has won a Pride of Britain award after disarming a man trying to rob a shop at gunpoint.
Read the full story ›
Youngsters at Scarborough's north bay are taking advantage of free surf lessons as part of this years UK Pro Surf festival. The nation's finest surfing talent will battle it out over two days for round three of the UK Professional Surf Tour title.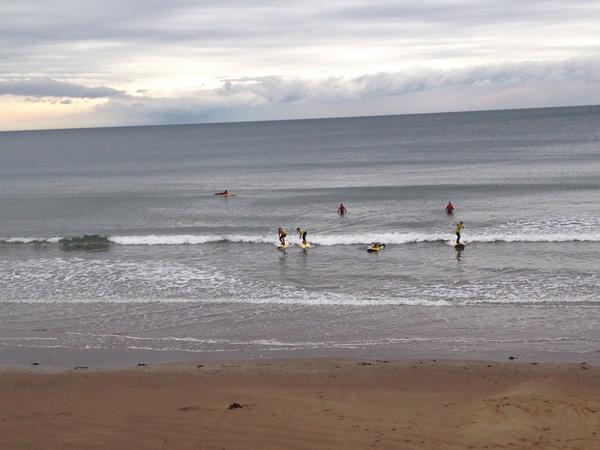 If you are a fan of surfing, Scarborough is the place to be this weekend, as some of the nations finest will be battling it out for round three of this year's UK Pro Surf Tour.
The festival, which is the biggest Pro Surf UK event in the country, is on for two days. As well as watching the competition, visitors to the seaside resort, will be able to take advantage of a surf surgery and taster sessions for young would-be surfers.
The annual event is being supported by Scarborough Borough Council and Welcome to Yorkshire.
The A64, which is the main route in and out of Scarborough, will be closed completely by the Highways Agency at Rillington from 8pm tomorrow until 6am on Monday.
The closure is to allow essential resurfacing work to take place as the current road surface needs replacing.
Drivers will be diverted via the A169 to Pickering and then on to Scarborough via the A170.
The Highways Agency says this work has to take place over a weekend due to the depth of carriageway which needs to be resurfaced.
Load more updates