Police are appealing for witnesses and information after a woman in her 90s was targeted by a distraction burglar at her home in Escrick.
At around 7.50pm on Saturday 20 June 2015, a young man called at the home of a 94-year-old woman in The Glade, Escrick. He engaged her in conversation and entered the house. While inside, he stole a black handbag containing bank cards and a mobile phone.
The suspect is described as white, 15 - 17 years old, between 5ft 3ins and 5ft 6ins tall, of slim build. He was clean shaven with a pale complexion and fair hair, wearing a cap and a grey or dark jacket.
Fire crews are fighting a large fire at a recycling plant at Great Heck near Selby.
The blaze started at 5pm yesterday Sunday May 31, at the site at Long Lane.
Police are warning motorists to avoid the area.
Advertisement
Campaigners trying to save a public toilet in North Yorkshire, have vowed to fight on, even though work to demolish it has begun.
Selby council say removing the old block in Sherburn in Elmet will improve the look and feel of the village and say it has the support of the local parish council.
But protest leader Malcoln Dowson claims the facilities, which have stood for over 100 years, are much needed because the population is growing and the toilets should be refurbished.
Police are appealing for help to trace a man wanted to recall for prison.
Ashley Fulcher, aged 24, could be in the Selby area, or he may have travelled to Norfolk.
Fulcher was originally arrested in connection with an offence of GBH in January 2012. He was sentenced on 19 March 2012 to 40 months in prison.
He was released from imprisonment on licence on 23 May 2013 and has recently breached his licence conditions, including failing to attend meetings with probation and for bad behaviour.
Anyone with information as to the whereabouts of Ashley Fulcher has been urged to contact North Yorkshire Police.
The Conservatives have held on to Selby District Council, winning 22 seats. Labour won eight seats, along with one independent councillor.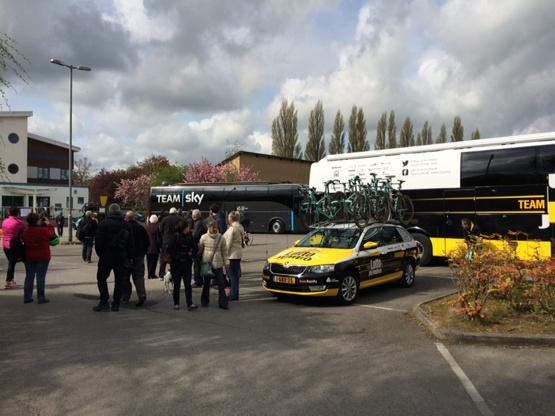 Advertisement
With less than 3 weeks to go until the inaugural Tour de Yorkshire one of the professional cycling teams taking part has been trying out one of the stages.
The One Pro team was in Selby this morning as they prepared to take on stage 2 of the race, which ends in York.
Former England test cricketer Matt Prior is the team's chief executive.
People in Selby will be able to see the Tour de Yorkshire Trophy at the new Selby Leisure Centre today.
After being on display in Selby, the trophy will go on a mini-tour around the county for the next few weeks before returning for the race in May
Protesters have gathered outside a toilet block in Sherburn in Elmet on the day Selby Council say it's due to be demolished .
Retired auctioneer Malcolm Dowson is leading the protest to save the only public toilets in the village.
The toilets, which have been on the high street for decades, are set to go down the pan after he says the parish and district council agreed to demolish them without seeking villagers approval.
North Yorkshire Police is appealing for witnesses to a serious head-on collision in the Selby area on Easter Sunday.
It occurred on the A63 near the Brackenholme Business Park at about 12.25pm. The crash involved two red saloon cars, a VW Passat and a Seat Toledo.
Emergency services, including an air ambulance, attended the scene to assist five casualties.
The 23-year-old man driving the Seat Toledo, who is from Selby, was airlifted to Hull Royal Infirmary with serious but not life-threatening injuries. He is in a "satisfactory" condition and has been released from hospital, police say.
A male passenger in the VW Passat and two men in the Seat Toledo were taken by ambulance to Hull Royal Infirmary for treatment to less serious injuries. The passengers from the Seat Toledo have received treatment for broken bones and cuts and bruises.
The driver of the VW Passat, a 22-year-old man from Goole, failed a roadside breath test. Police enquiries are ongoing into this matter.
The stretch of road remained closed until 7.50pm to allow the police to fully examine the collision scene and for the two cars to be recovered.
Load more updates