There is a new warning to children in our region to think twice before sharing personal and intimate photographs of themselves online.
It is estimated as many as 75,000 paedophiles are on the internet at any one time - and with more young people sharing selfie photographs than ever - it's even easier for the images to fall into the wrong hands.
Three new videos warning of the dangers of sharing personal details online have been produced by North Yorkshire police as part of a campaign to coincide with the summer holidays.
James Webster reports:
North Yorkshire Police have launched an online safety and child sexual exploitation campaign urging teenagers to think about the consequences of sharing selfie photos online.
Three videos have been produced to push the 'keep it to your selfie' campaign, which is aimed at boys and girls aged between 11 and 18.
Police say as many as 75,000 paedophiles are online at any one time.
Advertisement
Building work has started on the new Selby Leisure Village. The £5 million centre will include ten pin bowling, an adventure climbing facility, adventure play zone, aerial trekking ropes, Iski (indoor ski simulator) and an indoor skate and BMX park. It is expected to open next year.
This is the first step on the road to providing a significant boost to family facilities in the district. It will be a huge draw, bringing visitors into Selby - which then has the positive knock – an effect of providing a substantial boost to the wider business community. This supports our long-term vision for the Selby district which includes making Selby a great place to enjoy a healthy and happy life and our renewed focus on strengthening the local economy.
– Cllr Dave Peart
Police are appealing for witnesses and information after a woman in her 90s was targeted by a distraction burglar at her home in Escrick.
At around 7.50pm on Saturday 20 June 2015, a young man called at the home of a 94-year-old woman in The Glade, Escrick. He engaged her in conversation and entered the house. While inside, he stole a black handbag containing bank cards and a mobile phone.
The suspect is described as white, 15 - 17 years old, between 5ft 3ins and 5ft 6ins tall, of slim build. He was clean shaven with a pale complexion and fair hair, wearing a cap and a grey or dark jacket.
Fire crews are fighting a large fire at a recycling plant at Great Heck near Selby.
The blaze started at 5pm yesterday Sunday May 31, at the site at Long Lane.
Police are warning motorists to avoid the area.
Campaigners trying to save a public toilet in North Yorkshire, have vowed to fight on, even though work to demolish it has begun.
Selby council say removing the old block in Sherburn in Elmet will improve the look and feel of the village and say it has the support of the local parish council.
But protest leader Malcoln Dowson claims the facilities, which have stood for over 100 years, are much needed because the population is growing and the toilets should be refurbished.
Advertisement
Police are appealing for help to trace a man wanted to recall for prison.
Ashley Fulcher, aged 24, could be in the Selby area, or he may have travelled to Norfolk.
Fulcher was originally arrested in connection with an offence of GBH in January 2012. He was sentenced on 19 March 2012 to 40 months in prison.
He was released from imprisonment on licence on 23 May 2013 and has recently breached his licence conditions, including failing to attend meetings with probation and for bad behaviour.
Anyone with information as to the whereabouts of Ashley Fulcher has been urged to contact North Yorkshire Police.
The Conservatives have held on to Selby District Council, winning 22 seats. Labour won eight seats, along with one independent councillor.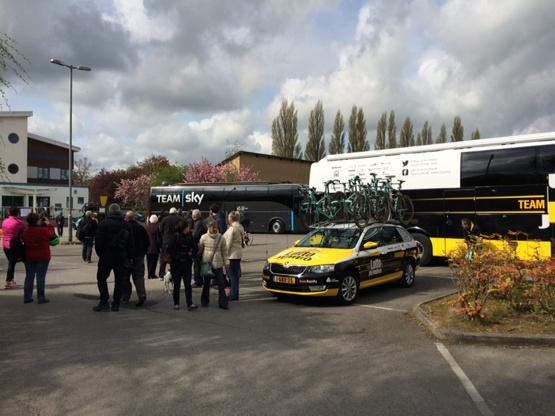 With less than 3 weeks to go until the inaugural Tour de Yorkshire one of the professional cycling teams taking part has been trying out one of the stages.
The One Pro team was in Selby this morning as they prepared to take on stage 2 of the race, which ends in York.
Former England test cricketer Matt Prior is the team's chief executive.
Load more updates