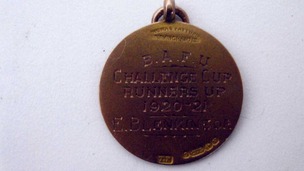 A 90 year old football medal belonging to a former England and Sheffield Wednesday star's been stolen in a burglary.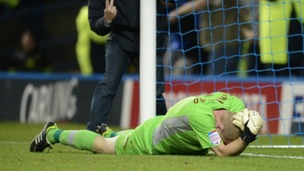 A man has been jailed after an attack on Sheffield Wednesday's goalkeeper during a Yorkshire derby match with Leeds United.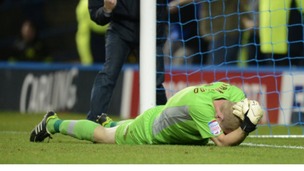 See the pictures moments after Sheffield Wednesday goalkeeper Chris Kirkland was attacked by a fan during the match with Leeds United.
Live updates
Sheffield Wednesday manager: staying up in Championship would be 'greater achievement' than promotion
On the eve of the final game of the season Sheffield Wednesday manager Dave Jones says staying up in the Championship this season would be a greater achievement than winning promotion last season.
Sheffield Wednesday play blind for charity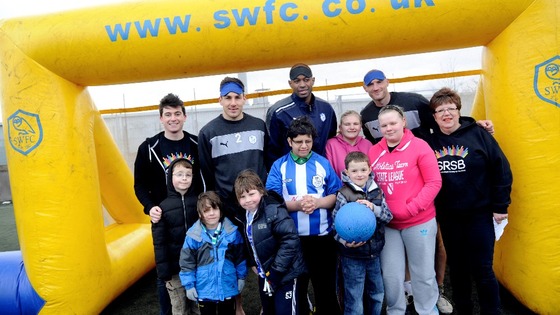 Sheffield Wednesday stars put their skills to the ultimate test when they played in a penalty shootout - blind.
Anthony Gardner, Martin Taylor and Lewis Buxton gained first-hand experience of what it's like to be partially sighted and how it would affect their lives when SWFC and the Sheffield Royal Society of the Blind held a community support day.
The players sported blindfolds and sim-specs, to simulate different sight loss conditions.
Gardner said: "Meeting the kids and seeing them play with such ease was an extraordinary experience because unless you try it you can never really understand how difficult it is."
Advertisement
Jermaine Johnson looks ahead to Millwall game
Fresh from scoring 2 'wonder' goals for Sheffield Wednesday in their crucial 3-2 win over Blackburn on Saturday, Jermaine Johnson talks to the press ahead of Tuesday night's game at Millwall.
Live football action
Live football: Sheff Wednesday v Blackburn
CHAMPIONSHIP
The latest, live updates from the game.
Dave Jones: "We did our job"
Sheffield Wednesday manager Dave Jones gives his reaction to Saturday's 2-1 derby win over Barnsley at Hillsborough, a result that lifts his club out of the relegation zone.
Calendar Sport
Barnsley manger looks ahead to Sheffield Wednesday game
Barnsley manager David Flitcroft looks ahead to tomorrow's South Yorkshire derby against Sheffield Wednesday at Hillsborough. Just a point separates these two sides at the bottom end of the table and a win for either side will go some way towards ensuring their Championship survival.
Advertisement
Owls boss Dave Jones talks ahead of the South Yorkshire derby
Sheffield Wednesday manager Dave Jones talks to the Press ahead of Saturday's South Yorkshire derby against Barnsley at Hillsborough. It's a real six-pointer with both sides just above the npower Championship relegation zone.
Football transfer window closed
Striker Chris O'Grady is expected to join Barnsley on loan from Sheffield Wednesday for the rest of the season
Live: Football action
Live: Charlton v Sheffield Wednesday
For live minute by minute text updates from the Charlton v Sheffield Wednesday game click here
Backing for Jones from Mandaric
Mandaric gives manager vote of confidence
Sheffield Wednesday chairman Milan Mandaric has given manager Dave Jones a vote of confidence, following Saturday's home defeat by Leicester City.
It was Wednesday's fourth successive defeat, and ended with the team being booed off the field, but Mandaric has appealed to fans to pull together.
"I can assure you all that we are working tirelessly to put things right and it has never been more important to demonstrate that at times like this, the Sheffield Wednesday football family stays together.

I firmly believe we have a good manager in Dave Jones. He and his staff have a tremendous amount of knowledge and experience to take us up the table."
– Milan Mandaric
Load more updates
Back to top