The British Geological Survey has published a seismology graph showing a large blip which is the tremor felt across much of East Yorkshire and Lincolnshire this evening. The large black mark towards the bottom of the chart indicate when the 3.9 magnitude tremor struck, close to Hull.
Officials say the quake is the largest in the area since the quake in Market Rasen on 27 February 2008 which, at magnitude 5.2, was 90 times larger.
They say earthquakes of this size occur approximately every two years in the UK, adding that worldwide there are approximately 8000 events annually that are larger than the one felt this evening.
The British Geological Survey has confirmed an earthquake took place in East Yorkshire at 23:14, at a depth of 18km and magnitude 3.9, felt across Yorkshire and Lincolnshire.
SEISMIC ALERT: 09/06/2018 ORIGIN TIME: 22:14:29.1 UTC LOCATION: 53.646 -0.066 DEPTH: 18 km MAGNITUDE: 3.9 LOCALITY:… https://t.co/zO4w5efkX6
Experts are asking anybody who felt their house to shake to fill in a short survey.
Advertisement
An independent organisation in Paris (European-Mediterranean Seismological Centre) that monitors earth tremors says a magnitude 3.9 quake centred on Spurn Point in East Yorkshire was felt in the last hour.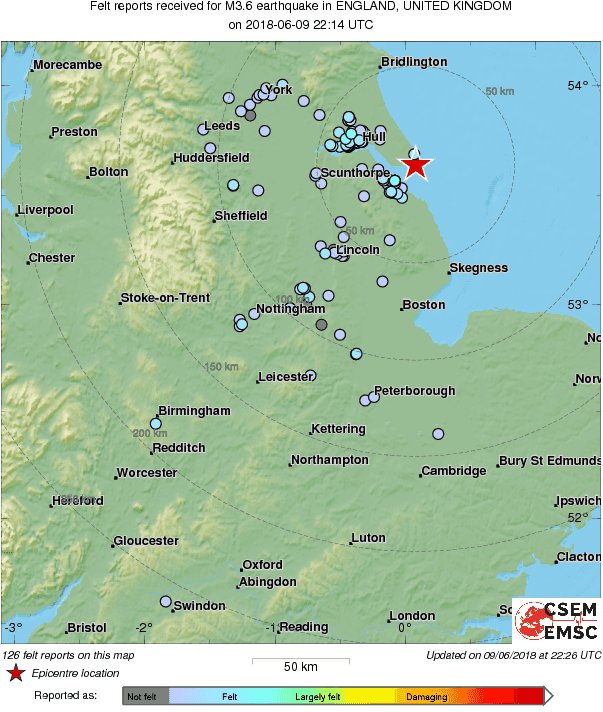 The British Geological Survey says it is investigating reports of tremors across the North of England. People across large parts of Yorkshire and Lincolnshire have reported feeling an earthquake in the last hour.
We're receiving reports of 'tremors' in the Yorkshire area. Our seismologists are looking into this and we'll verif… https://t.co/0lDPfS1y2t
Researchers at Sheffield University say a sugar tax initiative has led to a 30 per cent reduction in sales of sugary drinks.
Read the full story ›
Advertisement
Warm sunshine inland, but also isolated yet heavy, perhaps thundery, showers developing. Coasts doing better for sunshine on Sunday
Read the full story ›
A number of people from our region have been named in the Queen's birthday honours list.
Read the full story ›
Load more updates