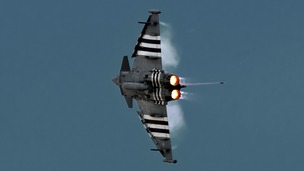 This Typhoon Eurofighter produces a cloud at the Cleethorpes Airshow at the weekend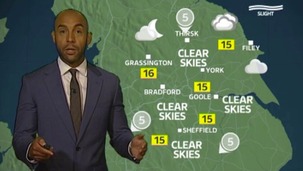 Calendar weather update with Alex Beresford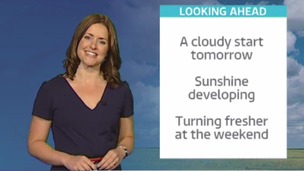 Calendar weather update with Amanda Houston
Live updates
Advertisement
Killer of Thavisha Peiris was knife robber on bail
Two cousins have been jailed for a total of 47 years for murdering a pizza delivery driver in a frenzied knife attack, just days before he started his dream job.
Sheffield Student Thavisha Pereis was left to bleed to death in his delivery vehicle by his killers, one of whom was on bail at the time of the attack.
Tonight a friend of Thavisha's said justice had been served. Jon Hill reports.
Ben Needham: Missing 23 years today
Twenty-three years ago today a Sheffield toddler disappeared on the Greek island of Kos leaving his family distraught, devastated and bewildered.
The passing decades have done little to change those feelings and the case of Ben Needham remains one of the great unsolved mysteries.
Today his mum Kerry has made a fresh appeal to the Prime Minister to help investigate leads and end the on-going agony.
Mark Witty has been speaking to her:
Advertisement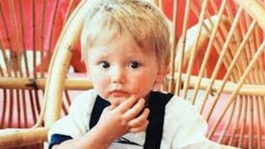 Two members of the Needham family have never met Ben who went missing 23 years ago. His mum says he would be proud of their search for him.
Read the full story
Killer of Thavisha Peiris was knife robber on bail
Two men have been sentenced today for the killing of Sri Lankan student Thavisha Peiris.
Mr Peiris was finishing his last shift as a pizza delivery driver before starting a dream job when he was stabbed to death.
Kasim Ahmed was jailed for twenty-three years, while Shamraze Khan will serve a minimum of twenty-four.
Passing sentence Mr Justice Coulson said of Ahmed: "You are a dangerous man...you brutally killed a person carrying out a kind of public service."
He said he had a truly terrible record for someone so young and said: "This was a murder that was waiting to happen in light of your criminal record."
He said had Ahmed been eighteen rather than seventeen at the time of the killing the starting point of the sentence would have been a minimum of thirty years.
The court heard a statement from Thavisha Peiris' family in which his father said: "We have lost the most caring and loving son a parent could have...we are now left with nothing but a broken heart."
A spokesman for the Crown Prosecution Service said the murder had left Mr Peiris' family devastated:
Thavisha Peiris was a gentle and loving young man. He was working his last shift as a delivery driver in Sheffield before starting a new 'dream job' when his life was senselessly and brutally cut short, the victim of a frenzied knife attack. The loss of Thavisha has left his family and friends devastated.

We have worked closely with South Yorkshire Police to build a robust case to put before the jury. Kasim Ahmed pleaded guilty to murder. And yesterday the jury has today found Shamraze Khan guilty of murder. These two defendants will now be serving a total of 47 years in prison between them. We hope that this result brings some comfort to Thavisha's family and friends.
– James Scott, District Crown Prosecutor, CPS Yorkshire and Humberside
Killer of Thavisha Peiris was knife robber on bail
Kasim Ahmed jailed for min 23 years for murdering Sri Lankan pizza delivery driver Thavisha Peiris in Sheffield
Shamraze Khan jailed for min of 24 years for murder of Thavisha Peiris in Sheffield
Load more updates
Back to top