A lesiure complex in Skegness has re-opened today after a major fire caused guests to be evacuated. Damage was caused to the holiday park's swimming pool, restaurant and bar.
Firefighters have spent the day on site investigating the cause of the blaze at Southview Leisure Park, as Adam Fowler reports.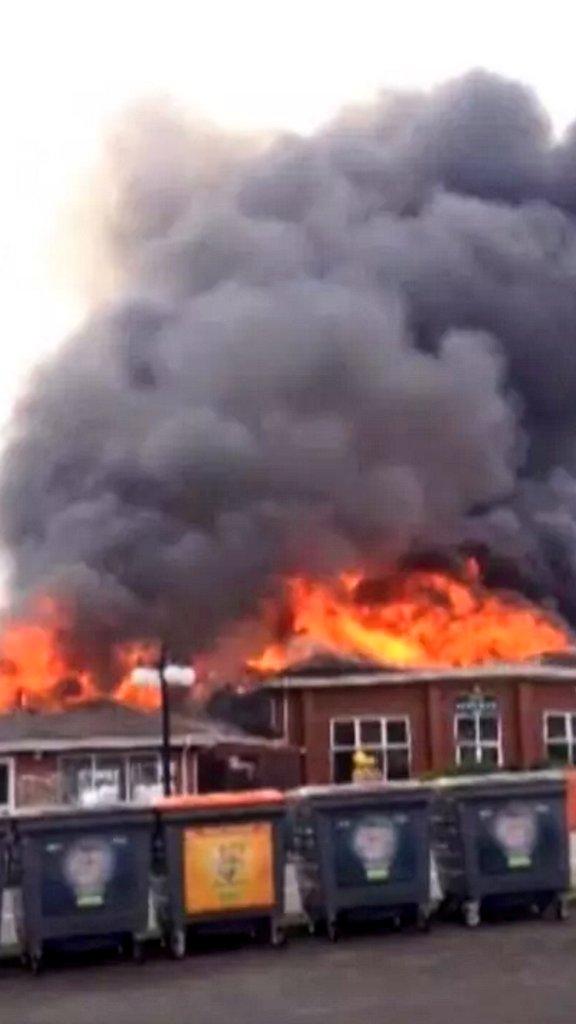 Advertisement
Seven fire crews are currently tackling a blaze at Southview Leisure Park in Skegness.
The complex has been evacuated but there is no reports of any casualties.
Crews from Mablethorpe, Skegness, Holbeach, Leverton, Alford, Spilsby and Horncastle are all in attendance.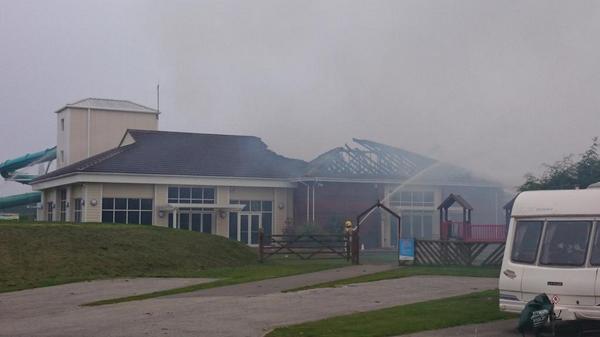 Police are searching for a 14 year-old boy, who has been missing since yesterday evening.
Leroy Johnson, from the Wellington Way area of Skegness, left Lady Jane Franklin School in Spilsby on Tuesday morning, along with two other boys, and the three walked to Boston.
Leroy was last seen in Craythorne Lane in Boston around 6.30pm yesterday. The two boys he was with have returned home safely but there has been no further sighting of Leroy.
The widow of a biker from Lincoln who died from a brain tumour last year says riding into Skegness in his memory today was an emotional experience. Paula Green is raising money in memory of her husband Adi and was joined by around 60 other bikers.
The family of Adi Green decided to organise a poignant bike ride from Lincoln to Skegness in his memory because it was a journey he enjoyed making himself. Around 60 riders set from Lincoln at around 9am arriving in Skegness shortly after 11am.
Adi was a keen biker and regularly made the journey to Skegness with his wife Paula to enjoy a bag of chips together. Today was the first time she had retraced those steps since Adi's death on 30 August 2013.
It was following a car accident in 2004 that Adi was first diagnosed with a terminal brain tumour. Defying doctors who told him he only had months to live he carried on fighting and survived for a further nine years after various round of treatment.
Adi Green's widow Paula has set up Adi's Mission Fund and has so far raised more than £5000 for The Brain Tumour Charity.
Advertisement
Around 60 motorbikers have staged a charity ride from Lincoln to Skegness in memory of a man from Lincoln who died last year from a brain tumour. Adi Green's family are now raising money through Adi's Mission Fund which supports The Brain Tumour Charity.
Adi's wife estimates they have raised hundreds of pounds with their charity bike ride and are hoping more money will come in with other fundraising events.
Emergency services are dealing with a serious collision on the A52 at Croft Bank, near Skegness.
The accident happened around 10 am this morning (Monday September 8) when a van hit a telegraph pole and went into a dyke.
It is believed there were four or more people in the van at the time of the accident but emergency services have said full details of the injuries are not yet available.
Former Tory minister Neil Hamilton has announced that he wants to contest the Boston and Skegness seat at next year's general election for UKIP.
Former Tory minister Neil Hamilton has announced that he wants to contest the Boston and Skegness seat at next year's general election for UKIP.
Mr Hamilton left politics when he lost his parliamentary seat in Cheshire in 1997 after becoming embroiled in a cash for questions scandal but joined UKIP three years ago and is now the party's deputy chairman.
He has now applied to be on the shortlist of UKIP's candidates for Boston and Skegness. The current Conservative MP Mark Simmonds recently announced he would not be seeking re-election.
Load more updates