HM Coastguard says another whale has washed up near Wainfleet. The area is currently inaccessible but the Zoological Society has been informed.
The Zoological Society says tests so far on three whales found washed up dead on a Skegness beach show one of whales hadn't eaten for some time.
Experts say the whales could have struggled to find food in shallow North Sea waters, or have been disorientated by marine noise.
Advertisement
Three sperm whales who washed up dead on Skegness are believed to be from the same pod as the one recently stranded in Norfolk. It is also thought they could be linked to strandings in Germany and the Netherlands in recent weeks.
East Lindsey District Council says it is developing plans to remove the carcasses from the beach, but it could be a few days until this is possible because formal consent needs to be granted.
A post mortem examination will be carried out on the whales to find out how they died.
The Council is asking people not to go through the cordon to touch the bodies.
Three large whales which are thought to have become lost in the shallow waters of the North Sea have washed up dead on a Lincolnshire beach popular with holidaymakers . The 48-foot long sperm whales grounded on the high tide at Skegness, as Jon Hill reports.
Three large sperm whales washed ashore on the Lincolnshire coastline were all thought to be male.
Read the full story ›
We are dealing with 3 #Whales washed ashore on Skegness beach.People are asked not to go near to them.We will remove once we have permission
Advertisement
Three whales have died after beaching on a stretch of Lincolnshire coastline popular with holidaymakers.
The sperm whales have washed ashore on this morning's high tide at Skegness and at Gibraltar Point, a few miles further south.
They are thought to be the remaining members of a pod of whales which were spotted in The Wash on Friday.
There were desperate efforts by up to 20 rescuers to save one of the pod when it got into difficulties in shallow waters off Hunstanton. But the 50 foot long bull whale, weighing up to 30 tonnes died on Friday night.
It is entirely possible that these whales at Skegness are from the same pod. If all have washed up dead it is too much of a coincidence. It is possible that they were on the rocks and injured themselves as they managed to free themselves."
– Natalie Emmerson, Hunstanton Sealife Sanctuary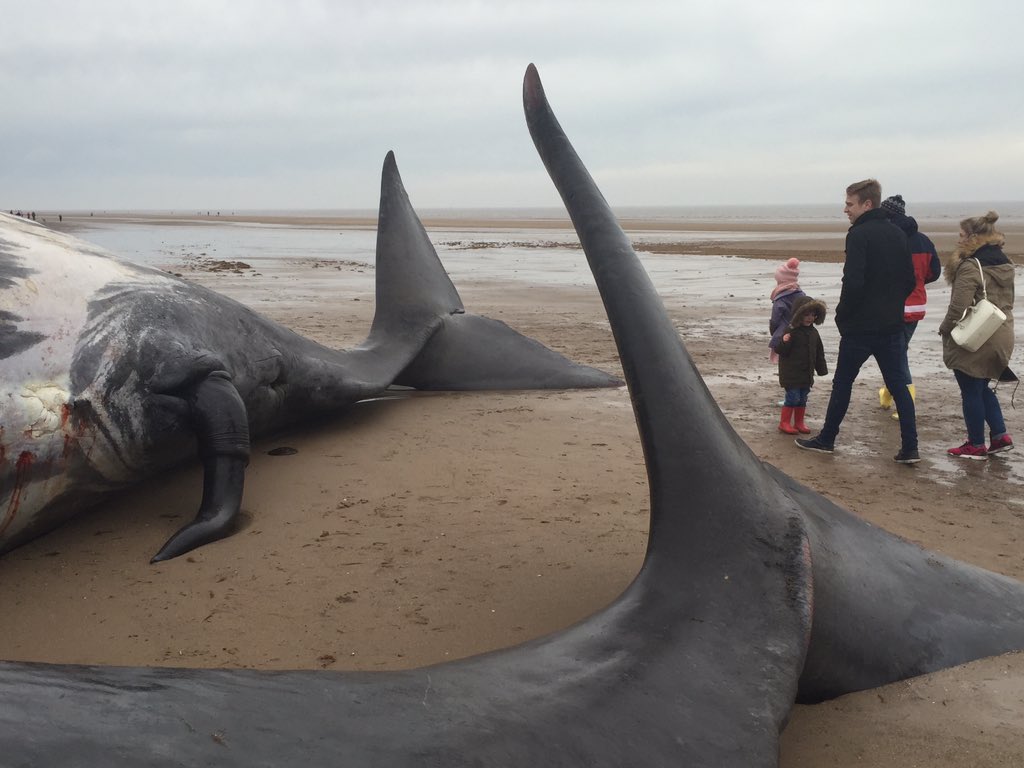 A man who claimed he was "returning" items to his ex-wife when he dumped them in her front garden has been fined for fly-tipping.
Michael Hutchinson, 72, of Church Lane, Skegness, Lincolnshire, dumped bedding, furniture and other items with the message "Some things you didn't steal" outside the home of his former partner in June 2014.
He pleaded guilty to two counts of fly-tipping and was ordered to pay more than £2,300 after appearing at Lincoln Magistrates' Court last week.
North Kesteven District Council said Hutchinson did not believe he had fly-tipped and argued that he was "returning" the items but changed his plea to guilty before trial.
He was fined £625 and ordered to pay costs of £1,229.88, a victim surcharge of £63 and £400 compensation to his former partner.
The district council has never tolerated fly-tipping, and although Hutchinson considered himself to be returning the items, he was in fact committing an offence. We take this very seriously, and will prosecute anyone who is caught doing so.
– Councillor Richard Wright, North Kesteven District Council
Two business leaders in Lincolnshire are backing calls for councils to do more to extend the tourism season on the East Coast.
John Chappell the General Manager of Skegness Water Leisure Park and Chris Baron the Resort Director of Butlins have both spoken out as an online petition to extend the caravan season continues to gain support.
More than 700 people have now signed it and are calling for caravan sites to be allowed to open more between the months of October and March.
Planning decisions are ultimately made by the local authority, and the Environment Agency's role is to provide them with expert guidance regarding flood risk. The Environment Agency has worked with the council to develop a position that balances flood risk with the needs of the tourist economy on the east coast. Caravans are particularly vulnerable to deep or fast flowing flood water which would be expected if coastal defences were overwhelmed. Therefore the agreed position restricts occupancy of caravans during the winter months, when evidence and history shows the factors that lead to coastal flooding are more likely to occur.
– Environment Agency
I'm very keen that we grow the coastal economy of Lincolnshire, it is a massive contributor - over £520 million a year - to the wider economy so we set a target to double that contribution to a billion pounds a year....but we have to be cautious about how we do that bearing in mind the huge challenges we face with climate change and coastal flooding. We all remember what happened in 1953 when people died on the coast in terrible storms and we have to recognise that climate change is having an impact on our weather all over the country. Caravans themselves are not firm like hotels are...having watched the footage from Scotland over the weekend of caravans floating down rivers, I would not want to see that happen on our coast. There is a way forward I'm sure, we should work together to deliver it.
– Cllr Colin Davie, Executive councillor for economy and environment - Lincolnshire County Council
Load more updates