Lincolnshire Police are investigating after a man reportedly took teeth from one of the stranded whales in Skegness.
It's thought a man removed the teeth from the whale near the clock tower overnight.
Chief Insp Jim Tyner, from Lincolnshire Police, says if the man is found guilty he faces an unlimited fine, or a six month jail sentence, under the Conservation of Habitats and Special Regulations law 2010.
East Lindsey District Council says three of four sperm whales, stranded on Skegness beach, are likely to be removed within the next 48 hours - as permission is now in place.
Three whales were discovered over the weekend. A fourth was stranded at Wainfleet just down the coast from Skegness yesterday afternoon.
The Zoological Society has warned more whales could become stranded over the next few days as others have been discovered in recent weeks in places including Norfolk, Germany and the Netherlands.
Advertisement
HM Coastguard says another whale has washed up near Wainfleet. The area is currently inaccessible but the Zoological Society has been informed.
The Zoological Society says tests so far on three whales found washed up dead on a Skegness beach show one of whales hadn't eaten for some time.
Experts say the whales could have struggled to find food in shallow North Sea waters, or have been disorientated by marine noise.
Three sperm whales who washed up dead on Skegness are believed to be from the same pod as the one recently stranded in Norfolk. It is also thought they could be linked to strandings in Germany and the Netherlands in recent weeks.
East Lindsey District Council says it is developing plans to remove the carcasses from the beach, but it could be a few days until this is possible because formal consent needs to be granted.
A post mortem examination will be carried out on the whales to find out how they died.
The Council is asking people not to go through the cordon to touch the bodies.
Three large whales which are thought to have become lost in the shallow waters of the North Sea have washed up dead on a Lincolnshire beach popular with holidaymakers . The 48-foot long sperm whales grounded on the high tide at Skegness, as Jon Hill reports.
Advertisement
Three large sperm whales washed ashore on the Lincolnshire coastline were all thought to be male.
Read the full story ›
We are dealing with 3 #Whales washed ashore on Skegness beach.People are asked not to go near to them.We will remove once we have permission
Three whales have died after beaching on a stretch of Lincolnshire coastline popular with holidaymakers.
The sperm whales have washed ashore on this morning's high tide at Skegness and at Gibraltar Point, a few miles further south.
They are thought to be the remaining members of a pod of whales which were spotted in The Wash on Friday.
There were desperate efforts by up to 20 rescuers to save one of the pod when it got into difficulties in shallow waters off Hunstanton. But the 50 foot long bull whale, weighing up to 30 tonnes died on Friday night.
It is entirely possible that these whales at Skegness are from the same pod. If all have washed up dead it is too much of a coincidence. It is possible that they were on the rocks and injured themselves as they managed to free themselves."
– Natalie Emmerson, Hunstanton Sealife Sanctuary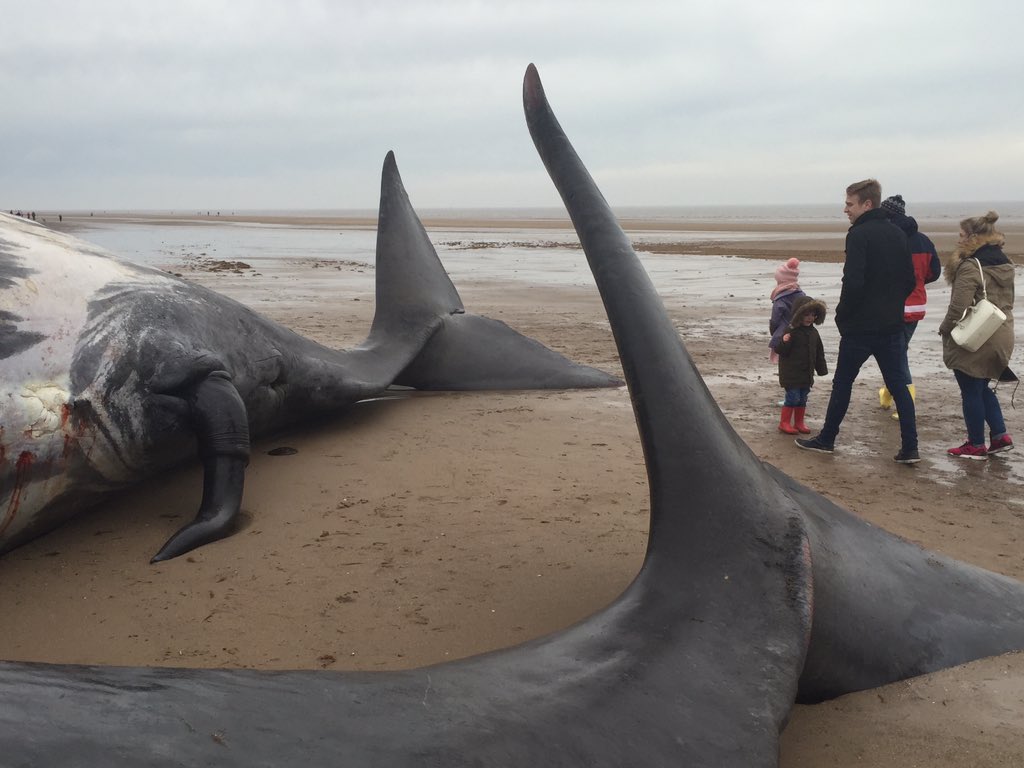 Load more updates