Police appealing for information to find a wanted man are putting up a £50 reward.
Shane Welsby, aged 27 from Sleaford, is wanted in relation to a burglary in Billinghay.
It is thought he may be in the Sleaford area.
The family of a woman cleared of trying to help her friend commit suicide say she should never have been prosecuted.
Amelia Caller known to her friends and family as Milly was charged with "encouraging or assisting" the suicide of Emma Crossman, who was found dead at her Lincolnshire home in January last year.
Today a jury at Lincoln Crown Court took just under five hours to clear her of the charge, Her family and friends were in tears after the verdict was announced. Kate Hemingway reports
Advertisement
The Crown Prosecution Service (CPS) has defended bringing forward a prosecution against Milly Caller for assisting the suicide of her friend Emma Crossman.
Caller was cleared of any wrongdoing by Lincoln Crown Court earlier today. Afterwards, her sister Fiona said she should never have been prosecuted.
However, the CPS says there was 'sufficient evidence for a realistic prospect of conviction'.
Cases of this nature are uniquely challenging and sensitive. Taking all the evidence into consideration and in accordance with the Code for Crown Prosecutors it was decided that there was sufficient evidence for a realistic prospect of conviction. After legal argument the judge agreed it was right for a jury to decide. We respect the jury's decision.
– CPS statement
A woman has been cleared of helping her friend to kill herself.
Milly Caller, 22, was charged with encouraging or assisting the suicide of Emma Crossman, who was found dead in Sleaford, Lincolnshire, in January last year.
Caller was alleged by the prosecution to have been "obsessed and infatuated" by Miss Crossman, 21, at the time of her death.
The jury found Caller not guilty at Lincoln Crown Court after hearing six days of evidence, including testimony from Caller, who said she did not think her friend would take her own life.
Caller did not show any emotion as the jury foreman read out the verdict.
She stood in the glass-fronted dock flanked by a security guard in a leather jacket and black trousers.
Her family and friends were in tears in the public gallery and, after Caller was released from the dock, she was embraced by her supporters in the court.
Outside, her family said she should never have been put in this position.
Her sister, Fiona, said: "She hasn't got a nasty bone in her body. She's the nicest person you would ever meet. She doesn't deserve any of this."
The jury came back with the verdict just moments after they had been given a majority direction by the judge.
They had been deliberating for about four-and-a-half hours.
A charity shop in Sleaford, Lincolnshire, has been targeted twice in as many weeks by vandals who caused £750 worth of damage.
We are deeply saddened that our shop in Sleaford has been targeted twice in two weeks by vandals super-gluing our locks. The cost of replacing the locks and then having a new shutter system installed is £750, a huge and unnecessary expenditure for the hospice.
– Caroline Peach, Retail Manager for St Barnabas Lincolnshire Hospice
Lincolnshire Fire and Rescue Service has unveiled plans for its new £6m fire station in Sleaford today.
Residents were invited to the Eastgate Centre to see the proposals. The building will house fire crews and an international search and rescue team. It will also include offices for council staff.
The County Council hopes to sell off the existing fire station plus council offices to fund the development. It will also save £240,000 a year in running costs. It is hoped work will start in August and completed next year.
Sean Taylor from Lincolnshire Fire & Rescue has been talking about the plans.
Advertisement
Hundreds of children in Sleaford, Boston and South Holland won't be provided with their usual school lunches today as the company that supplies them - Food for Thought GB Ltd - have been stopped from trading for operating without a licence.
They supplied around a thousand school meals a day.
'It has been over a week since the arson attack on one of our storage sites near Sleaford. Since the incident most of the remaining stock has been removed from the site with just approx 3000 bales left and isolated from the remnants of the fire. These will be removed shortly.We are also removing loose straw and degraded materials which is currently being received by a large landowner for use as compost. Sleaford REP are also meeting the Lincolnshire Joint Fire Task Force shortly to discuss this incident and the other strategic storage sites we operate. This will include reviewing all operational plans and emergency response planning as is normal under these circumstances. We want to be good neighbours and do have positive relationships with local councillors and organisations. Therefore we would like to apologise for the inconvenience caused to the public by the fire including the closure of the A15. Work continues to clear the site and clean areas effected by this criminal act.'
– Mike Harrison, Sleaford Communications Managers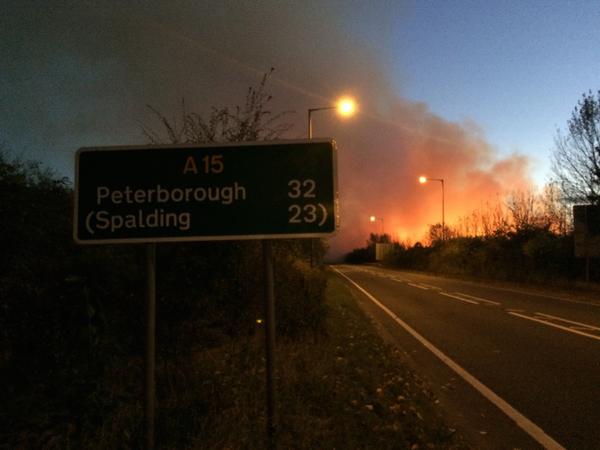 Fire crews are still at the scene where a large straw fire broke out yesterday evening.
24,000 tonnes of straw ablaze shut the A15 in Sleaford last night.
Sleaford fire update: 3 appliances to remain on scene to prevent fire spread. Unburned bales being removed, burning bales being supervised.
Load more updates