The snow holds no fear for this postman who decided to brave the snow in his shorts.
The snow may have caused disruption for humans, but some pets have been making the most of it. Effy the dog, who lives with her family in Barnsley, persuaded her owner to venture out into the garden and play ball.
Advertisement
A car has crashed into the front room of a house in Meersbrook in Sheffield. Neighbours told Calendar that they were concerned the road hadn't been gritted.
We were very sorry to hear about the accident that took place at the bottom of Bishopscourt Road in Meersbrook this morning. This road has never been included on the gritting route and we would always encourage all drivers to travel on roads along the gritting route. The team had been out working hard since 6pm last night to ensure that all gritting routes (primary and secondary roads) were gritted and passable. We grit more than 60 per cent of Sheffield's roads, which is more than any other local authority in the country. We would urge drivers to plan their route and drive to the conditions of the road at all times.
– Jayne Dunn Cabinet Member for Environment, Recycling and Streetscene
Leeds Bradford is the UK's highest airport.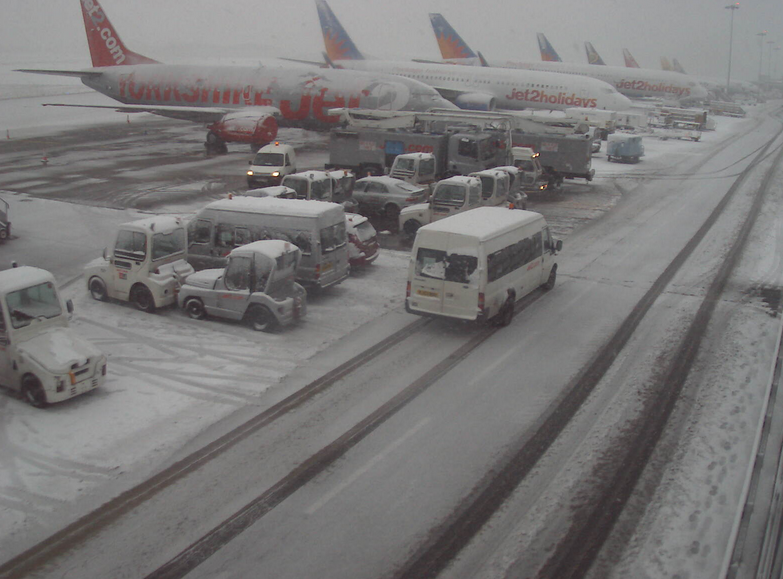 A number of Stagecoach bus services in South Yorkshire and North Derbyshire have been affected by the adverse weather conditions. There are disruptions to routes in Sheffield, Chesterfield, Barnsley, Rotherham and Doncaster. Passengers are being encouraged to allow more time for their journeys and check the Stagecoach website.
As the white stuff comes down, lots of you have been out and about taking beautiful photos.
Read the full story ›
Advertisement
Leeds Bradford Airport has temporarily closed due to this morning's snow while work is carried out to clear the runway. It is hoped it will re-open in the next couple of hours, but delays are expected. Passengers are being advised to check with their airline before travelling. There will be no flights until at least 10am.
The Met Office has issued a yellow alert of wind and snow for Yorkshire and the Humber. It is valid for North Yorkshire and West Yorkshire from 3pm on Boxing Day until the same time the next day.
A freak snow storm and plunging temperatures caught motorists unaware this evening in Lindley in Hudderfsield
Leeds Council is urging all residents to report anyone seen sleeping on the streets. It's part of a special programme to provide accommodation for everyone when the temperature drops below zero.
The "Leeds Severe Weather Protocol" (SWP) is activated when the night temperature drops below zero. This means that during the period that SWP, arrangements are in place so that no one needs to sleep on the streets.
he arrangements are co-ordinated by LCC Leeds Housing Options service with partner agencies including the Police, Commissioned Supporting People services, homeless charities and the voluntary sector.
The main point of contact for people needing accommodation during SWP is St George's Crypt. People will receive hospitality, a hot drink, a meal and somewhere to sleep. A number of homeless hostel services make temporary beds available for people who otherwise would not be eligible.
During this time, council officers also attend the Hub and other commissioned services to office advice and assistance to customers on the housing options available to them.
If you are aware of someone who may be sleeping rough, contact Leeds Housing Options Team on 0113 222 4412 for further information.
Load more updates