A campaigner who has been distributing aid to Syrian refugees has described the appalling conditions he witnessed, as people flee the conflict there.
Nazim Ali from Bradford travelled three thousand miles to the Turkish-Syrian border to help hundreds of refugees in the town of Reyhani.
He is planning to return next year. But before he does, he is urging British security services to improve the way they work together, after he was spoken to twice by separate agencies - once before he left home and then again when he was held at Manchester airport when he got back.
Lisa Adlam has his story: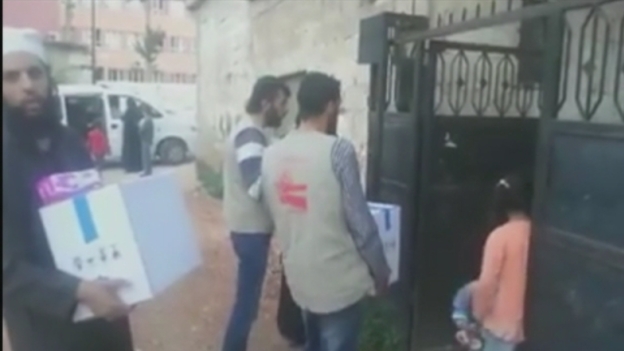 An aid worker from Bradford says refugees fleeing the fighting in Syria are in desperate need of help.
Nazim Ali, who works as a career advisor in the city, has just spent a fortnight handing out aid to refugees on the Turkish/Syrian border.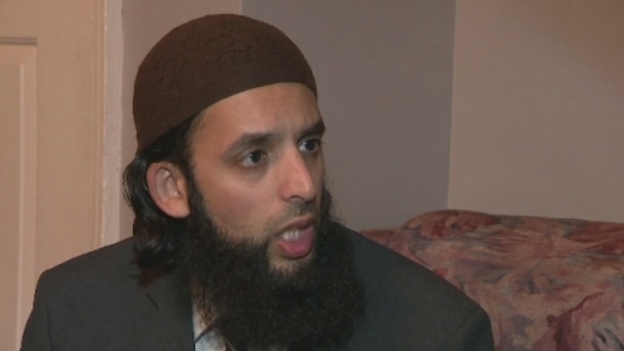 Advertisement
A year since one of the world's most deadly chemical weapons attacks - Syrian refugees living in Yorkshire have told Calendar they fear they may never be able to return to their homes.
It is estimated around 500 Syrians have come to Bradford to escape violence and oppression in their home country.
Michael Billington reports: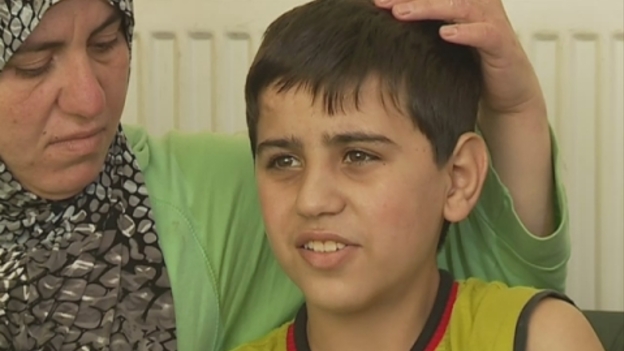 A vigil has been held in Bradford to mark the anniversary of one of the deadliest chemical weapons attacks in almost three decades.
Syrian refugees and members of the Syrian Association in Yorkshire gathered in the city this afternoon to remember the victims of the atrocity in Ghouta- when rockets containing the chemical Sarin - were fired. It is thought it claimed the lives of up to seventeen hundred people, many of them civilians.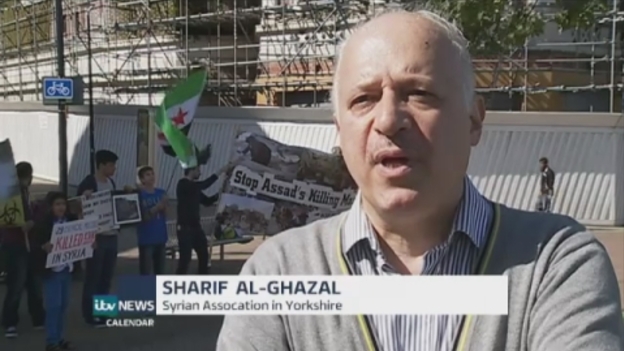 Members of The Syrian Association in Yorkshire (SAY) are holding a vigil in Bradford today to mark the first anniversary of chemical attacks on Syrian people by the Assad regime.
It's believed around 1,500 people died in the attacks, said to be the among the deadliest chemical attacks in recent history.
A prominent imam in West Yorkshire is among more than a hundred people who've signed an open letter calling on muslims not to go and fight in Syria.
The letter comes as another another Briton today claimed to have joined jihadi militants taking on government forces out there.
But Qari Asim, who preaches at the Makkah Mosque in Leeds says young muslims should not risk their lives in the conflict:
Advertisement
Muslims across our region have been urged to reject extremism and not join Jihadi fighters such as those now waging war in Syria. Several Britons have already been shown to have joined the rebel group ISIS currently fighting government forces there.
Today a special message from the spiritual leader of tens of millions of Muslims was beamed live into mosques across the country. They were listening intently in Huddersfield from where Chris Kiddey reports.
Syrian asylum seekers are to stage a protest outside a Home Office centre in Leeds today calling for the Government to help more refugees fleeing the civil war there.
The Government says several hundred of the most vulnerable people will be helped over the next three years. But campaigners, like this man who wishes to remain anonymous, say it should do more:
There are warnings from human rights activists in our region that a new counter terrorism campaign to stop teenagers going to war in Syria may backfire.
Police forces throughout the region have sent out a message saying that young people are putting their own lives at risk by going to Syria and could bring a terror threat back to our shores if they are radicalised in the country.
It comes as police reveal a teenage girl from West Yorkshire was arrested at Heathrow airport earlier this year, after her family apparently tipped off authorities that she was planning to go to Syria. But some say it's the wrong approach as Emma Wilkinson reports.
A human rights activist based in West Yorkshire says a campaign to stop young people travelling to Syria will split communities.
Anjum Layla Dean, the founder of the Bradford-based Basic Human Rights charity believes a counter terrorism office warning will backfire.
It comes after a 17-year-old girl from West Yorkshire was stopped from flying to Syria at Heathrow Airport along with an 18-year-old from London.
Load more updates