Police in Thailand are offering a reward of more than £13,000 to try to catch the killers of two British tourists.
David Miller, a Leeds University student, and fellow traveller Hannah Witheridge were murdered in Thailand. Their bodies were discovered on a beach on the island of Koh Tao on September 15th.
A group of footballers have been questioned by detectives investigating the brutal murders.
A bloodstained garden hoe, believed to be the murder weapon, was found nearby.
A spokesman for the Royal Thai Police confirmed that DNA samples were taken from "more than eight" footballers - who reportedly threw a late-night party at the nightclub where the victims spent their final hours - and officers were awaiting the results.
Police colonel Kissana Phathanacharoen said a reward of 700,000 baht is now being offered for information which leads to the arrests of those responsible.
Media reports in Thailand claim police are almost ready to arrest and charge more than one suspect over the murders of former Leeds University student David Miller and fellow backpacker Hannah Witheredge.
The Broadcast outfit Thai PBS quotes Southern police chief Pol Lt-Gen Panya Mamen as saying police have now gained enough evidence to arrest more than one person over the murder of the two British tourists in Koh Tao.
He is said to have "expressed confidence' that they will be arrested and charged within this week.
It's also reported that police have dismissed news report that the tourists might have been killed by local mafias after having heated argument with them. And that two suspects who were speed boat employees had been cleared after DNA testing did not match that found at the scene and on one of the bodies.
Advertisement
Police investigating the murder of former Leeds University student David Miller and fellow backpacker Hannah Witheridge have released the 12 suspects after DNA samples collected from the victims and the scene do not match any of them.
There have been harrowing scenes in Thailand as the distraught parents of one of the two murdered backpackers arrived in the country as local police admitted they have no idea who the killer is.
It's four days since Leeds University student David Miller and Hannah Witheridge were found battered to death on a beach on the island of Koh Tao.
Today Hannah's family hugged each other in front of the cameras as Thai Police revealed they had no DNA match to any of the 12 suspects they've been questioning. Jon Hill reports.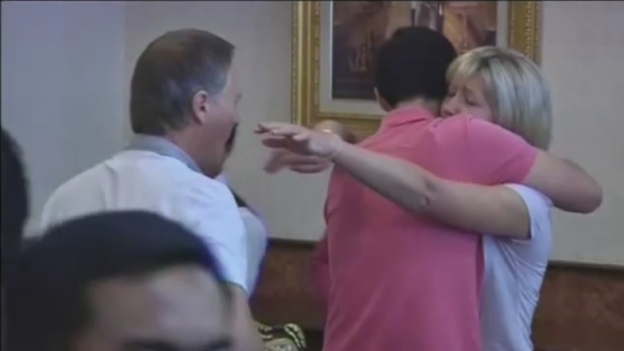 Police in Thailand say they have no idea who murdered the Leeds University student David Miller, 24, and fellow backpacker Hannah Witheridge.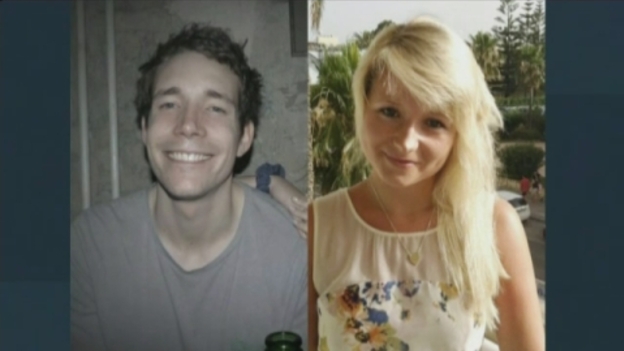 The holidaymakers were found bludgeoned to death on the island of Koh Tao in the early hours of Monday.
Today Police said DNA results ruled out 12 of their suspects. And two British brothers - friends of David from Jersey - have now satisfied the authorities they had nothing to do with the killings.
23-year-old Hannah's distraught family today attended a joint police and British Embassy press conference in Bangkok.
Police hunting the killers of two British backpackers have carried out a number of raids on the Thai island where the pair were found murdered.
Hannah Witheridge and David Miller were discovered on a beach on Koh Tao on Monday.
Four more men are believed to have been questioned in connection with the deaths following the raids.
DNA tests have found no matches to link the two British backpackers to earlier suspects detained by Thai police.
Advertisement
The distraught family of murdered British backpacker Hannah Witheridge have arrived in Thailand
Relatives of the 23-year-old hugged each other as they arrived at the headquarters of the Royal Thai Police in Bangkok.
Officers have so far failed to match her DNA with any of their suspects.
Her body was found alongside fellow Briton David Miller, 24,on the island of Koh Tao on Monday. Post mortem tests have showed the pair died from head injuries.
Tests carried out on eleven Burmese migrants questioned over the murders of British backpackers David Miller and Hannah Witheridge have shown no DNA matches, Thai Police have said.
The group were arrested after bloodstains were found on some of their clothing.
Two British backpackers found murdered on a Thai beach died from head wounds, tests have shown.
Post mortem tests carried out in Thailand found Hannah Witheridge died from head wounds while David Miller died from severe blows to the head and drowning.
Thai Police also revealed Mr Miller suffered wounds on his hand, indicating a struggle had taken place.
The pair were found murdered on a beach on the island of Koh Tao on Monday.
Friends of Adam Pickles, a 42-year-old teacher who worked in Thailand, have reacted angrily as another Briton who allegedly attacked him and put him in a coma walked free from a Thai court.
Adam Pickles, from Bradford, was allegedly attacked by Sean Henry Tinsley in Pattaya three years ago.
Adam is still in a coma after being flown back to Yorkshire.
Today Adam's father Andrew broke the news on Facebook that Tinsley had been acquitted.
Load more updates