Tony Benn's son paid a moving tribute to the former Labour MP at today's funeral service, praising his "encouragement and inspiration" for his family and many others.
In his eulogy at St Margaret's Church, Stephen Benn said the very last words his father heard were his four children telling him they loved him.
Listen to a segment of his speech here:
Advertisement
Politicians and activists bade an emotional farewell to Tony Benn as the Labour stalwart's final departure from Parliament was greeted with both tears and a sustained round of applause.
The former cabinet minister's coffin was driven the short distance from the Palace of Westminster's Chapel of St Mary Undercroft, where his body laid in rest overnight, to St Margaret's church in the shadow of Westminster Abbey.
It was topped with a wreath of red roses to match the emblems on many of the banners held by a large crowd lining the route and representing many of the causes he championed during a Commons career spanning more than half a century.
Among them were Stop The War, the Palestinian Solidarity Campaign, trade unions and several opposing government cuts.
The procession was led by the chaplain to the Commons Speaker, the Rev Rose Hudson-Wilkin - who kept an overnight vigil beside the body - and was followed by family members.
Onlookers clapped as the coffin was carried from the hearse to the entrance to the church but silence fell as Big Ben chimed 11am, and it was borne into the church to the sound of the choir broadcast on speakers to those outside the private ceremony.
Among those seen shedding a tear was his long-time Labour colleague and former foreign secretary Dame Margaret Beckett.
First elected to parliament in 1950, Mr Benn renounced a peerage to remain in the House of Commons, serving in the cabinets of Harold Wilson and James Callaghan and staging a bitterly divisive battle with Denis Healey for the Labour deputy leadership as the champion of the left in 1981.
He famously retired from Parliament in 2001, saying he wanted to "spend more time on politics", and won a new status as a national treasure touring the country to speak to packed venues from town halls to West End theatres and the Glastonbury festival.
Well into his 80s, he was a familiar and popular figure at demonstrations and anti-war rallies. Tributes poured in from across the political spectrum after his death at 88 was announced on March 14.
The funeral will be followed by a private family cremation later in the afternoon and a memorial meeting will be held later in the year.
Figures from across political divide have arrived in Westminster for the funeral service of Tony Benn.
Mr Benn's coffin arrived at St Margaret's Church to applause and some tears as politicians and activists made up the amassed crowds.
Arthur Scargill, Rory Bremner, Lord Heseltine, Gerry Adams and Andrew Mitchell are among those at the ceremony, ITV News' Political Correspondent Carl Dinnen reports.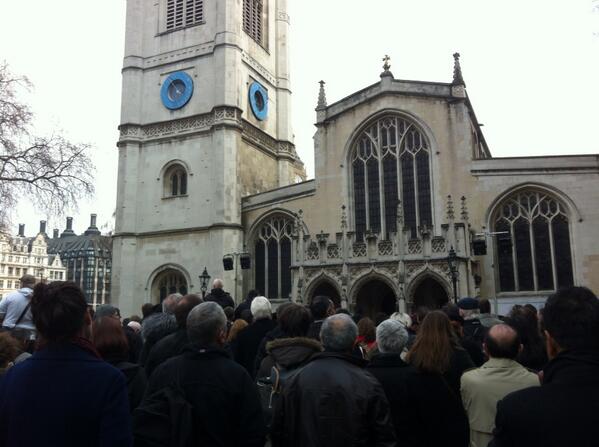 Devoted crowds are waiting outside in Westminster as the funeral service of former Labour cabinet minister Tony Benn gets underway.
One banner describes the left-wing MP as "truly irreplacable", while another calls him "our Tony Benn".
Advertisement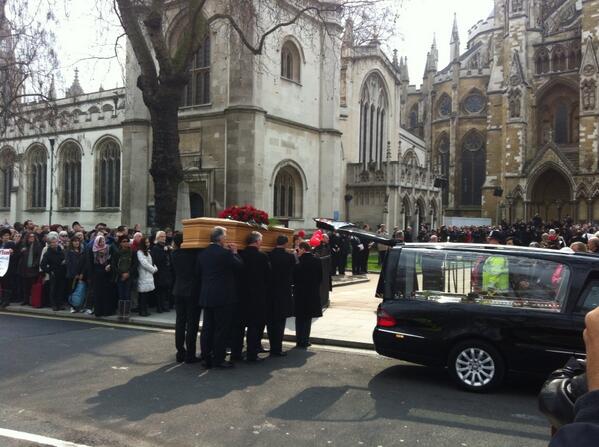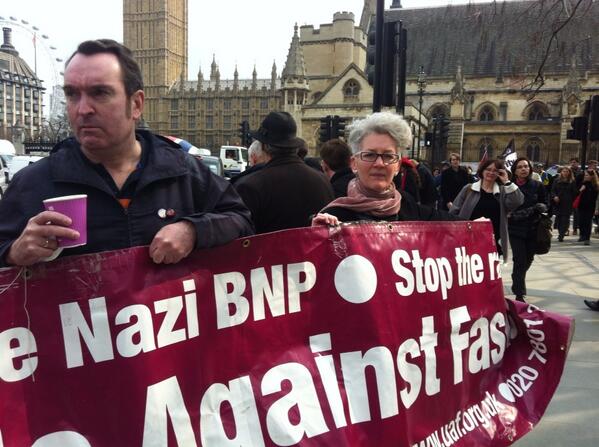 The friends and family of former Chesterfield MP, Tony Benn, are preparing to say their final goodbyes at his funeral later this morning.
A service for the long-serving Labour politician will be held at St Margaret's Church in Westminster at 11am.
It's expected he'll then be buried at his family estate in Essex.
Tony Benn, the former Chesterfield MP who died two weeks ago at the age of 88, will rest tonight in the Parliament's chapel of St Mary Undercroft.
His funeral will be held tomorrow morning. Political correspondent Bob Constantine has more details from Westminster:
Load more updates