A stone monument to commemorate Sheffield's part in last year's Grand Depart has been unveiled.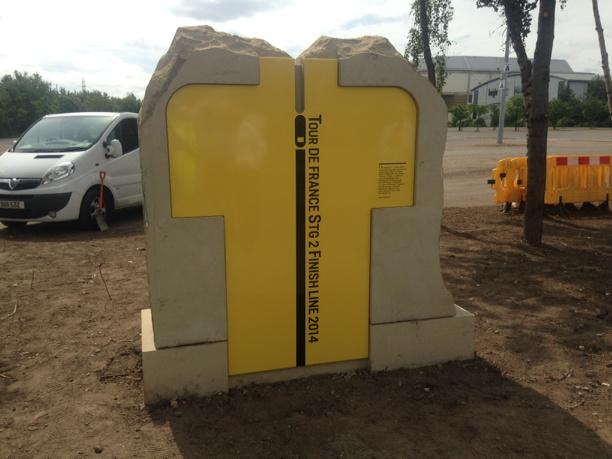 Day two of the race finished in the city and is thought to have generated around £10 million for the local economy.
It was the biggest cycling event Yorkshire has ever seen and its legacy is continuing to be seen almost a year on from the Tour de France.
It brought cycling to millions of people around the world and now a new scheme has been launched in Leeds to encourage children to get on their bikes.
Sally Simpson has the story:
Advertisement
A knighthood should be considered for Gary Verity, the tourism chief who helped bring the Tour de France to Yorkshire, the Culture Secretary has suggested.
Yorkshire hosted the first two stages of the 2014 tour.
Tory Cabinet member Sajid Javid insisted the event has been a "great thing for Yorkshire", as he was pressed to back a campaign to give a knighthood to Gary Verity, chief executive of Welcome To Yorkshire.
Speaking in the Commons, Tory backbencher Philip Davies (Shipley) told Mr Javid: "After the great success of the Tour de France coming to Yorkshire last year, which gave an estimated £100 million boost to the Yorkshire economy, are you as excited as everybody else in Yorkshire is about the route next week being declared for the Tour de Yorkshire - the new international cycling race which is being introduced?
"And would you like to join me in congratulating Gary Verity for the role he's played in organising this, as well as bringing the Tour de France to Yorkshire, and support my campaign for him to receive a knighthood in the next honour's list?"
The Culture Secretary replied: "I agree very much with you. I remember visiting the Tour myself and being hugely impressed by the turnout, participation by people of all ages in terms of spectator sport and it's been a great thing for Yorkshire. I think the new initiative is very welcome. The comments you've made about Gary Verity, I very much agree with you in terms of what he achieved for Yorkshire and it should be looked at."
Last summer's Tour de France brought an extra £12.5 million to Calderdale, according to figures released by the council. Hotels and B&Bs were among those to benefit, with visitors spending nearly £3 million on accommodation.
I'm delighted by these findings, which show the clear benefits that participation in the Tour de France brought to Calderdale. This can be measured both in terms of the immediate impact on our local economy and, in the longer term, the legacy.

We know there are keen cyclists who will want to tackle the challenges of the route themselves this summer. There are also spectators and viewers who will want to explore our beautiful landscapes and quirky towns, bringing lasting benefits for our tourism industry.
– Cllr Stephen Baines, Calderdale Council
Bunting and banners were a key feature of this year's Tour de France in Yorkshire and now Craven District Council will auction off some of the items that were on display in Skipton. All the proceeds will go to charity.
Mark Cavendish will return to the track next month to ride in the Ghent Six Day races.
The 29-year-old Omega Pharma-QuickStep rider is bidding to recover peak condition after requiring shoulder surgery following a crash on stage one of the Tour de France in Harrogate.
Happy I'll be returning to @zesdaagsegent in November! Honoured to finally partner track legend, my good friend & teammate @iljokeisse.
The Ghent Six Day, which takes place from November 18 to 23, is a series of races taking place in front of a passionate Belgian crowd.
Cavendish will compete alongside Iljo Keisse, his Omega Pharma-QuickStep team-mate.
Advertisement
An egg company has raised more than £2,000 for Yorkshire Air Ambulance by selling limited-edition boxes during the Tour de France.
James Potter Yorkshire Eggs donated 5p from the sale of each six-egg pack, raising £2,760 for the emergency response charity.
YAA had the busiest weekend in its history when the Tour de France passed through Yorkshire, attending 31 incidents between July 4 and 6.
Adrian Potter, director of James Potter Eggs, said:
"The pack was the biggest-selling product during July.
"The Tour de France was brilliant for the county and for us and we were delighted to be able to give more to the region's air ambulance service which does such a fantastic job all year round."
James Potter Eggs began fundraising for YAA two years ago by donating 1p to the charity for every dozen eggs sold.
The firm, based at Catton near the YAA base at RAF Topcliffe, has since donated more than £24,000 to the charity.
The Potter family are fantastic supporters of the charity. The donation of a penny per dozen eggs sold has created a hugely valuable regular income stream for the charity of on average £900 a month.

The special Tour de France pack generated more than £2,000 extra for us during July and we cannot thank this brilliant family and company enough."
– Tony Doveston, North Yorkshire fundraising manager at YAA
Leeds prop Kylie Leuluai, 36, has confirmed he will remain a Rhino for the 2015 season as he looks to continue his career at the very top of the game.
In his eight season with the Rhinos, Leuluai has made more metres per carry than any other forward at the club with an average gain of 8.12m per carry and is one of only five props in Super League who have made over eight metres per carry this season.
I am enjoying playing the game and I am not ready to finish yet. I enjoy being with the boys and being associated with the club and that was important for me however the decision was always going to be performance related, especially in my position and what I can do for the team. There are certain levels and requirements that are required of you in any team, but especially with this group of players, and, like any job, you have to be able to meet those requirements.
– Kylie Leuluai
Leuluai is now just one appearance short of equally the legendary Arthur Clues in the all time list of overseas players for the club. Clues made 236 appearances for Leeds between 1947 and 1954 whilst only Australians Frank O'Rourke, Dinny Campbell and Eric Harris are above Leuluai and Clues in the all time list.
Cycling legend Brian Robinson has joined Twitter.
The 83-year-old signed up on Wednesday and his first tweet was to thank well-wishers for support after his crash:
All new to this game, but I gotta say thanks to everyone who sent cards and good wishes, I am mending pretty good now just short on patience
The Tour de France came to a finish in Paris yesterday after three weeks of racing. Millions watched the Tour's Grand Depart in Yorkshire and organisers say the race was the beginning of great things for the county. Welcome to Yorkshire's Gary Verity and Tour de France director Christian Prudhomme have been speaking to ITV Yorkshire about the legacy of the event.
Load more updates