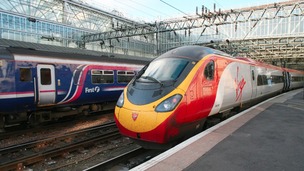 Rail passengers endured more morning misery today when an overhead line problem led to major disruption to key services.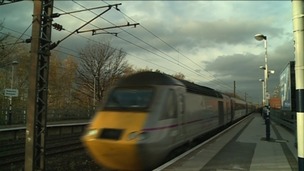 MP demands direct routes between North East Lincolnshire and London.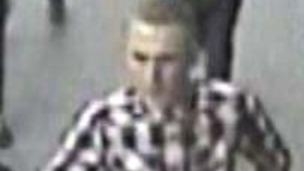 Police are trying to trace 8 men after a brawl in Huddersfield.
Live updates
East Coast rail line open for bids
The East Coast main line is expected to be back in private hands in less than two years under rail franchise plans announced by the Government.
The line has been run under the control of the Department for Transport since November 2009 after transport company National Express pulled out.
Transport Secretary Patrick McLoughlin has announced the start of a bidding competition for the East Coast franchise with an expected start of service by the new operator in February 2015.
He also published a detailed timetable for all rail franchise arrangements over the next eight years, following a major review after the West Coast bidding process had to be abandoned last year.
Plans to put the east cost rail route back into private ownership have been criticised by a Labour MP. The government is expected to confirm the proposals this week.
It is a bizarre and dogmatic decision to prioritise the privatisation of a service that is actually on track. Since running services on a not for private profit basis, the East Coast operator has returned £640 million to the taxpayer and invested more than £40 million in improvements to the service, achieving some of the best results since records began."
– Maria Eagle MP, Labour Shadow Transport Secretary
Advertisement
HS2 maps 'are old'
Residents who claim to be prisoners in their own homes since the High speed rail route was announced, are demanding the Government brings forward the consultation process.
The group from Swillington, Oulton and Woodlesford say their house prices have plummeted and sales have fallen through since the announcement was made. No formal consultation has been planned until later this year.
Now Leeds City Council is hoping to meet with the people behind HS2 to discuss the problems. Here's Councillor Richard Lewis.
HS2 maps 'are old'
Chesterfield Canal Trust says it 'welcomes' news that discussions have been taking place between HS2 Ltd. and local authorities over the route of the new line between London and Leeds, but has warned the proposals 'serve to blight' further regeneration of the waterway.
It comes after concerns were raised over the impact the line would have on the 300-year-old canal and amid claims the route was drawn up using out of date maps.
HS2 Ltd. said the route is 'the Government's initial preferred route' and it is now able to 'address concerns about specific sites'.
Members of the Trust have now requested discussions with HS2 officials before a full public consultation is launched later this year.
The Chesterfield Canal Trust very much welcomes HS2 discussions with Chesterfield Borough Council. The issues raised by the proposals for HS2, however, go well beyond the boundaries of Chesterfield Borough.

We regret that the proposals serve to blight, at one fell swoop, half a billion pounds of regeneration work associated with the Chesterfield Canal regeneration area; they devalue hundreds of thousands of hours of volunteer work put in over a thirty year period, and potentially trash years of partnership restoration planning and delivery.
– Chesterfield Canal Trust Ltd.
Rail delays for passengers
Normal services have resumed on East Coast trains between Doncaster and Kings Cross and Hull and Kings Cross, following the earlier overhead line problems on Tuesday evening. First Capital Conect continue to be affected.
Rail delays for passengers
Rail users are being warned to expect further delays today. It's after a major fault on the East Coast main line down to London caused problems for thousands of passengers yesterday.
Advertisement
HS2 maps 'are old'
There are fears that officials who drew up the HS2 route between London and Leeds may have done it on maps that are out of date.
It's been claimed a waterways project in North Derbyshire which was completed more than a year ago is missing from the HS2 route map released last month.
The group that spotted the mistake is calling for talks with the Government. Ben Erlam reports.
Rail delays for passengers
Thousands of rail travellers have faced lengthy delays today after a major fault on the East Coast main line. A kilometre of overhead wiring was brought down by an engine last night.
It left two hundred Yorkshire bound passengers stranded overnight at Kings Cross station and delays for passengers which will reach into tomorrow.
HS2 maps 'are old'
Officials planning the route the high speed rail line between London and Leeds have said they are 'now able to address concerns about specific sites' amid fears the route jeopardise further restoration of the Chesterfield Canal.
"The route north of Birmingham that was recently published is the Government's initial preferred route and we are now able to address concerns about specific sites such as the Chesterfield canal in more detail with local authorities.

We have recently met with Chesterfield council and discussions will continue.

A full public consultation will also open later this year and information gathered through the consultation will help inform the decision on the final route, which will include how the line can cross existing infrastructure such as canals."
– Ian Jordan, HS2 Ltd
Rail delays for passengers
Load more updates
Back to top