Live updates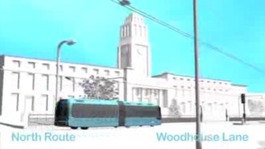 A drop-in session takes place today for people who want to know more about the trolleybus scheme coming to Leeds.
Read the full story
Trolleybus campaigners take to the streets
Video: Trolleybus campaigner speaks out
Advertisement
Trolleybus campaigners take to the streets
Campaigners take to street over trolleybus scheme
Campaigners have been out in Leeds today protesting about the proposed Trolleybus scheme in the city. Community groups - who've formed the A660 Joint Council - have been delivering leaflets ahead of a consultation on Tuesday.
They claim the buses will be double articulated "juggernauts", which would damage the environment. The group also says there will be traffic congestion, and claims it will lead to shops and houses being demolished. However Leeds City Council say the scheme will create thousands of jobs.
Opposition grows to £250m trolleybus line in Leeds
Campaigners oppose a £250m trolleybus scheme in Leeds. South Headingly Community Association says it is opposed to the plans 'because of their impact on the environment and community and the dubious benefit they might bring'.
There is a public consultation on Tuesday organised by Leeds City Council and Metro at City of Leeds School from 5.30pm.
Trolleybuses to return to Leeds
Trolleybuses are to make a comeback in Leeds after the Government approved the 250-million pound plans to install a modern system.
The Department for Transport is meeting the bulk of the costs with a £173.5 million grant, and local authorities will pay just over £76 million towards costs. It will be the first modern trolleybus system in the country, and is expected to generate up to 4000 new jobs.
Work is set to start in four years' time.
Back to top