A Ukip MEP has denied any wrongdoing over the use of her European Parliament allowances and expenses.
Jane Collins, the MEP for Yorkshire and North Lincolnshire, has been accused of using taxpayers' money to pay rental or running costs on offices owned by her partner Mike Kendall.
However, in a statement she says that she pays no rent on the office she shares with fellow MEP Mike Hookem.
The office sharing arrangement that Jane current has with her fellow Yorkshire & North Lincolnshire MEP, Mike Hookem, is designed to allow both MEPs to work together cohesively and to share a number of staff members in a convenient and cost effective way. The office space that Jane and Mike occupy is owned by Wallingfen Park Ltd, of which Jane's partner Mike Kendall is a Director. Jane pays no rent on the office space in question; however, she does contribute to costs of utilities, telephones and other incidental expenses.
– Statement, Jane Collins MEP's office
Trouble at Nigel Farage's opening of UKIP HQ in Rotheham as anti UKIP campaigners amass http://t.co/Tw7Keiu5xW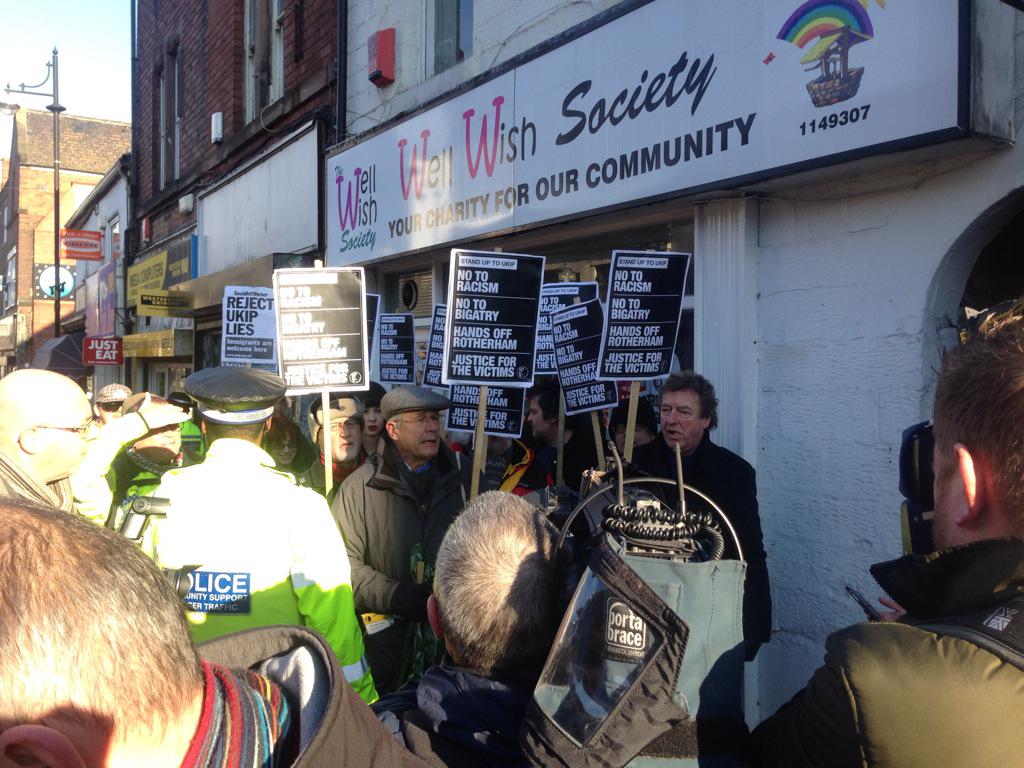 Advertisement
Nigel Farage says Ukip was becoming "increasingly alarmed" by MEP Amjad Bashir's behaviour in the months leading up to his defection to the Conservatives.
Speaking on BBC's The Andrew Marr Show, the Ukip leader said there was "quite strong documentary evidence" relating to what the party calls "unanswered questions" over employment practices at his business.
He also accused the MEP of "continuing associations with political extremists from Pakistan despite us saying please, please keep away", and said he was surprised that the Conservatives had accepted him
Former Ukip MEP Amjad Bashi, who has defected to the Conservative Party, has dismissed his former party's claim that it suspended him.
He called it a "desperate attempt" to smear him to distract from the news of his decision to defect and insisted there was "not a shred of truth" to the claims.
Ukip leader Nigel Farage, who will be questioned about the defection on BBC1's Andrew Marr Show, said: "Ukip has suspended Amjad Bashir MEP pending further investigations into unanswered financial and employment questions."
A Ukip source said Mr Bashir, who was Ukip's communities spokesman, had been aware for some time that he was being investigated and suggested that the imminent suspension was the reason for his defection.
But Mr Bashir said Ukip's reaction when the party found out he intended to defect "sums up what is wrong with them".
"They made a crude attempt to smear me with false allegations of irregularities in the recruitment of Asian members in Bradford," he said, writing in The Mail on Sunday. "There is not a shred of truth in any of the claims but it has made me more convinced than ever that I made the right decision."
Mr Bashir also said he had "experienced racism in Ukip".
The defection of Amjad Bashir's to the Conservatives has been welcomed by his new colleagues in Brussels.
Ashley Fox, leader of the Tory MEPs, said:
I am a great admirer of Amjad. He is a straightforward, down-to-earth character and he has an energetic and practical approach to politics. Having seen Ukip close up, he knows they cannot deliver anything the British people want or need. Amjad sees that only the Conservatives can deliver reform, renegotiation and a referendum in Europe and he will be joining me and my colleagues in campaigning hard to return David Cameron to Number 10 in May.
– Ashley Fox, MEP
Syed Kamall, leader of the European Conservatives and Reformists Group in the European Parliament, added:
Like us, Amjad believes in genuine equality of opportunity and the right of people to go just as far as their talent and hard work will take them. He is a natural Conservative and I am delighted that he is back where he belongs.
– Syed Kamall, MEP
This latest defection shows more than ever there is a revolving door between Ukip and the Tories. Conservative MPs defect to Ukip and Ukip MEPs flee back the other way when Nigel Farage says they have questions to answer. Ukip and Tories share policies as well as people - both parties want to increase NHS privatisation and cut taxes for those at the very top. All that's clear is that neither party can be trusted to stand up for hardworking families.
– Jon Trickett MP, Labour's Shadow Minister Without Portfolio
Advertisement
Ukip MEP Amjad Bashir, who was suspended by the party and defected to the Conservatives, has heavily criticised his former Ukip colleagues.
Speaking in the Telegraph Mr Bashir said Ukip had become a "party of ruthless self-interest", was "pretty amateur" and had a "ridiculous" lack of policies.
He also said the party was "delusional" about its chances of winning seats in May.
After almost three years as a party member, I realise that Ukip is more concerned with furthering its own interests as a political party than delivering for the British people.
– Amjad Bashir
Ukip MEP Amjad Bashir, who was suspended by the party for "extremely serious" issues, has defected to the Conservatives.
Prime Minister David Cameron told the Telegraph he was "absolutely delighted" at the Yorkshire and Humber MEP's decision.
News of the defection emerged shortly after Ukip suspended the MEP, who was the party's communities spokesman, over allegations including "unanswered financial and employment questions".
A senior Conservative source dismissed the move as a "desperate attempt" to play down the impact of Mr Bashir's decision.
UKIP has suspended Yorkshire and the Humber MEP Amjad Bashir, pending an investigation into "extremely serious financial issues".
The sixty two year old, who moved to Bradford with his family when he was eight , was elected to the European Parliament last year and is UKIP's small and medium business spokesman.
UKIP say they have suspended Mr Bashir while party officials carry out investigations into a number of issues which it considers to be extremely serious.
Mr Bashir has been informed of the specifics of the investigations which include unanswered financial and employment questions, interference with UKIP candidate selection processes and a continued affiliation with Mujeeb Bhutto, despite the party's protests against Mr Bhutto's involvement with Mr Bashir or UKIP.
"The UK Independence Party has a zero-tolerance policy and takes the matters at hand extremely seriously.

"The allegations against Mr Bashir are of a grave nature and we will be forwarding our evidence obtained so far to the police.

"UKIP will not tolerate anyone abusing their positions in the party, as we have a firm commitment to differing ourselves from the existing political classes.

"As a result, Mr Bashir's involvement with the party was suspended today with immediate effect pending further investigations."
– UKIP spokesman
Hundreds of demonstrators have protested against Ukip's immigration policy outside Doncaster Racecourse, where the party conference is being held.
However, having taken another Conservative scalp, it was still a good day for leader, Nigel Farage. Tina Gelder reports.
Load more updates