1/2 Town Moor Ave will be closed from approx 3.30-5pm today between Leger Way & Sandringham Rd to allow for planned demonstration #SYP270914
2/2 A short diversion will be in place for the closure of Town Moor Ave. It's anticipated it will be in place from 3.30pm until 5pm...
Protestors gather in Doncaster to march through the town as the second day of the UKIP conference gets underway.
Campaigners from Stand-Up to UKIP are unhappy about some of the party's policies including its stance on immigration.
Extra police officers have been drafted into the town as the demonstration gets underway.
Advertisement
There are 60 more officers than usual in #Doncaster today to accommodate the Stand up to UKIP demonstration. #SYP270914
The second day of the UKIP conference is underway in Doncaster as protestors prepare for a march through the town.
Unusually the leader of the anti-europe party, Nigel Farage, is set to address delegates at the racecourse including local MEPs for the second day running.
The conference is being held in Ed Miliband's constituency - a labour heartland - and Farage is expected to reveal which seats the party will target at the next general election.
Meanwhile extra police officers have been drafted in ahead of a demonstration by Stand-Up to UKIP.
Protestors will march from the town centre to the racecourse . They say they have concerns about a number of UKIP policies in particular its stance on immigration.
Nigel Farage delivered his Ukip conference speech from what appeared to be two pages of hastily-scribbled notes.
They were sitting next to a pipe - given to him as a gift by a previous speaker - on his lectern.
The notes contain a series of cues and slogans - some of which are illegible - rather than fully-formed sentences.
The first page is entitled "Conference Speech" under which are the words: "One year on Victory ... WE DID IT"
Other phrases in the notes include "Home front," "Time of change" and "Ukip positive political movement".
Next to the words "Scottish referendum" it says "ENGLAND VOICE". and next to "Immigration" it says "numbers out of control".
The final words on the page are: "Hold balance power referendum".
This is unlike anything I've seen from UKIP before. Huge introductory video of Farage's 'best bits'. Thousands here. http://t.co/aD4r5cheN5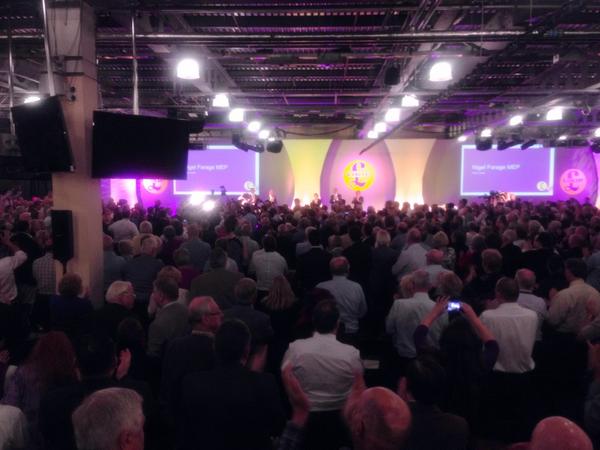 Nigel Farage has told a large crowd at the conference in Doncaster that UKIP is 'parking its tank at Labour's door.'
Calendar's political correspondent says Mr Farage appears to be delivering his speech without notes.
Farage: "The story that everybody has missed is that actually in the north...we are tearing vast chunks out of the old Labour vote too"
Advertisement
Ukip's deputy leader says the party are deliberately targeting disillusioned working class voters, describing them as the "low-hanging fruit in politics".
Paul Nuttall told BBC Radio 4's World at One: "I've been saying since 2007 that the low-hanging fruit in British politics are disaffected working-class people who will no longer vote for Labour, who feel that the Labour Party leadership doesn't represent them and has no empathy with them."
Mr Nuttall also said Ukip would welcome Tory MP Philip Hollobone "with open arms" if he decided to defect to the party, as some reports have suggested he may.
Ukip have pledged to bring in an extra 2,500 "frontline staff and search teams" to help control Britain's border.
Today, I am announcing that @ukip will increase front line staff numbers at UK border entry points by 2500 people! #UKIPConf14
The party's Migration and Financial Affairs Spokesman, Steven Woolfe, hit out at "mass, unskilled, uncontrolled migration", which he said had depressed wages in the UK.
Mr Woolfe also pledged to introduce new "priority entry points" at ports and airports, meaning "one line for British passport holders and one line for the rest of the world".
South Yorkshire Police and Doncaster Council are preparing for a proposed demonstration by Stand up to UKIP in Doncaster on Saturday afternoon.
Officers have been in discussion with the organisers to understand their plans, which include a walking demonstration through the town centre towards Doncaster Racecourse where the UKIP Party Conference is being held.
In order to ensure the demonstration takes place safely officers say they will be working with partners to facilitate a rolling road block, which will minimise disruption to residents.
Around sixty additional officers from Doncaster will be on the streets on Saturday to ensure that the demonstration can be conducted safely and peacefully.

I would like to thank residents and businesses for their patience while this is ongoing and will continue to provide up to date information about the temporary road closures.
– Doncaster Superintendent Peter Norman
Load more updates