Ukip "defector" Mike Whitehead was told last week that he would not be selected as a Conservative candidate at the General Election, according to correspondence seen by ITV News.
The Conservatives say the email extracts - which they say were sent on 1 April - counter the claim that Whitehead was due to stand for the party in Hull West and Hessle, a Labour-held seat in East Yorkshire.
According to the Conservatives, Whitehead was told he would not be selected after refusing to support a local Conservative council candidate.
As you are not on the approved list of candidates of Haltemprice and Howden Conservative Association you will not be selected by the Conservative Party to stand for any ward covered by the Association at the local elections.

As you have stated that you intend to stand in the local, election despite not having been selected for the Party, and despite Mrs Clarke asking you to agree to support whoever is properly selected by the Association to fight the Willerby and Kirkella ward, I am forced to act to protect the Party by refusing to agree to you being nominated to represent the Conservative Party at the 2015 General Election as candidate for Hull West and Hessle.

It is not feasible for me to allow someone to stand for the Party at a General Election who has announced an intention to stand against the Party at another election on the same day.

I am disappointed that this email has become necessary.
– Extract from Conservative Party email to Mike Whitehead
It doesn't get much more staunchly Labour than Hull West and Hessle, so defection unlikely to affect election. Still, a coup for UKIP.
Advertisement
The defection of a Conservative councillor to Ukip is a "huge blow for David Cameron's authority", Labour has said.
The party's shadow minister without portfolio, Jon Trickett, said the move showed even the Prime Minister's candidates "know he cannot win a majority".
"Ukip and the Tories increasingly share the same people as well as the same policies," he said.
"Both stand for increased health service privatisation, extreme spending plans which threaten the NHS and further tax breaks for those at the top."
"David Cameron will not rule out working with UKIP, but this is clearly what his party wants. David Cameron must now come clean and tell us what his plans are to do a deal with Nigel Farage and UKIP."
The Conservatives say a parliamentary candidate who "defected" to Ukip had already been sacked.
A spokesman for the Tories dismissed Mike Whitehead's announcement as "cynical, misleading and utterly calculating to try and score political points".
"He refused to support the local Conservative council candidate and so we wrote to him last week to say that his position was untenable and he could not stand for us at the general election.
"We were already selecting a new candidate for this constituency."
A Conservative Parliamentary candidate has defected to Ukip with just 30 days to go before the polls open.
Mike Whitehead is standing in Hull West and Hessle, a seat currently held by Labour's Alan Johnson. Ukip leader Nigel Farage described Mr Whitehead's defection as a hammer blow to the tories in the North of England.
The defection of a Conservative parliamentary candidate to Ukip has dealt "another hammer blow to Tory pretensions in the north of England", Nigel Farage has said.
The Ukip leader said he was "delighted" to welcome Mike Whitehead - candidate for Hull West and Hessle - to the party, and said the move was proof "that today the real party of opposition to Labour in the north is Ukip".
Advertisement
East Yorkshire Councillor Michael Burchill has tonight defected from the Conservatives to UKIP.
A Ukip MEP has denied any wrongdoing over the use of her European Parliament allowances and expenses.
Jane Collins, the MEP for Yorkshire and North Lincolnshire, has been accused of using taxpayers' money to pay rental or running costs on offices owned by her partner Mike Kendall.
However, in a statement she says that she pays no rent on the office she shares with fellow MEP Mike Hookem.
The office sharing arrangement that Jane current has with her fellow Yorkshire & North Lincolnshire MEP, Mike Hookem, is designed to allow both MEPs to work together cohesively and to share a number of staff members in a convenient and cost effective way. The office space that Jane and Mike occupy is owned by Wallingfen Park Ltd, of which Jane's partner Mike Kendall is a Director. Jane pays no rent on the office space in question; however, she does contribute to costs of utilities, telephones and other incidental expenses.
– Statement, Jane Collins MEP's office
Trouble at Nigel Farage's opening of UKIP HQ in Rotheham as anti UKIP campaigners amass http://t.co/Tw7Keiu5xW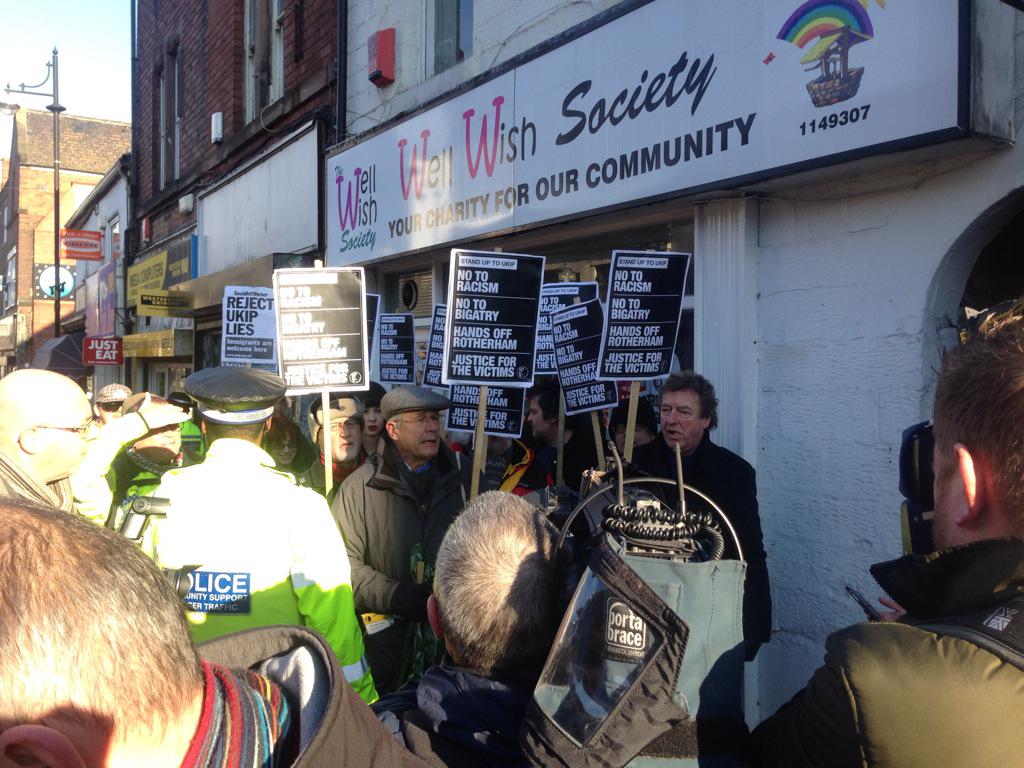 Nigel Farage says Ukip was becoming "increasingly alarmed" by MEP Amjad Bashir's behaviour in the months leading up to his defection to the Conservatives.
Speaking on BBC's The Andrew Marr Show, the Ukip leader said there was "quite strong documentary evidence" relating to what the party calls "unanswered questions" over employment practices at his business.
He also accused the MEP of "continuing associations with political extremists from Pakistan despite us saying please, please keep away", and said he was surprised that the Conservatives had accepted him
Load more updates