The defection of a Conservative councillor to Ukip is a "huge blow for David Cameron's authority", Labour has said.
The party's shadow minister without portfolio, Jon Trickett, said the move showed even the Prime Minister's candidates "know he cannot win a majority".
"Ukip and the Tories increasingly share the same people as well as the same policies," he said.
"Both stand for increased health service privatisation, extreme spending plans which threaten the NHS and further tax breaks for those at the top."
"David Cameron will not rule out working with UKIP, but this is clearly what his party wants. David Cameron must now come clean and tell us what his plans are to do a deal with Nigel Farage and UKIP."
The Conservatives say a parliamentary candidate who "defected" to Ukip had already been sacked.
A spokesman for the Tories dismissed Mike Whitehead's announcement as "cynical, misleading and utterly calculating to try and score political points".
"He refused to support the local Conservative council candidate and so we wrote to him last week to say that his position was untenable and he could not stand for us at the general election.
"We were already selecting a new candidate for this constituency."
Advertisement
A Conservative Parliamentary candidate has defected to Ukip with just 30 days to go before the polls open.
Mike Whitehead is standing in Hull West and Hessle, a seat currently held by Labour's Alan Johnson. Ukip leader Nigel Farage described Mr Whitehead's defection as a hammer blow to the tories in the North of England.
The defection of a Conservative parliamentary candidate to Ukip has dealt "another hammer blow to Tory pretensions in the north of England", Nigel Farage has said.
The Ukip leader said he was "delighted" to welcome Mike Whitehead - candidate for Hull West and Hessle - to the party, and said the move was proof "that today the real party of opposition to Labour in the north is Ukip".
East Yorkshire Councillor Michael Burchill has tonight defected from the Conservatives to UKIP.
A Ukip MEP has denied any wrongdoing over the use of her European Parliament allowances and expenses.
Jane Collins, the MEP for Yorkshire and North Lincolnshire, has been accused of using taxpayers' money to pay rental or running costs on offices owned by her partner Mike Kendall.
However, in a statement she says that she pays no rent on the office she shares with fellow MEP Mike Hookem.
The office sharing arrangement that Jane current has with her fellow Yorkshire & North Lincolnshire MEP, Mike Hookem, is designed to allow both MEPs to work together cohesively and to share a number of staff members in a convenient and cost effective way. The office space that Jane and Mike occupy is owned by Wallingfen Park Ltd, of which Jane's partner Mike Kendall is a Director. Jane pays no rent on the office space in question; however, she does contribute to costs of utilities, telephones and other incidental expenses.
– Statement, Jane Collins MEP's office
Advertisement
Trouble at Nigel Farage's opening of UKIP HQ in Rotheham as anti UKIP campaigners amass http://t.co/Tw7Keiu5xW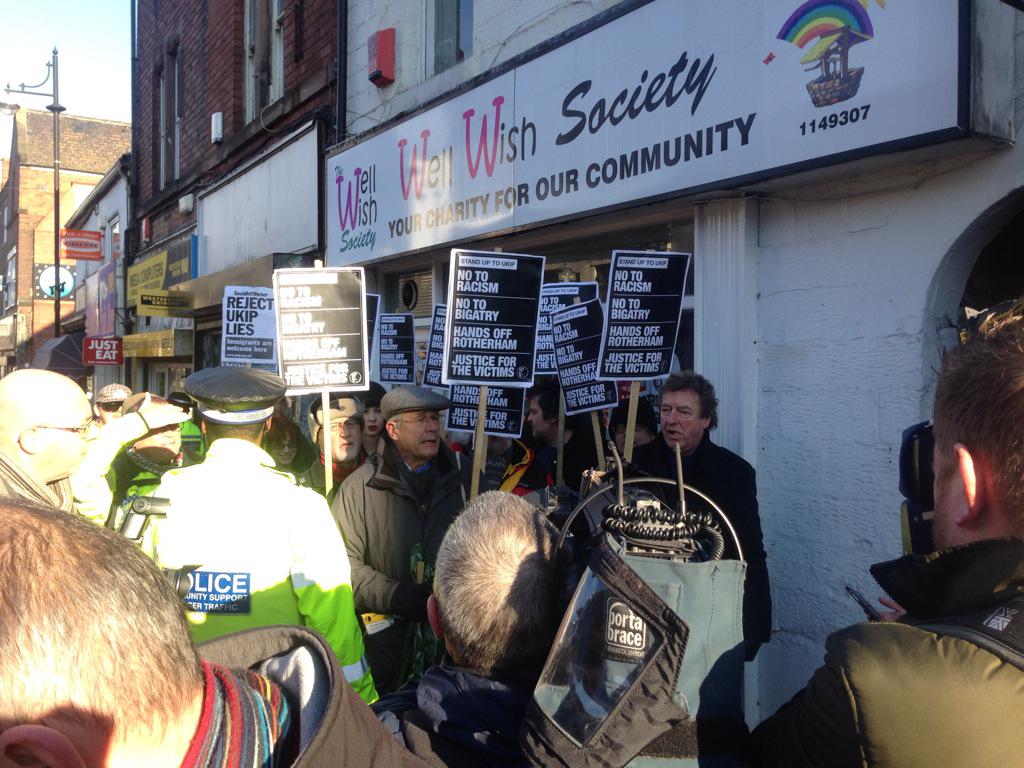 Nigel Farage says Ukip was becoming "increasingly alarmed" by MEP Amjad Bashir's behaviour in the months leading up to his defection to the Conservatives.
Speaking on BBC's The Andrew Marr Show, the Ukip leader said there was "quite strong documentary evidence" relating to what the party calls "unanswered questions" over employment practices at his business.
He also accused the MEP of "continuing associations with political extremists from Pakistan despite us saying please, please keep away", and said he was surprised that the Conservatives had accepted him
Former Ukip MEP Amjad Bashi, who has defected to the Conservative Party, has dismissed his former party's claim that it suspended him.
He called it a "desperate attempt" to smear him to distract from the news of his decision to defect and insisted there was "not a shred of truth" to the claims.
Ukip leader Nigel Farage, who will be questioned about the defection on BBC1's Andrew Marr Show, said: "Ukip has suspended Amjad Bashir MEP pending further investigations into unanswered financial and employment questions."
A Ukip source said Mr Bashir, who was Ukip's communities spokesman, had been aware for some time that he was being investigated and suggested that the imminent suspension was the reason for his defection.
But Mr Bashir said Ukip's reaction when the party found out he intended to defect "sums up what is wrong with them".
"They made a crude attempt to smear me with false allegations of irregularities in the recruitment of Asian members in Bradford," he said, writing in The Mail on Sunday. "There is not a shred of truth in any of the claims but it has made me more convinced than ever that I made the right decision."
Mr Bashir also said he had "experienced racism in Ukip".
The defection of Amjad Bashir's to the Conservatives has been welcomed by his new colleagues in Brussels.
Ashley Fox, leader of the Tory MEPs, said:
I am a great admirer of Amjad. He is a straightforward, down-to-earth character and he has an energetic and practical approach to politics. Having seen Ukip close up, he knows they cannot deliver anything the British people want or need. Amjad sees that only the Conservatives can deliver reform, renegotiation and a referendum in Europe and he will be joining me and my colleagues in campaigning hard to return David Cameron to Number 10 in May.
– Ashley Fox, MEP
Syed Kamall, leader of the European Conservatives and Reformists Group in the European Parliament, added:
Like us, Amjad believes in genuine equality of opportunity and the right of people to go just as far as their talent and hard work will take them. He is a natural Conservative and I am delighted that he is back where he belongs.
– Syed Kamall, MEP
Load more updates