Hull City fans were disappointed with the Football Association's announcement that they and Arsenal would have 25,000 tickets for the FA Cup final at Wembley.
Previous finals have had the same allocation at the 90,000 seater stadium.
The Gunners have over 50,000 season ticket holders and Hull fans say they sympathise with their opponent's struggle to get tickets:
Fans have been waiting at Hull's KC Stadium since last night to get their hands on tickets for next month's FA Cup Final against Arsenal.
Jez Huyton and his 10-year-old son Will were first in the line and got a pair of signed boots for their dedication:
Advertisement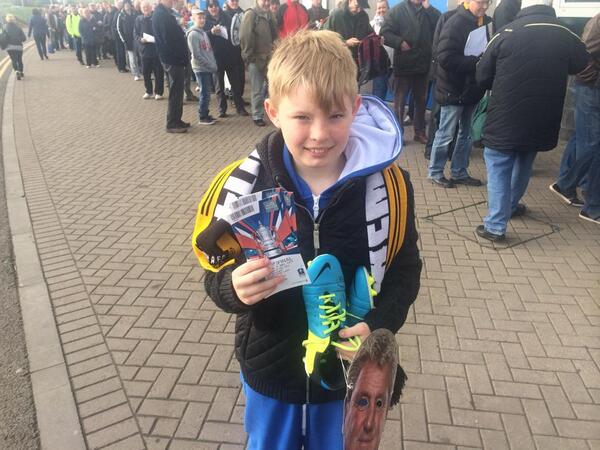 Some fans have been queuing since yesterday evening to be the first to get their hands on tickets for next month's FA Cup final against Arsenal.
Hull have been allocated 25,000 tickets for the showpiece on May 17.
Tickets go on sale this morning for Hull City's FA Cup final at Wembley.
The Tigers face Arsenal on May 17 after beating Sheffield United earlier this month at the national stadium.
There have been calls for more tickets to be made available, with fears the 25,000 on offer may not be enough to satisfy demand.
In a dry run of the final, Arsenal beat Hull 3-0 in the Barclay's Premier League at the weekend.
Advertisement
Extra trains are to be provided for Hull fans to make their way to Wembley for the FA Cup Final on May 17.
Fans initially faced a rush across the capital to reach the last train which was set to depart an hour after full time. Extra time would have left fans relying on rail travel stranded.
But now Hull Trains and East Coast Rail have both announced they will run extra trains on the day of the Tigers' clash against Arsenal.
Hull Trains have requested a 300-seater service at 9pm, allowing extra time in case of extra time and penalties.
East Coast today announced they are hoping to run additional trains before and after the game.
The Football Association says there's no chance of it increasing the number of tickets available for Hull City at next month's FA Cup Final.
The standard allocation of 25,000 will be up for sale to Tigers supporters. The same number will go to their opponents Arsenal - who've accused the FA of letting fans down. James Webster reports.
Hull City Official Supporters' Club says it does not believe the FA's ticket allocations for next month's FA Cup final are right.
The club will get the standard 25,000 tickets, the same as Arsenal, for the Wembley fixture, which is 1000 fewer tickets than were sold for the semi-final.
Spokesman Ron Black says he believes many fans who could not afford two trips to London were saving themselves for their side making it to the final and fears there will be some who want to travel but are left disappointed:
Hull City say they are hoping to be able to announce details of how they will sell their allocation of 25,000 tickets for next month's FA Cup final by the end of the week.
We understand that representatives of both Hull City and Arsenal will meet the FA tomorrow to discuss the fixture.
Further discussions will take place over the coming days back in Hull and the club is aiming to announce how tickets will be sold by the end of this week or if not, early next week after the bank holiday weekend instead.
Load more updates