An investigation is underway after a man attempted to get an 11-year-old girl into his car in Leeds.
It happened yesterday when the girl was stood at traffic lights on Beeston Road. A car pulled up at the kerb side and the driver shouted at the girl to get in before getting out of the car and grabbing her by the arm. He took the rucksack from her back and searched through it. She screamed and he then let go of her and she escaped.
A 36-year-old man has been arrested for attempted kidnap.
A658 Apperley Lane is closed both ways closed, due to emergency repairs after a sewer collapsed between B6152 Micklefield Lane and A65 New Road Side, near Leeds.
The council have advised that the road is likely to remain closed until at least Wednesday.
Hole in Apperley Ln, Rawdon caused by collapsed sewer. Please use diversion via A65 & Micklefield Ln https://t.co/LC0gZHv9Ai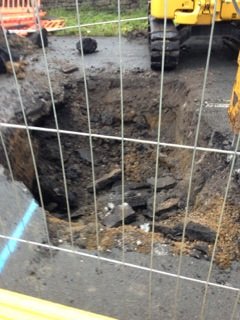 Advertisement
Often very windy, especially as we head into Sunday, with rain or showers. Met Office 'Be Aware' warnings have been issued
Read the full story ›
From a childhood immersed in abject poverty to having his first book published aged 87, Harry Leslie Smith's life reads like a novel.
Read the full story ›
Police are concerned for the welfare of a pregnant woman who has been reported missing from home.
The last confirmed sighting of Georgia Best, 22, was in Barden Place, off Whingate Road, Leeds, at around 3pm on Thursday, 19 November.
She was reported missing on Wednesday, 25 November.
Ms Best is around seven months pregnant and police need to trace her to ensure that she is safe and well.
She is described as 5ft 5ins tall, of slim build, with cropped, dyed red hair. When she was last seen she had faded bruising around her eyes and was wearing black leggings, a white pyjama top with a picture of the 'Bambi' character on it, a pink dressing gown with white trim and hood with cloth ears attached and white Nike trainers.
She is also known to wear a blue Adidas jacket with white motifs on the chest and arms.
Shadow foreign secretary and Leeds Central MP Hilary Benn has said he will not resign over his backing of airstrikes on Isis in Syria, despite his party leader, Jeremy Corbyn, writing to all Labour MPs setting out his opposition to military action.
Do you support British involvement with airstrikes in Syria?
Sorry, this content isn't available on your device.
Advertisement
Police are appealing for information after a man was bitten by a dog in Mytholmroyd.
The incident happened at around 4.30pm on Tuesday, while the 53-year-old victim was walking his German shepherd dog along Cragg Road.
As he has reached the junction of Elphaborough Close, two West Highland terriers being walked by a child jumped up at the victim and his dog. One of the dogs bit the man to his knee causing a puncture wound.
PC Keith Daniels, of Valleys Neighbourhood Policing Team, said: "As part of our enquiries in to this incident, we need to identify the owner of the dogs involved.
"We understand that these dogs are local to the area and are generally seen wearing red checked bandanas around the neck.
"The owner of these dogs, or anyone with information about the owner, are asked to call Valley Neighbourhood Policing Team via 101."
A wet and windy weekend in store with met office warnings in force. It's not expected to be windy enough to name the storm 'Clodagh' however
Read the full story ›
The A616 Chapel Hill is closed in both directions.
There is queueing traffic due to accident involving a pedestrian, between B6432 Colne Road and A62 Manchester Road.
An inquest has opened into the deaths of two sisters allegedly stabbed to death by their mother.
Samira Lupidi, 24, has been charged with the murder of her two daughters Jasmine Weaver, one, and her sister Evelyn Lupidi, three. The two girls were found with multiple stab wounds at a property in the Undercliffe area of Bradford on November 17th.
The inquest was officially opened at Bradford Coroner's Court today, and the girls' names and dates of birth confirmed.
The court heard the sisters had been formally identified and that a post mortem had been carried out.
There has been no request by the defence team for a second independent post mortem and the young girls bodies have been released to family for their funeral.
The court heard the police are carrying out a criminal investigation and the inquest was adjourned to be resumed, if necessary, at the conclusion of criminal proceedings.
Lupidi appeared in court on Monday but has yet to enter a plea.
She will be back at Bradford Crown Court on February 15th, next year.
Load more updates