Firefighters across the country will start a four-day strike from Friday in a bitter dispute with the Government over pensions.
Services have warned the public to be extra vigilant in what is expected to be a busy Halloween weekend as crew numbers are limited across the time of the strike.
A series of strikes have been held over the past 18 months in protest at changes to pensions and the retirement age, which the union claimed could lead to firefighters losing their job if they fail fitness tests in their late 50s.
Let us know what you think of the strike by taking part in our poll:
Sorry, this content isn't available on your device.
Former Rugby League star Sam Burgess has signed a three-year-contract with Bath. He says it's going to be an "exciting couple of years" and his first impressions of the city are good.
I had a little walk around the city this morning - it's a beautiful place, it's absolutely stunning. I've not spent a lot of time down here in the south (of England) but for now... what I've seen of it and the people I've met, it's been fantastic. It's going to be a cracking experience I can tell.
– Sam Burgess
You can see Matthias Kurth's full interview with "Slammin' Sam" here:
Advertisement
Bradford Bulls coach James Lowes believes Sam Burgess's defection to Rugby Union is a major blow to Rugby League.
Burgess, who began his career with the Bulls before moving to South Sydney, where he took the game in Australia by storm, was officially unveiled today by Premiership club Bath.
But Lowes, who has coached in both League and Union, and knows Burgess from his time on the England coaching staff, says he's sure "Slammin' Sam" will be a huge hit:
Sam Burgess is ready to show what he can do in rugby union following his code switch, after defending his decision to leave league
Read the full story ›
Topshop have responded to criticism over the size of their mannequins claiming they are "based on a standard UK size 10".
The retailer argue that the mannequins they use are "not meant to be a representation of the average female body."
Topshop has long made it a priority to showcase a healthy size image to its customer from the choice of models used in the campaigns, to the stories run online and on the blog.

The mannequins Topshop uses are not bespoke to Topshop and are supplied by a company that has been working with leading retailers for the past 30 years. The mannequin in question has been used in stores the past 4 years and is based on a standard UK size 10.

The overall height, at 187cm, is taller than the average girl and the form is a stylised one to have more impact in store and create a visual focus.

Mannequins are made from solid fibreglass, so in order for clothing to fit, the form of the mannequins needs to be of certain dimensions to allow clothing to be put on and removed; this is therefore not meant to be a representation of the average female body.
– Topshop
Advertisement
Neil Redfearn continues to wait to sign a contract to be the third permanent Leeds boss of the season but says he is "very close" to doing so.
The 49-year-old has been the man-in-waiting to replace the sacked Darko Milanic since the Slovenian was dispensed with on Saturday, but talks with controversial president Massimo Cellino have yet to yield a contract.
Stepping up from his secure role with the club's academy is seen as a dangerous move for the club's perennial caretaker, owing to Cellino's propensity to fire coaches. He sacked 36 in 22 years with Cagliari and has seen off three in five months at Leeds.
Redfearn was asked to return to the dugout when Milanic bit the dust after only 32 days and is preparing the side for Saturday's game at Cardiff but, as things stand, he does not know if that will be in a caretaker or full-time capacity.
Watch Redfearn at his press conference today:
"It's very close," the former Barnsley midfielder said.
"I had a good chat with Massimo yesterday and we went through one or two things. It's not that far away.
"I wanted some assurances from the conversations I had, where he saw me at the club and the club going forward. He said I was the future and I wanted to know if that was still the case. He said 'you are'. I wanted the contract to reflect certain things."
One of those granted assurances is that Redfearn will return to his role at the head of the academy if Cellino's impatient streak resurfaces, but the former is not considering the negative option.
"It seems to be shorter here (a coach's life) but you can spend the rest of your life wondering. You have to go on and make things happen and be positive. There's no let up now.
"This is a massive honour. It's a massive football club with a great tradition and the owner has a desire to make it great (again). I can see that, that's a genuine opinion from me and if I can be part of that down the line it's a fantastic honour. I'm capable of doing it now it's a case of knuckling down and concentrating on the footy."
A lifelong Leeds fan, Redfearn's ascent to the top job at Elland Road has been a slow one, having joined the club's academy staff in 2009.
He has had four caretaker spells since then and resisted interest from other clubs in order to remain with Leeds.
But, even if things do not work out with the first team, he is sure he will continue to enjoy working at his boyhood club.
"I would be happy taking the Under-11s," he added.
"Massimo sees me here for the long haul but there are no guarantees in football. If it was as easy as guaranteeing wins we would all be managers. It's got to be worked at and earned and I know that as well. The bigger picture is whatever happens needs to be for the good of Leeds United. If it takes me on, great, if it doesn't I will be back with the academy."
Cellino is a notoriously fiery character and a story emerged in Italy this week of former Cagliari coach Nedo Sonneti claiming he was shown the door for eating a seabass.
Redfearn acknowledges his boss has a passionate side, but is ready to give as good as he gets along the way.
"He tells me what he thinks!," Redfearn said.
"But I give it back to him and he wants to know. He's strong, but we get on well. He knows I am strong and we have to make it work together."
Halloween marks the last day of October & probably one of the warmest on record. Temperatures are expected to rise 5-6 degrees above average
Read the full story ›
Former Emmerdale star Gemma Oaten is calling on Topshop to replace its 'size zero' mannequins.
Gemma Oaten, a former sufferer of anorexia said the retailer was being "irresponsible."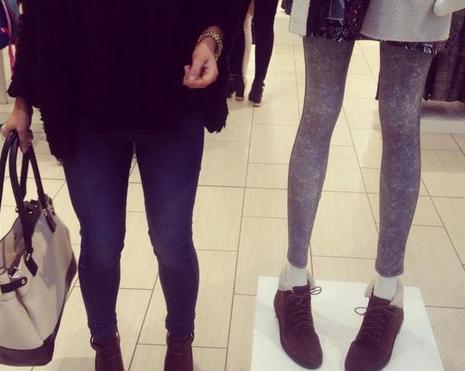 Around 80 per cent of Yorkshire and Humber's disabled people have inaccessible front doors, according to a charity.
The findings were part of a nationwide survey which found that on average, 75 percent of homes in the country do not have step free access or ramps.
Yorkshire and Humber ranked as one of the worst regions for disabled housing, with 79 per cent of disabled people saying the could not access their front door.
The charity also found that around 65% of people did not have enough bathroom space to fit a wheelchair.
The charity describes this 'hidden housing crisis' as a reason why disabled people have trouble finding homes.
It is simply wrong that thousands of disabled people are ending up trapped all day in homes that are completely unsuitable for them. That makes for a miserable and lonely life for many disabled and older people. And it costs the taxpayer money.

Many disabled people are unable to move house and get a job because there aren't enough 'disabled-friendly' properties. Other older and disabled people could live independently in a properly-adapted home but are forced into residential care.

Government should be making laws that increase the number of accessible homes, not reduce them. The shortage will only get worse as more and more of us live longer and need support to maintain our independence.

Any one of us could become disabled at any time – in a car accident, from a stroke, or as a soldier in conflict.
– Clare Pelham, Leonard Cheshire Disability Chief Executive
Leonard Cheshire is calling for an amendment to the Deregulation Bill later this month so all new build homes can be easily adapted for disabled people as part of their Home Truths campaign.
They also want 10 per cent of large developments to be fully wheelchair accessible so that disabled people can live independently and are able to pursue job opportunities across the country.
Load more updates