High tide has passed without incident in Skegness, despite fears that a tidal surge may result in flooding.
A number of properties have been flooded in Whitby after a tidal surge hit the east coast of North Yorkshire this evening.
Read the full story ›
Advertisement
An agreement has been reached with a consortium to create a new professional Rugby League club in Bradford.
Read the full story ›
Residents in Hornsea are being evacuated after a tidal surge hit the town.
People living on Marine Drive are being told to go to the town hall on Newbegin.
We have lots of reports of spectators on Marine Drive, Hornsea. Public reminded of the danger of getting to close to the high waves.
Council officers and emergency services are on standby at Hessle Foreshore in preparation for the high tide due at 18.52.
An elderly woman and two children have been rescued from a car floating on Hornsea sea front.
Members of Hornsea Rescue attended the scene as the tidal surge hit this evening.
All the people who were in the car are now safe.
People in Humberside are being warned to be vigilant as the next high tides approach.
High tide in Bridlington is around 5pm
Hull is around 6.50pm
Goole is around 7.50pm
The Environment Agency is warning that the combination of high tides and the potential for high winds could result in flooding across various locations in East Riding, Hull and Northern Lincolnshire along the coast and the Humber estuary.
The public are asked to resist the urge to head to coastal areas to have a look at the high tides as this is extremely dangerous.
Click here to find out the latest weather information and updated flood risk information.
Advertisement
The River Esk at Whitby has broken its banks on Church St.
Breaking. R Esk at Whitby has broken its banks on Church St. Water lapping sandbagged homes https://t.co/AgYqRxndtd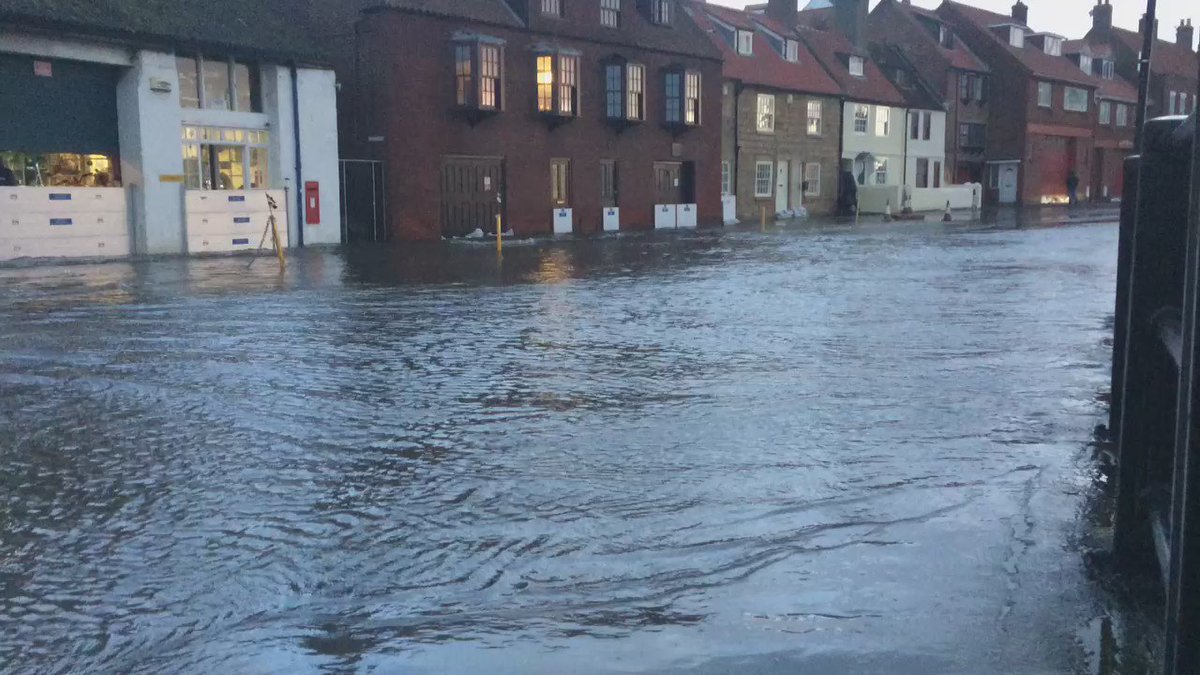 Homes had been prepared with sandbags.
The Environment Agency says the weather has not been as bad as feared, but around 30 flood warnings remain in place
Read the full story ›
Load more updates