Seema Malhotra, shadow chief secretary to the Treasury, has resigned from the shadow cabinet, sources said.
The MP is one of seven Labour cabinet members to have quit on Sunday, but ITV News Deputy Political Editor Chris Ship has said this resignation is "different" as she is closer to Mr Corbyn that her colleagues.
This is different: @seemamalhotra1 resigns. She is much closer to Corbyn than the others. Even introduced him at yesterday's speech
Kerry McCarthy has resigned as shadow environment secretary in protest of Jeremy Corbyn's leadership of the Labour Party.
The Bristol East MP joins Lilian Greenwood, Lucy Powell, Ian Murray, Gloria De Piero and Heidi Alexander, who have also stepped down from their roles.
In her resignation letter, she said: "Although I do not doubt your personal commitment to your long-held principles, I believe that a new leader is needed to take on the challenges ahead: Steering our way through the very difficult period facing this country, exerting a decisive influence on the post-referendum negotiations, and winning broad-based electoral support."
My letter to Jeremy Corbyn setting out some of the challenges facing us following Thursday's vote. https://t.co/EBbSnOlbaF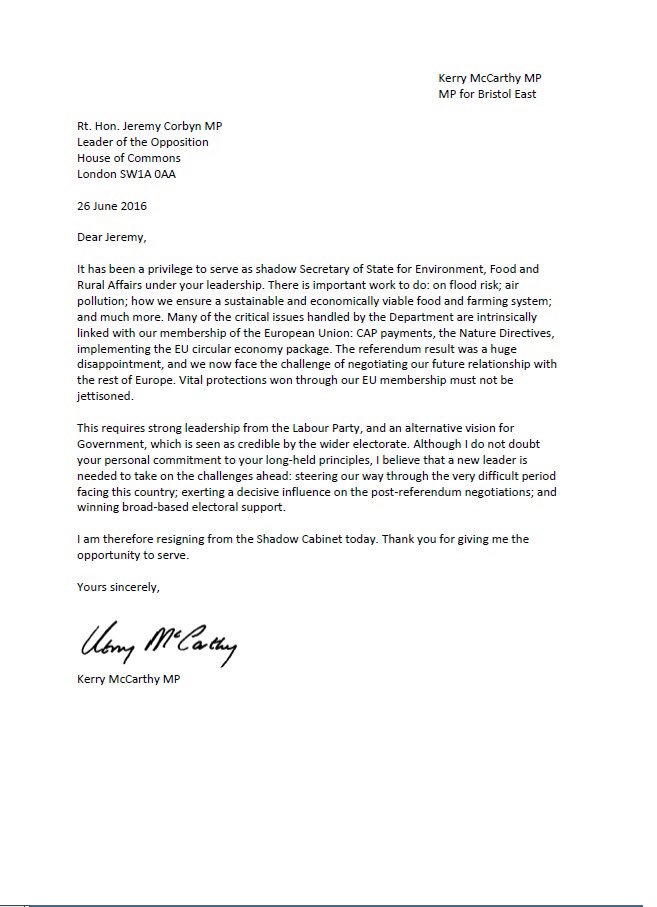 Advertisement
Shadow home secretary Andy Burnham has said he will not be taking part in a "coup" against Labour leader Jeremy Corbyn.
"At an uncertain time like this for our country, I cannot see how it makes sense for the Opposition to plunge itself into a civil war," he said.
Labour MP Lucy Powell has resigned as shadow education secretary, saying that Jeremy Corbyn's position as leader of the party is "untenable".
In a letter to the Labour Party leader, she said: "It is increasingly clear that your position is untenable and that you are unable to command the support of the Shadow Cabinet, the Parliamentary Labour Party and, most importantly, the country.
Given the big challenges faced by our country and our Party over the coming months, and the possibility of an imminent general election, I do not have the confidence that you can bring the Party together, lead us to a General Election and be an effective Opposition.
– Lucy Powell
Deputy Labour leader Tom Watson was partying at Glastonbury until the early hours, as the party's shadow cabinet began descending into chaos
Read the full story ›
Advertisement
Shadow Scottish secretary Ian Murray announced his resignation from the shadow cabinet.
In a letter addressed to Jeremy Corbyn, he said the leader of the Scottish Labour Party, Kezia Dugdale is doing "an excellent job but needs a strong UK Labour Party to support her".
I believe that we can only win again as a party when the UK Labour Party is able to articulate the case for progressive policies the length and breadth of the United Kingdom. I also believe we can only do that under new leadership.
– Ian Murray
Mr Murray also said he felt the way some of his colleagues have been treated "is unfortunate".
"I will therefore return to the backbenches to serve my constituents and fight Scotland's corner from there," he added.
Mr Murray joins Heidi Alexander and Gloria De Piero in stepping down in the wake of the EU referendum, while Hilary Benn was sacked.
As the only Labour MP north of the border, means the replacement shadow Scottish secretary will have to be a non-Scottish MP.
Union members on Labour's National Executive are set to call for unity and confirm their support Jeremy Corbyn's leadership, sources said.
A statement is expected later amid union anger at the moves by members of the shadow cabinet against the Labour leader.
Jennie Formby, one of Unite's representatives on the National Executive Committee (NEC) said it was "nonsense " to blame Mr Corbyn for the referendum result and said Labour MPs should show unity.
Gloria De Piero has reportedly resigned from her position in Labour's shadow cabinet.
The shadow minister for young people and voter registration joins former health secretary Heidi Alexander in stepping down.
Shadow foreign secretary Hilary Benn was sacked by leader Jeremy Corbyn overnight.
So far Hilary Benn, Heidi Alexander and Gloria Del Piero have all resigned from the Shadow Cabinet.
Heidi Alexander has spoken about her difficult decision to resign as shadow health secretary.
She told ITV's Peston on Sunday "the only decent and honourable thing to do was to resign" as she no longer had faith in Jeremy Corbyn's leadership.
The MP said she asked herself could she "hand on heart" say that she felt that "Jeremy was the best person to be leading the Labour Party in developing the answers the country is demanding".
"And I didn't feel I could so that," Ms Alexander added.
When asked if she had any sense of any other potential cabinet resignations amid mass speculation that up to half of Corbyn's top team could be about to quit, Ms Alexander said "there are a few people who feel similarly to me".
Load more updates