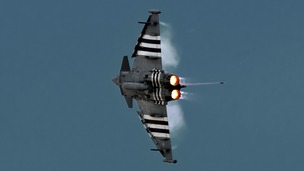 This Typhoon Eurofighter produces a cloud at the Cleethorpes Airshow at the weekend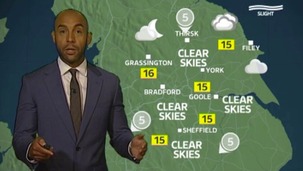 Calendar weather update with Alex Beresford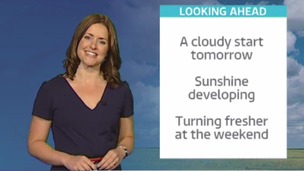 Calendar weather update with Amanda Houston
Live updates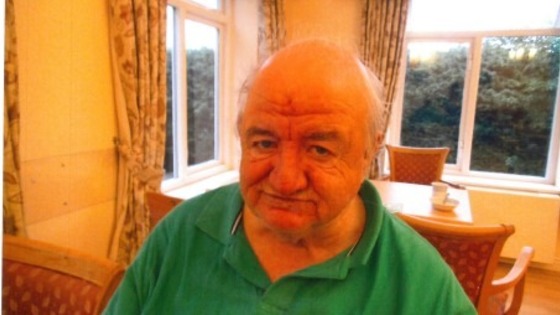 Police are appealing for information to help find a pensioner who has gone missing from home in Leeds. 67-year-old Dennis Beecher was last seen at his care home in Morley at about 10am on Thursday 24th July.
He is described as white, about 5ft 6ins tall, of large build, with white hair round the sides and bald on top. He usually wears a flat cap and a thick brown/black coat, even in hot weather.
"Mr Beecher is known to go off for a day or two but normally returns. He does have some medical issues and there is concern for him now given the length of time he has been away. He has been known to visit Scarborough and Bridlington and it's possible he could be in those areas although he may still be in the Leeds area. We would ask anyone who has seen someone matching his description or who has any information on his current whereabouts to contact us."
– PC Lee Parker, Outer South Neighbourhood Policing Team
The Tramlines festival continues today - with thousands expected to watch acts across Sheffield, from the Peace Gardens and Weston Park to the Folk Forest.
Although the festival has previously been free, some venues will be limited to ticket-holders only.
These are: Devonshire Green, Leadmill, Foundry/Fusion, Octagon, o2 Academy, Hope Works, The Harley, Queens Social Club, City Hall, Cathedral, Yellow Arch, The Night Kitchen, Millennium Galleries, Corporation and Fez.
Today's acts include The Cribs, The Spiils, Bloodsport and Awesome Tapes from Africa.
Advertisement
A man from Leeds who has been battling against his deportation to Jamaica is now in a race against time to remain in the UK. He could be deported with just three days notice but his legal team plan to launch a new appeal. Adam Fowler reports.
Mass military march marks First World War centenary
Dr Ingrid Roscoe Lord-Lieutenant of West Yorkshire has spoken to Calendar about the importance of marking the centenary of the start of the First World War.
Mass military march marks First World War centenary
Past and present members of the armed forces assembled at Millennium Square in Leeds today, before marching through the city centre. Led by the band of the Yorkshire Regiment personnel, veterans and military cadets headed to Leeds Minster for a special service to mark the centenary of the First World War. It is believed to be one of the largest military parades that the city has ever seen.
Mass military march marks First World War centenary
Over 800 past and present members of the Armed Forces and affiliated organisations have marched through Leeds to a special commemoration service to mark the centenary of the start of the First World War.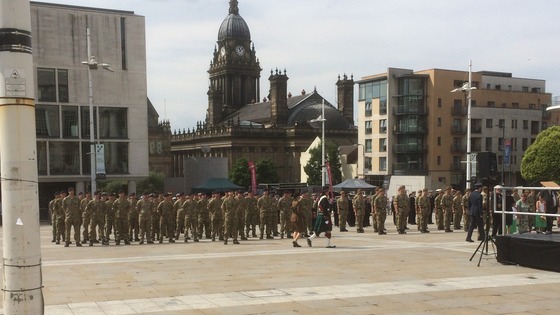 The parade and commemoration has been organised by Her Majesty's Lord-Lieutenant of West Yorkshire, Dr Ingrid Roscoe and involved service personnel, veterans and military cadets who are based or recruit within West Yorkshire. Families and friends of injured service personnel also attended.
Advertisement
A muslim youth group in Huddersfield have been helping the homeless with food parcels whilst fasting for Ramadhan of the Ahmadiyya Muslim Youth Association raised £300 in just two weeks for the Welcome Centre Food Bank in the town.
"Looking after our neighbours is a core teaching of Islam and since we are currently fasting as part of the month of Ramadhan we feel even more obliged to offer our assistance to those in need, especially where people are unable to afford food to eat."
– Nadeem Uddin, Ahmadiyya Muslim Youth Association
Police are appealing for information after a man was shot and injured in Leeds during a street brawl. Officers were called to Dufton Approach in Seacroft on Tuesday June 22, 2014, to reports of two groups of men fighting with weapons with one firing a shotgun. A 23-year-old man was taken to hospital suffering gun shot wounds to his arm. He was among eight others who have been arrested on suspicion of violent disorder and firearms offences.
"We are appealing for anyone who witnessed the incident or who has any information that could assist the investigation to contact us. Officers from the local neighbourhood policing team are carrying out increased patrols in the area to reassure local residents."

"Although we believe this was an isolated incident with no ongoing threat to the wider public we clearly cannot tolerate violent incidents such as this, particularly where firearms have been used, and we will continue to fully investigate the circumstances and robustly target those involved."
– Det Superintendent Pat Twiggs, West Yorkshire Police
Police are appealing for witnesses to trace a driver who failed to stop after a collision in Leeds yesterday morning.
The incident happened between 7.30am and 7.45am on Bruntcliffe Lane at the junction with Bruntcliffe Way in Morley.
A small black coloured car - possibly a Fiat Punto or Ford Fiesta - was in collision with a cyclist. The cyclist was knocked from his bicycle and suffered damaged tendons, cuts and bruises.
Load more updates
Back to top