At ten year old boy from Wetherby has conquered the summit of Killimanjaro - the highest mountain in Africa. We caught up with him on Calendar earlier.
Advertisement
A couple of sixty-something women set off from Wetherby today on an 8,500 mile charity drive to Beijing.
Read the full story ›
West Yorkshire Police's Road Policing Unit have tweeted this picture of the aftermath of a crash on the A1 near Wetherby.
Amazingly, no one was injured in the crash which happened earlier today.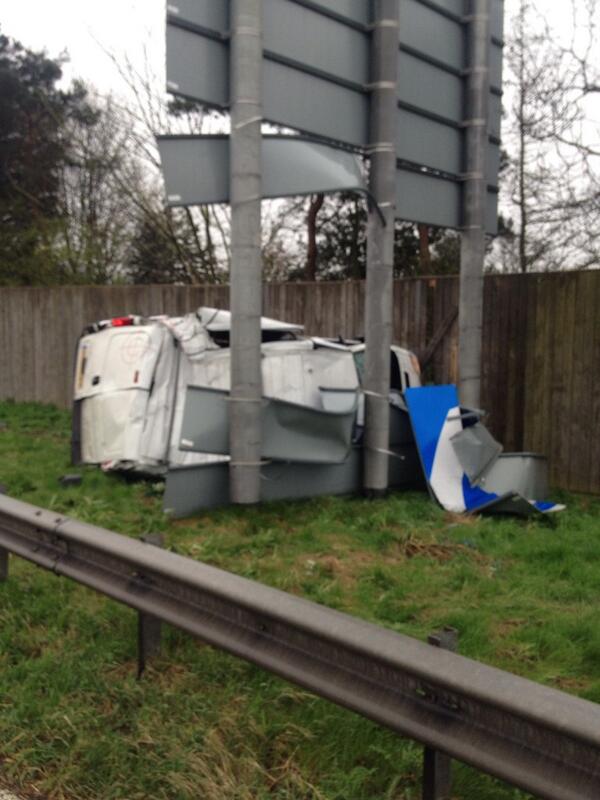 Bomb disposal experts from Catterick have been called in to deal with what police say is possibly an unexploded World War Two shell.
Officers say it was found by a member of the public in a field off Whins Lane, in the Thorp Arch area of Wetherby. The field is in a rural area and there are no houses in the immediate area.
Wetherby rower Lauren Morton was stranded in perilous conditions in the middle of the Atlantic Ocean after a catalogue of disasters during one of the world's toughest ever rowing challenges.
Lauren and her rowing partner Hannah Lawton were attempting to become the youngest female pair to row the three thousand miles for charity.
Despite heroic efforts to finish they had to be rescued by a cargo ship and finally made it home at the weekend. Duncan and Christine have been chatting to Lauren and her Mum and Dad, Sue and Wayne.
Advertisement
This footage shows a Belgian cargo ship on its way to rescue the girls as it smashes it way through ice to Canada.
Lauren Morton from Wetherby and her rowing partner Hannah Lawton, had to quit their 3000 mile Atlantic challenge after being plagued by problems including equipment failure, high seas, strong winds, a fire and the boat capsizing.
They were left drifting at sea for days waiting for a replacement rudder. The pair are now both back on dry land. They were among 17 teams taking part in the race from Canary Islands to Antigua.
A rower from Wetherby who had to be rescued at sea after attempts to cross the Atlantic ended in failure describes how she was injured when her boat capsized. Lauren Morton from Wetherby made a video diary of her journey.
A woman from Wetherby who was stranded at sea for days after an attempt to row the Atlantic ended in disaster, has captured some of the events which led to the challenge being cut short, on camera.
Louise Morton and her rowing partner Hannah Lawton spent three months at sea in the hope of becoming the youngest women to make the trip. But they were beset with problems including strong winds, mountainous seas and equipment failure ending in them having to be rescued.
Atlantic rower Lauren Morton from Wetherby says she is relieved to be back on dry land. Her ambitious attempt to cross the ocean ended with her becoming stranded at sea for days before being rescued. Sarah Clark reports
Load more updates