Tour de France 'artefacts' which adorned Skipton for the world's biggest cycling race will go on sale for charity.
Twelve iconic Tour lamp-post banners and 50 bundles of yellow, green, polka dot and Union Jack bunting that were on and around Skipton High Street are up for grabs in a sealed bid auction.
All the money raised will go to the charity Lupus UK, which battles lupus, a chronic and incurable disease of the immune system.
The banners bear the official Tour De France and Yorkshire Grand Depart 2014 logos, while the bunting features a display of cycling jerseys in the colours of the Tour De France competition categories.
We've had a lot of interest in the banners and bunting and wanted to give people, businesses and organisations a fair opportunity to obtain these souvenirs. Personally, I am thrilled that all money raised will go to the very deserving charity. Lupus is a chronic and presently incurable illness.
– Linda Brockbank, Council Chairperson
Advertisement
Firefighters across the country will start a four-day strike from Friday in a bitter dispute with the Government over pensions.
Services have warned the public to be extra vigilant in what is expected to be a busy Halloween weekend as crew numbers are limited across the time of the strike.
A series of strikes have been held over the past 18 months in protest at changes to pensions and the retirement age, which the union claimed could lead to firefighters losing their job if they fail fitness tests in their late 50s.
Let us know what you think of the strike by taking part in our poll:
Sorry, this content isn't available on your device.
Bradford Bulls coach James Lowes believes Sam Burgess's defection to Rugby Union is a major blow to Rugby League.
Burgess, who began his career with the Bulls before moving to South Sydney, where he took the game in Australia by storm, was officially unveiled today by Premiership club Bath.
But Lowes, who has coached in both League and Union, and knows Burgess from his time on the England coaching staff, says he's sure "Slammin' Sam" will be a huge hit:
Topshop have responded to criticism over the size of their mannequins claiming they are "based on a standard UK size 10".
The retailer argue that the mannequins they use are "not meant to be a representation of the average female body."
Topshop has long made it a priority to showcase a healthy size image to its customer from the choice of models used in the campaigns, to the stories run online and on the blog.

The mannequins Topshop uses are not bespoke to Topshop and are supplied by a company that has been working with leading retailers for the past 30 years. The mannequin in question has been used in stores the past 4 years and is based on a standard UK size 10.

The overall height, at 187cm, is taller than the average girl and the form is a stylised one to have more impact in store and create a visual focus.

Mannequins are made from solid fibreglass, so in order for clothing to fit, the form of the mannequins needs to be of certain dimensions to allow clothing to be put on and removed; this is therefore not meant to be a representation of the average female body.
– Topshop
Advertisement
Halloween marks the last day of October & probably one of the warmest on record. Temperatures are expected to rise 5-6 degrees above average
Read the full story ›
Former Emmerdale star Gemma Oaten is calling on Topshop to replace its 'size zero' mannequins.
Gemma Oaten, a former sufferer of anorexia said the retailer was being "irresponsible."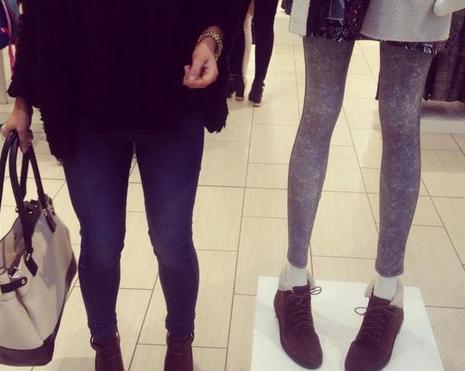 Around 80 per cent of Yorkshire and Humber's disabled people have inaccessible front doors, according to a charity.
The findings were part of a nationwide survey which found that on average, 75 percent of homes in the country do not have step free access or ramps.
Yorkshire and Humber ranked as one of the worst regions for disabled housing, with 79 per cent of disabled people saying the could not access their front door.
The charity also found that around 65% of people did not have enough bathroom space to fit a wheelchair.
The charity describes this 'hidden housing crisis' as a reason why disabled people have trouble finding homes.
It is simply wrong that thousands of disabled people are ending up trapped all day in homes that are completely unsuitable for them. That makes for a miserable and lonely life for many disabled and older people. And it costs the taxpayer money.

Many disabled people are unable to move house and get a job because there aren't enough 'disabled-friendly' properties. Other older and disabled people could live independently in a properly-adapted home but are forced into residential care.

Government should be making laws that increase the number of accessible homes, not reduce them. The shortage will only get worse as more and more of us live longer and need support to maintain our independence.

Any one of us could become disabled at any time – in a car accident, from a stroke, or as a soldier in conflict.
– Clare Pelham, Leonard Cheshire Disability Chief Executive
Leonard Cheshire is calling for an amendment to the Deregulation Bill later this month so all new build homes can be easily adapted for disabled people as part of their Home Truths campaign.
They also want 10 per cent of large developments to be fully wheelchair accessible so that disabled people can live independently and are able to pursue job opportunities across the country.
The ship ran into rocks at 4 am and broke into two. The crash prompted one of the biggest rescues ever seen on this area of the coast.
Read the full story ›
Load more updates