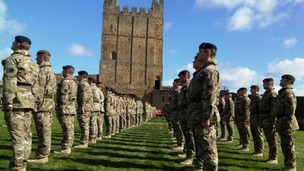 The Archbishop of York will join hundreds of soldiers at York Minster today for a remembrance service.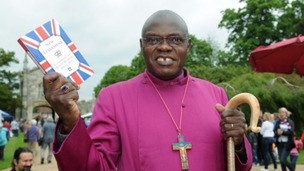 Ahead of the budget the Archbishop of York, Dr John Sentamu, has backed the UK maintaining overseas aid.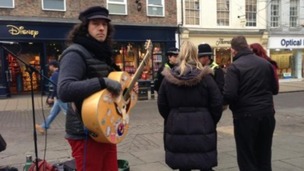 A busker in York is supporting a campaign by street performers to stop what he calls "heavy handed" treatment by local authorities.
Live updates
Model or Richard III's head goes on display
A model of Richard III's head has gone on show at an exhibition about the discovery of the king's remains.
Archaeologists unearthed the body of the last King of the House of York under a car park in Leicester. The facial reconstruction was created by forensic artists based on a scan of the king's skull.
The exhibition is set to tour the country, giving visitors the chance to come face to face with the notorious king.
Model King Richard III on show
A model of King Richard the Third has gone on show, created after archaeologists discovered the body of the last King of the House of York under a car park.
Advertisement
York care home abuse hearing
Tyne Tees
Care home condemns nurse's "entirely inappropriate" behaviour
The owners of a care home in York where a nurse was found guilty of abuse charges have condemned the actions and behaviour of their former employee Christina Cooper.
Cooper was found guilty of ten out of twelve abuse charges, including branding a patient "an animal" and shoving a patient's soiled sheet in his face.
The Royal Masonic Benevolent Institution has issued the following statement:
"The RMBI has today learnt that Ms Christine Cooper has been found guilty of misconduct towards residents at Connaught Court care home in York.

"The RMBI fully condemns the actions and behaviour of Ms Cooper during this period, which were entirely inappropriate and contrary to the high standards expected for all members of our staff.

"In line with our established policies and internal procedures for fully investigating and thus dealing with such matters, Ms Cooper was suspended immediately from duty and the relevant regulatory authorities were informed.
"Following the full investigation by the authorities and the RMBI, Ms Cooper was subsequently dismissed from RMBI employment on the grounds of gross misconduct. The RMBI continues to uphold this decision.

"The RMBI is committed to providing quality care to all of its residents whose safety and well being is of paramount importance, and takes its responsibility for safeguarding vulnerable adults very seriously.

"As such, the RMBI adopt a zero tolerance policy in respect of the rare occasions where that trust is broken, to ensure that staff behaviour reflect our core values.
– The Royal Masonic Benevolent Institution
York care home abuse hearing
Tyne Tees
York nurse sacked after care home abuse charges
A nurse who was found guilty of abuse charges at a North Yorkshire care home has been sacked by her employers.
Christina Cooper appeared at a hearing today where she was found guilty of ten charges of verbal and physical abuse towards the residents of the Viking Wing of Connaught Care Home in Fulford.
The Royal Masonic Benevolent Fund, which runs the York care home, has condemned the nurse's actions.
The hearing heard that Cooper branded dementia patients 'disgusting' for soiling their bedding and had threatened to strangle a woman with a scarf.
York care home abuse hearing
Tyne Tees
Abuse claims proved against York nurse
Charges of physical and verbal abuse have been proved against a nurse from York.
Christine Cooper appeared in front of the Nursing and Midwifery Council in London today where 10 of the 12 charges were found proved.
Cooper worked at the Connaught Care home in York.
A hearing will take place at a later date to decide if she is still fit to practice as a nurse.
All aboard the Mighty Mallard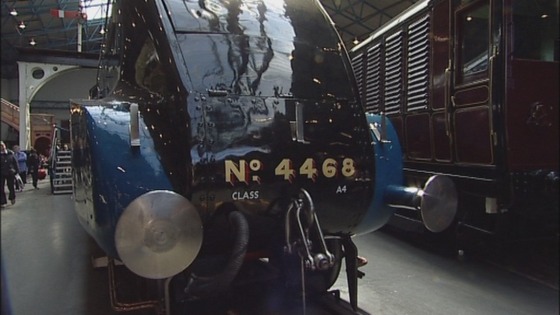 An appeal's gone out for former drivers, firemen and inspectors on the Mallard to get in touch with York's National Railway Museum. It's to celebrate the 75th Anniversary of the locomotive breaking the world steam speed record.
The Museum is hoping to arrange a 'drivers day' in October as part of its Mallard 75 series of events and activities of which HRH, the Prince of Wales is Patron.
Although several members of the crews that worked on the footplates of Mallard and her sisters are already speaking to the museum, the hunt is on to track down those who can tell the tale of the BR era, between 1948 and 1997.
Preparations for the anniversary on July 3rd are falling into place with Dominion of Canada getting the final finishing touches to a complex cosmetic restoration which has seen the mighty machine transform from shabby BR green to its 1930's streamlined garter blue glory.
Advertisement
Ex-Archbishop cover-up claims
Archbishop to set up inquiry into abuse claims
The Archbishop of York has said the Church of England treats child abuse allegations "with the utmost seriousness" as he confirmed he is setting up an independent inquiry into claims against a former cathedral dean.
Dr John Sentamu's statement comes after his predecessor, Lord Hope of Thornes, denied suggestions he covered up allegations against Robert Waddington, a former Dean of Manchester Cathedral, who died from cancer five years ago.
The Times newspaper claimed Lord Hope, who was Archbishop of York between 1995 and 2005, was twice informed about allegations against Mr Waddington, who is said to have abused a chorister in Manchester in the 1980s and a school boy in Australia.
Ex-Archbishop cover-up claims
Church of England sets up inquiry into abuse claims
The Archbishop of York, Dr John Sentamu, is to set up an independent inquiry into allegations that a senior Church of England clergyman had abused children. The late Very Rev Robert Waddington stands accused of abusing choirboys and school pupils.
.
When any church related abuse comes to light the church's first concern must be for the victim offering support and apologising for the abuse, acknowledging that the effects can be lifelong. When the inquiry makes its report the Archbishop will make its findings public . The Church of England continues to review its child protection and safeguarding policies regularly to ensure that the church is a safe place for all. Child abuse is a heinous and personally damaging crime, it is therefore incumbent on the church to treat such matters with the utmost seriousness."
– Spokesperson for John Sentamu, Archbishop of York
Flood insurance
Campaign for insurance deal for flood-risk areas
A Yorkshire MP is calling for the government to ensure residents living in high risk flooding areas are not left without insurance.
MP Mary Creagh, who is also the Shadow Environment Secretary, was speaking at a flooding conference in York. Currently a deal between the Government and insurance companies means properties prone to flooding are guaranteed to get cover.
It's due to stop in June when it's feared insurance costs could rocket. Matt Cullen from the Association of British Insurers believes there is a solution.
Ex-Archbishop cover-up claims
National
Former Archbishop of York denies neglect over 'abuse'
The former Archbishop of York, Lord Hope of Thornes, has denied covering up allegations that a senior clergyman sexually abused choirboys:
I strenuously deny (and am obviously disappointed at) the suggestion that myself or my team at the time would have acted negligently in this or any other safeguarding matter.

Under the Church of England's 1999 Policy on Child Protection which was in effect at the time (but which has subsequently been reviewed) Paragraph 31 states:
'There is no automatic legal obligation on the Church to refer allegations by adults to the police or social services. However it is essential to consider whether children may still be at risk from the abuser or alleged abuser and, if so, to ensure that appropriate steps are taken to safeguard them, and these will involve reporting the matter to the social services or the police.'
In considering whether children would be at risk from Robert Waddington I decided under these guidelines that this would not be the case given his serious ill health following cancer surgery. The following year I revoked Robert Waddington's permission to officiate. He died two years later.

I am deeply aware of the pain caused to any victim of child abuse, especially at the hands of a trustworthy person within the church.
– Lord Hope
Load more updates
Back to top