Huddersfield Town's fundraising partnership with Yorkshire Air Ambulance is to continue for another three years.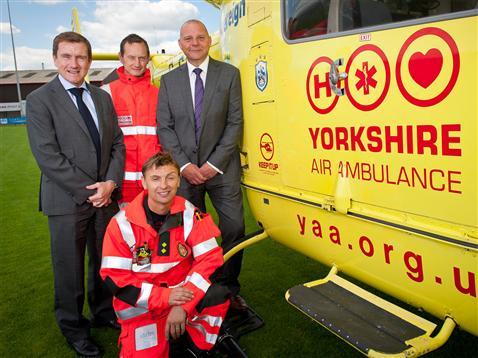 It was launched back in 2009 to help raise money for the charity and at the same time generate funds for Huddersfield Town's Youth Academy,
It was announced this year that the campaign had raised more than £1 million through a series of charity cycle rides covering hundreds of miles across the UK.
The most recent ride saw nearly 300 cyclists embark on the 'Chapman Trail' cycling the 250 miles back to Huddersfield's John Smith Stadium from Arsenal's Emirates Stadium in London.
Over the five 'Pedal for Pounds' rides, 635 different cyclists have taken part, covering a total of 1,250 miles and raising in excess of £700,000 to the 'Keep It Up' campaign.
We are absolutely delighted that HTAFC is looking to continue our partnership for at least another three years. When we launched the 'Keep It Up' campaign five years ago none of us quite knew just how successful it was going to be – so to be extending that to at least eight years is phenomenal. HTAFC staff and fans have very much become part of the YAA family over the years and we are looking forward to seeing what the next three years bring.
– Paul Gowland, YAA Director of Fundraising