Potters of Yorkshire has raised £50,000 with every purchase of a dozen of their eggs seeing 1p donated to the charity.
Read the full story ›
The Chancellor has announced £1 million of funding for the Yorkshire Air Ambulance after Geoffrey Boycott wrote to ask for support.
Read the full story ›
Advertisement
Yorkshire Air Ambulance (YAA) has received its largest ever single donation, getting plans for a new helicopter off to a flying start.
The donation of £944,254 was made by Yorkshire Building Society based on deposits placed in its Yorkshire Air Ambulance affinity savings accounts over the past year.
It will contribute towards the Charity's plans for a future replacement helicopter and takes the total donated by the Society to YAA since 2007 to more than £2 million.
Yorkshire Building Society is committed to supporting good causes where our members and colleagues live and work. To have been responsible for the largest ever donation to the YAA is something the Society is very proud of. We are delighted to be able to help such a vital service as Yorkshire Air Ambulance, which is close to the hearts of many of our members in the region.
– Gary Lacey, Yorkshire Building Society Savings Product Manager
This is the largest, single donation the Charity has ever received and we are overwhelmed by the support of the Society. We are currently looking at provisions for a future replacement helicopter for one of our current aircraft, so these monies will significantly contribute towards the reserves we are starting to build to cover these costs
– Peter Sunderland, Chairman of the YAA
A pensioner with terminal cancer who raised thousands of pounds for her favourite charity has died after a long battle with cancer.
Maisie Allan,85, was diagnosed with terminal cancer in 2013, but that didn't stop her undertaking a 900-mile static cycle challenge to raise £3,600 for Yorkshire Air Ambulance.
She received a special supporter's award from the rapid response emergency charity for her efforts and went a step further by pledging to walk the world for the charity.
With a pedometer attached to count every step she took each day, Maisie had planned to walk the equivalent of a round-the-world hike, totalling about 65 million steps.
She raised £1,700 before she became too weak to walk.
She died last week at St Gemma's Hospice in Leeds
Maisie was a wonderful lady and it was a real privilege to get to know her during her time fundraising for the Yorkshire Air Ambulance. She was such a character and really was an inspiration to so many, showing us all that no matter what your situation, anything is possible. We are also glad that we were able to recognise Maisie's fundraising efforts before she got too ill, and we'll always remember the smile on her face when she was presented with her award. Our deepest sympathies go to Maisie's devoted husband Peter who was her rock. She will be very sadly missed by all at the Yorkshire Air Ambulance.
– Kerry Garner, Regional Fundraising Manager for the YAA,
Former nurse Maisie and Peter were also taken on a VIP tour of the service's new air base at the Nostell, near Wakefield, when she said: "I'm just an ordinary Yorkshire lass wanting to do good for these amazing people."
People in Yorkshire are being asked to bag up their unwanted clothes this Christmas to raise money for an air ambulance charity.
Yorkshire Air Ambulance (YAA) needs clothing, shoes, bags, curtains and bedding for its annual recycling campaign.
As part of its partnership with textile recycling firm BIU Group, YAA receives an agreed percentage from the sale of recycled materials.
"The lead up to the festive season and the Christmas period itself is a really good time to have a clear-out of those wardrobes and drawers.

"So we're asking people if they will make us a gift of their unwanted items - whether it's that that dress that's been hung up for years but never worn or a dodgy Christmas jumper or slippers.

"Filling a recycling sack is a Christmas gift that doesn't cost people any money but means so much to us."
– Katie Collinson. YAA partnership manager
YAA's recycling initiative has raised £2 million over the last nine years.
"During the nine years of our partnership with the Yorkshire Air Ambulance, our teams have worked extremely hard to build on the recycling infrastructure we introduced in 2005.

"But it's the people of Yorkshire that have enabled us to reach this remarkable milestone. To raise £2 million is a massive achievement that we are extremely proud of."
– Louise Knapton , BIU Director
YAA has 250 recycling textile banks at household waste sites, supermarkets and car parks across Yorkshire. To find a recycling bank, visit www.yaa.org.uk or call 01422 237900.
A major campaign has been launched to raise the remaining £585, 000 of the £2 million needed to build a new helipad at Sheffield's Northern General Hospital.
At the moment it can take 15 minutes for a road ambulance to get the hospital from the current site which is 20 years old and surround by trees.
The new helipad will be based on the roof next to the A&E department and will take just 90 seconds for patients to receive life saving treatment by the medical team.
Advertisement
The M62 has been closed in both directions after a vehicle crashed down the embankment.
All lanes have been stopped to allow the Air Ambulance to land.
It happened between J34 A19 (Selby / Doncaster) and J37 A614 (Howden).
Huddersfield Town's fundraising partnership with Yorkshire Air Ambulance is to continue for another three years.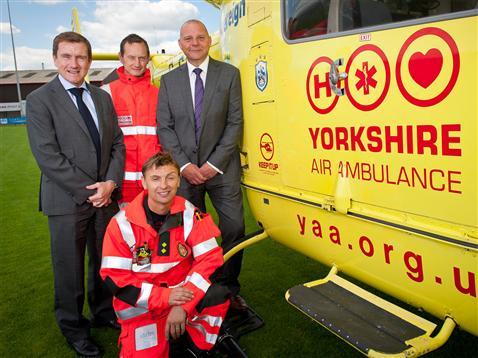 It was launched back in 2009 to help raise money for the charity and at the same time generate funds for Huddersfield Town's Youth Academy,
It was announced this year that the campaign had raised more than £1 million through a series of charity cycle rides covering hundreds of miles across the UK.
The most recent ride saw nearly 300 cyclists embark on the 'Chapman Trail' cycling the 250 miles back to Huddersfield's John Smith Stadium from Arsenal's Emirates Stadium in London.
Over the five 'Pedal for Pounds' rides, 635 different cyclists have taken part, covering a total of 1,250 miles and raising in excess of £700,000 to the 'Keep It Up' campaign.
We are absolutely delighted that HTAFC is looking to continue our partnership for at least another three years. When we launched the 'Keep It Up' campaign five years ago none of us quite knew just how successful it was going to be – so to be extending that to at least eight years is phenomenal. HTAFC staff and fans have very much become part of the YAA family over the years and we are looking forward to seeing what the next three years bring.
– Paul Gowland, YAA Director of Fundraising
Huddersfield Town has revealed that supporters have raised more than £1 million for Yorkshire Air Ambulance (YAA) and the club's youth academy over the past five years.
The Championship club launched its Keep It Up campaign in 2009. From every £1 raised, 50p goes to YAA and 50p to the Huddersfield Town Youth Academy.
Supporters have taken part in a series of fundraising events such as the recent Pedal For Pounds challenge, which saw 300 cyclists bike 250 miles from Arsenal's Emirates stadium to the John Smith stadium in Huddersfield.
Huddersfield Town chairman Dean Hoyle said: "Huddersfield Town is committed to making a difference to the local community and there is no better example of the club and its fans working together, alongside a charity with this goal than the Keep It Up campaign.
"The Yorkshire Air Ambulance provides a vital service across our county and I'm delighted to report that the money generated for the charity through Keep It Up has funded every life-saving flight the YAA has undertaken in a Huddersfield postcode since we launched this partnership in 2009.
"Keep It Up has also been of huge financial benefit to our academy, the success of which is very important to the long-term sustainability of the club."
YAA needs to raise £3.6 million a year to keep both of its helicopters running.
YAA director of fundraising Paul Gowland said: "Five years ago we could never have predicted just how successful this partnership was going to be. It was new territory for both us and Huddersfield Town who have been fantastic at driving the campaign.
"However, the success of it has been down to the fans getting behind Keep It Up and showing their support. Their passion and dedication to the campaign over the last five years is amazing and they should all be commended. We cannot thank them and the club enough."
84 year old Maisie Allan from Rothwell, who has defied doctors telling her she only had six months to live, has started her biggest fund-raising challenge yet.
Maisie plans to walk the same number of steps she would take if she were to trek around the world, in aid of the Yorkshire Air Ambulance.
Today she went to their Wakefield base to see where the money she has already raised has been spent:
Load more updates