County champions Yorkshire have chartered a private jet to fly three of their players back to Headingley after international duty in order to boost their depleted squad.
The Tykes have done without six front-line players so far this season owing to Gary Ballance, Jonny Bairstow, Adam Lyth, Liam Plunkett, Adil Rashid and Joe Root being with England's Test side in the West Indies.
Ballance and Root were the only ones to play a minute of the three-match series and are being rested by England this weekend, but Bairstow, Rashid and Tim Bresnan are in line to face Ireland in a one-day international in Dublin on Friday.
With Lyth and Plunkett back in their ranks, Yorkshire are keen to have as strong a side as possible to face Hampshire on Sunday and have arranged for their trio of players to travel separately to the rest of the England squad.
Hampshire's James Vince will also travel to Leeds with the group.
Yorkshire chief executive Mark Arthur said: "It is unprecedented times. We have had six players away for three Championship matches and then England come back from the Caribbean and have arranged a one-day game in Ireland where we have three of our players called up for this one-off game.
"If we would have stuck to the scheduled flights they would have returned to Birmingham on Saturday afternoon and in our opinion that is no way to prepare for a very important LV= County Championship (match) on Sunday at Headingley.
"Martyn Moxon (director of cricket), in particular, was very upset how long it would take these guys to get back. The timing is difficult for all parties concerned with this one-off match taking place in Ireland.
"We fully understand the difficulties the ECB face and they fully support this. They have made allowances for the lads to travel back separately."
Yorkshire must get by without Aaron Finch "for up to 12 weeks", and Ryan Sidebottom for six, after latest injury updates on the pair.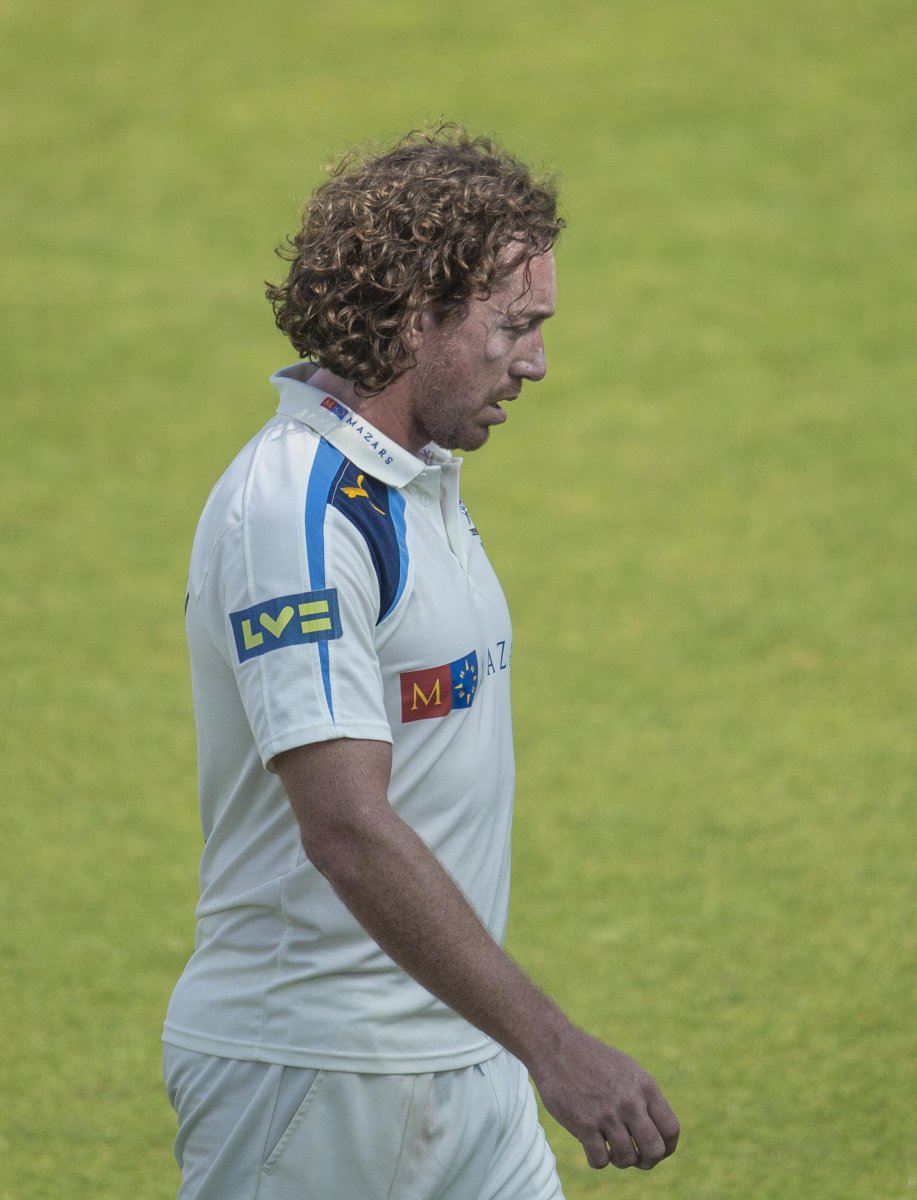 Destructive opener Finch has had surgery on his hamstring - and after a scan last week, the length of veteran left-arm seamer Sidebottom's absence has also been confirmed.
Australia can still expect Finch to be fit in time for their limited-overs series against England, beginning with a one-off Twenty20 at the end of August.
But his availability for Yorkshire is a different matter, and he seems certain to miss the vast majority of their NatWest T20 Blast campaign.
Yorkshire were hoping, even when Finch conceded he would have to sit out the remainder of the Indian Premier League after suffering the injury earlier this month, that he would be able to join them by the end of May.
Wednesday's statement from Cricket Australia (CA) has ended that prospect, and the likelihood is Finch will not be ready until the Blast knockout stages - should Yorkshire progress that far.
A CA press release explained Finch underwent surgery on his left leg in Melbourne on Tuesday.
Sidebottom hurt himself running between the wickets in Yorkshire's opening Division One match, which they won away to Worcestershire.
The 37-year-old former England bowler has a grade two tear to his left calf, and has already begun a rehabilitation programme.
It is a great shame for Ryan. We will monitor his rehabilitation on a daily basis and hope that he will return to cricket in six weeks.
– Yorkshire physiotherapist Kunwar Bansil
Yorkshire had to begin the defence of their county crown without seven first-choice players - captain Andrew Gale, who was completing a disciplinary ban at Worcester, and six away on Test duty with England in the West Indies.
They are reportedly considering whether to ask England if leg-spinner Adil Rashid, still uncapped after missing out on selection for the first two Tests, can return home early to bolster their squad.
Advertisement
Four years after becoming the youngest first-class cricketer in county history, Yorkshire's Barney Gibson has retired from the sport.
Read the full story ›
Yorkshire have signed India international Cheteshwar Pujara until the end of May after cancelling the contract of Younus Khan.
Younus was set to be Yorkshire's overseas signing for 2015, but the batsman is now looking to be part of Pakistan's potential touring party to Bangladesh, effectively ruling him out of any playing time in the LV= County Championship.
Pujara will instead link up with the Division One champions - subject to receiving a work permit - having spent time at the back end of last season with Derbyshire, scoring 219 championship runs for them.
Yorkshire director of cricket Martyn Moxon announced in a statement that Younus made his international intentions clear on Sunday, and added: "We have moved quickly to bring in Pujara and he is a superb player.
"He is an outstanding young Test cricketer, who is hungry to perform in the English game. In the brief conversations I have had with him, he is very much looking forward to be joining Yorkshire and being part of our plans."
Pujara, 27, made his international Test debut in 2010, and with six centuries in the five-day game is a highly rated part of India's squad with many seeing him as the natural successor to Rahul Dravid.
Pujara, who boasts nearly 9,000 first-class runs, will turn out for Yorkshire until Australian Aaron Finch is free of Indian Premier League commitments with Mumbai Indians.
"I was looking to return to the UK after my previous experience of county cricket, which I greatly enjoyed, and when Yorkshire made the offer I didn't think twice," Pujara said.
"To wear the same white rose Sachin Tendulkar did is going to be a great feeling for me. I hope I can contribute to further success."
Headingley Stadium will soon be fitted with a retractable roof, according to plans unveiled today.
Read the full story ›
Bob Appleyard, one of Yorkshire and England's greatest bowlers and a former President of Yorkshire CCC has died at the age of 90.
Read the full story ›
Advertisement
Seam bowler Jack Brooks has signed a new contract with Yorkshire, tying him to last season's county champions until December 2017.
The 30-year-old was the White Rose's leading wicket-taker in Championship cricket last year, with 68 wickets at an average of 28, with his form leading to a call-up to the England Lions for their tour of South Africa.
Brooks, who joined the county from Northamptonshire in 2012 was delighted with the extension.
I am thrilled to have signed a new contract with Yorkshire," he told the club's website. I am enjoying my cricket and have had a brilliant 18 months with the club. There is a great vibe around the place and I am confident with the quality of players we have here, we can continue to be force in game. It would be fantastic to repeat our efforts from last season and give it a real good push to retain our title in the County Championship.
– Jack Brooks
Yorkshire County Cricket Club have confirmed the signing of Pakistan top-order batsman Younus Khan.
Khan, 37, will join Yorkshire in April and will be available for the LV= County Championship opener at New Road against Worcestershire starting on Sunday April 12.
The Pakistani right-hander returns to the White Rose county where he starred in 2007. In 19 Championship innings for Yorkshire, he scored 824 runs at an average of 48.47 including a top score of 217 not out against Kent at Scarborough in the July of that year.
We are delighted to secure the services of Younus. We have been looking for a world-class batsman to strengthen our batting department at the start of the season. Younus fits the bill and will add real quality to our top-order. It also helps that he understands the culture of the Club and what it means to play for Yorkshire. That was a major factor in signing him.
– Yorkshire County Cricket Club's Director of Cricket, Martyn Moxon
It is a great honour to be returning to Headingley and playing for Yorkshire. This is one of the finest cricket clubs in the world. Yorkshire are going well and deserved to win the title last year. I hope my experiences in the First-class game will help them maintain their position at the top of the County Championship. The County Championship is regarded as one of the best domestic competitions in the world and to test myself in English conditions can only enhance my game. For the Yorkshire supporters, I am eager to replicate the form I showed the last time I was involved and build on the club's superb form over the past couple of seasons.
– Younus Khan
Ryan Sidebottom has signed a one-year extension with Yorkshire which will keep him at Headingley until at least December 2016.
The Huddersfield born left-armer, who is in his second spell with Yorkshire, will start his 18th season in First-class cricket this year.
I am absolutely delighted to be signing a new deal. It's been a great couple of years for the Club, with us winning the Championship and continuing to improve. I think it shows where the Club is going and I still love playing, the passion is still there. I enjoy coming in and playing with a great bunch of lads. We can do great things if we keep continuing in the same vain. It's about working hard for each other and to build on that team spirit and camaraderie and togetherness. This is a special Club, for me, the best around.
– Ryan Sidebottom, Yorkshire CCC
Yorkshire cancer research have announced a partnership with county cricket champions Yorkshire on what is World Cancer Day.
Club president Dickie Bird joined members of Yorkshire's first team squad and the charity's chief executive to mark the two year deal with a balloon release on the pitch at Headingley.
It is hoped the partnership will raise awareness of the disease which kills 253 people in Yorkshire every week:
Load more updates