The Yorkshire Ripper Peter Sutcliffe was allowed out of Broadmoor to visit an NHS eye clinic, according to The Sun.
The newspaper published a picture of him without handcuffs at Surrey's Frimley Park Hospital.
He reportedly shared a joke with guards during the trip. The notorious killer is reportedly undergoing tests at the eye clinic as doctors try to save his sight. Sutcliffe was jailed for life in 1981 for the murder of 13 women and attempted murder of seven others.
Advertisement
George Osborne is hoping Chinese money could help transform infrastructure in Yorkshire's cities as part of his "Northern Powerhouse" plan to grow the economy in theregion.
The Chancellor on a trade trip to China has made a pitch for Chinese companies to invest in the HS2 high speed rail link between London - Sheffield and Leeds, as well as regeneration projects in the two Yorkshire cities. Accompanying the Chancellor are council leaders from the Northern Powerhouse cities including Sheffield and Leeds.
ITV is celebrating its 60th anniversary today. Yorkshire Television, which later became part of ITV, started in 1968.
The building was officially opened by the Duchess of Kent on 29th July 1968.
Yorkshire's Richard Pyrah has announced his retirement from the game.
The 32 year old all-rounder, who was born in Dewsbury, made his debut for the White Rose in 2004 and scored over 3000 runs in all forms of the game and taken over 300 wickets. He will now take up a role on the clubs coaching staff.
Emmerdale's "Bob Hope" has completed the Great North Run for Leukaemia and Lymphoma Research.
Actor Tony Audenshaw, who stars in the Yorkshire-based soap has now completed the half marathon more than a dozen times for the charity.
And this year, as our cameras saw, he dressed up for the occasion.
Advertisement
Readers of a popular Yorkshire magazine were asked to vote for their favourite Yorkshire's view. Here are the results.
Read the full story ›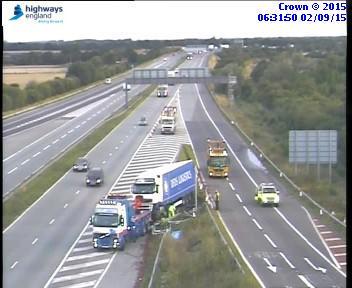 Thousands of people are dying prematurely from heart attacks across our region, new figures show.
The British Heart Foundation study revealed that across Yorkshire and the Humber, cardiac arrests claim 7000 lives every year - with tens of thousands more people living with coronary heart disease.
The charity is now calling for more funding to help prevent what they say are avoidable deaths. Our correspondent Rachel Bullock has the story.
#A1 J40-J39 s/bound. 1 lane closed and long delays due to a multi vehicle collision with injuries. @highwaysneast @wyp_rpu dealing.
Load more updates