Yorkshire County Cricket Club have awarded a benefit next season to long-serving all-rounder Richard Pyrah.
The 29-year-old from Dewsbury made his debut for the county in 2001 and made his 100th appearance for Yorkshire in one day cricket in June 2013, against Middlesex at Headingley.
The England and Wales Cricket Board has declined to add to previous statements about the disciplinary process facing Andrew Gale, amid reports that he is to be charged with a racist offence.
Yorkshire captain Gale was banned for his team's final two LV= County Championship matches of the season, under mandatory disciplinary procedure, following his on-field spat with Lancashire batsman Ashwell Prince at the start of this month.
When he was subsequently kept away, at the behest of the ECB, from Yorkshire's trophy celebrations after they won the title for the 32nd time at Trent Bridge last week, the governing body clarified the situation in a press release.
Amid reports of a racist element, one expected to be strenuously denied by Yorkshire and their captain, the ECB declined to add to last Friday's statement.
It read:
"After an incident at the recent LV=CC match between Lancashire and Yorkshire, the England and Wales Cricket Board made a formal complaint to the cricket discipline commission (CDC) about the conduct of the Yorkshire captain Andrew Gale.
"On receipt of this complaint, the CDC has decided to convene a disciplinary panel hearing to consider the matter.
"The ECB will not make any further comment until the disciplinary process is concluded."
The Daily Telegraph reported today that the case will centre on Gale's alleged use of the term 'Kolpak', in a heated exchange with Prince - and whether it can be construed as racist.
A 'Kolpak' cricketer is one born overseas but free to play on a domestic contract under the laws of the European Union.
Advertisement
A Doncaster gardening firm has scooped the top prize at the prestigious Harrogate Flower Show.
PRW Garden Services, which is based in Bessacarr, picked up the gold award at the three-day event, which was visited by thousands of people over the weekend.
The Serenity Garden was developed around a woodland theme, which gardener Paul Watson says proved popular:
Ive had an amazing time @harrogateflower the past few days, The garden was very popular with the public on all three days
After a cloudy night there will be some early morning rain, then some breaks should appear bringing some sunny spells in the afternoon. Kerrie Gosney has the late forecast:
An egg company has raised more than £2,000 for Yorkshire Air Ambulance by selling limited-edition boxes during the Tour de France.
James Potter Yorkshire Eggs donated 5p from the sale of each six-egg pack, raising £2,760 for the emergency response charity.
YAA had the busiest weekend in its history when the Tour de France passed through Yorkshire, attending 31 incidents between July 4 and 6.
Adrian Potter, director of James Potter Eggs, said:
"The pack was the biggest-selling product during July.
"The Tour de France was brilliant for the county and for us and we were delighted to be able to give more to the region's air ambulance service which does such a fantastic job all year round."
James Potter Eggs began fundraising for YAA two years ago by donating 1p to the charity for every dozen eggs sold.
The firm, based at Catton near the YAA base at RAF Topcliffe, has since donated more than £24,000 to the charity.
The Potter family are fantastic supporters of the charity. The donation of a penny per dozen eggs sold has created a hugely valuable regular income stream for the charity of on average £900 a month.

The special Tour de France pack generated more than £2,000 extra for us during July and we cannot thank this brilliant family and company enough."
– Tony Doveston, North Yorkshire fundraising manager at YAA
Advertisement
A charity has issued a plea for foster carers in the region to look after some of its rescue dogs.
Read the full story ›
A former Premier League footballer, who had spells at Hull, Huddersfield, Rotherham and Lincoln, has appeared in court charged with being involved in a match-fixing conspiracy.
Delroy Facey, 34, was not required to enter a plea during a two-minute hearing at Cannock Magistrates' Court in Staffordshire.
He is accused of conspiring with four other men, including former non-league footballer Moses Swaibu, to commit fraud by way of bribery between November 1 and 27 last year.
Dressed in a striped polo shirt and dark trousers, Facey spoke only to confirm his address in Huddersfield, West Yorkshire, during today's hearing.
Officers from the National Crime Agency (NCA) originally arrested Facey last November.
The charge brought against him yesterday relates to a football match-fixing investigation by the NCA, which secured the conviction of three men last June.
The charge against Facey alleges that he plotted with Swaibu to induce or reward others to "improperly perform their function" as professional footballers.
Leeds Bradford Airport has launched new twice-daily flights to Dublin with Irish national carrier Aer Lingus.
Aer Lingus has routes to North America, including recently introduced flights to San Francisco, so airport bosses hope there will now be better links between Yorkshire and the US.
They hope business and leisure passengers from both Ireland and America can now visit the region more easily, which could provide a boost to the local economy.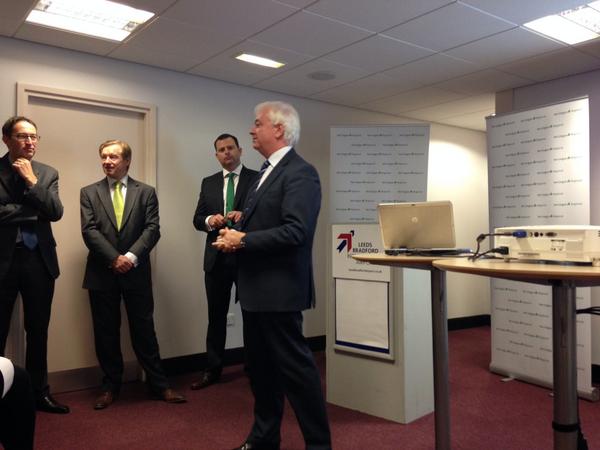 Inspirational charity fundraiser, Doctor Kate Granger, took to the skies over East Yorkshire at the weekend.
Kate, who has terminal cancer, has already raised over £100,000 for the Yorkshire Cancer Centre since her diagnosis three years ago.
Now she has ticked skydiving off her 'bucket list' of 50 things she wants to do before she dies:
Load more updates