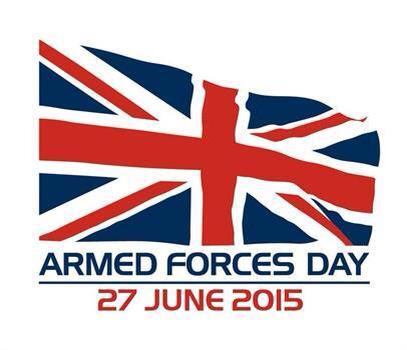 The Freedom of Leeds will be exercised by 200 soldiers from 2nd Battalion The Yorkshire Regiment, and the 4th Battalion - the Reserve battalion later today.
The parade of Regular and Reserve soldiers, Army cadets and veterans will march through the city, with bayonets fixed, colours flying, and to the music of the Yorkshire Regiment band.
Following the parade there will be a drumhead service in Millennium Square.
Advertisement
There are many events taking place today to celebrate Armed Forces Day across the region. Here are some:
BERWICK-UPON-TWEED - A weekend of exhibitions, talks, demonstrations and historical re-enactments celebrating the centuries-old military heritage of Berwick-upon-Tweed.
CATTERICK - Catterick Garrison Families Day - aimed to celebrate the work of the Armed Forces and strengthen the bond between the military and civilian community.
COLDSTREAM - Honour Our Troops will help you paint your very own Poppy Jars for Armsitice Night.
HARROGATE - In partnership with Bettys, the Petal to Pot Summer Garden Party celebrates the quintessential tradition of tea and cake.
RIPON - the whole of the Ripon market square will be filled with static displays from veterans and cadets of all three Services; a Sea Cadet marching band, breach a minefield with the Army Cadets, a Drill display by the Air Cadets.
SCARBOROUGH - North Sea Yacht Race from Scarborough - an event paying tribute to veterans of World War Two.
SEAHAM - Seaham Armed Forces Day will be held in Seaham Town Park.
STOCKTON-ON-TEES - Castle Street will be closed off for a military parade.
SUNDERLAND - Military Parade and Union Flag Waving Concert.
WIDDRINGTON near MORPETH - Marching the Royal British Legion Standard accompanied by a Piper from Widdrington Barracks.
YORK - events at the Black Bull Hotel including bouncy castle, face painting, hook a duck and tombola.
When you look at the movie charts they will usually be filled with films costing millions of pounds to make and will star huge Hollywood names. Until now.
"Lad, a Yorkshire Story" was filmed right here in Yorkshire on a shoe string budget and features a cast of unknowns who live in the county and is storming up the online charts - two years after it was released.
It tells the tale of a teenager whose life is turned upside down, but he gets back on track thanks to the help of a park ranger in the Yorkshire Dales.
Duncan and Christine spoke to director Dan Hartley and lead actor Bretten Lord:
Sheffield batsman Joe Root was the star of the show as England beat New Zealand by 56 runs in their T20 international with New Zealand at Old Trafford.
The test-vice captain fired off 68 runs off just 46 balls.
Sorry, this content isn't available on your device.
Councils in Yorkshire are spending almost £4 million a year cleaning up after Illegal fly tippers.
Most recent figures from the government show that over 67,000 incidents were recorded by authorities - with more than 18,000 of those in the Sheffield area.
Only £36,000 worth of fines were taken by the councils.
Advertisement
Visitors to the coast are being asked to record the sound of the seaside. It's part of a project capture the sounds from the Yorkshire Coast for the British Library's sound archive. The audio will also be used to create a new piece of music inspired by the coast.
The coastal sound map project coincides with the 50th anniversary of the National Trust Neptune Coastline Campaign. Launched in May 1965, the Trust now manages 775 miles of coast in England, Wales and Northern Ireland – including around 20 miles in Yorkshire.
Musician, producer and founder member of Human League and Heaven 17, Martyn Ware, will be using the sounds submitted by the public to create a brand new piece of music for release in February 2016.
There is something really evocative about the sounds of our coast; they help shape our memories of the coastline and immediately transport us to a particular time or place whenever we hear them. As millions of us head to the coast this summer for holidays or day trips we want the public to get involved by recording the sounds of our amazing coastline and add them to the sound map. This could be someone wrestling with putting up a deck-chair, the sounds of a fish and chip shop or a busy coastline town. We'd also love to hear from people that might have historic coastal sounds in Yorkshire which might, for example, be stored in a box in the loft. This will help us see how the sounds have changed over the years.
– Cheryl Tipp, Curator of Wildlife and Environment Sounds at the British Library
People are being urged to think twice about how much water they use. It's part of a Yorkshire Water campaign to cut usage by a million litres a day across the region. The company is backing the aims of World Environment Day, and wants its customers to do the same. But it's also looking closer to home as it tries to reduce leakage from its own pipe network by ten million litres a day. Sally Simpson took to the skies and sent this report.
The start of the second test match between England and New Zealand at Headingley is set to be delayed this morning.
Sorry, this content isn't available on your device.
Yorkshire batsman Joe Root, Gary Ballance and Adam Lyth are all set to feature for England.
Yorkshire cricket captain Andrew Gale hopes his head coach Jason Gillespie does not leave the county to join England.
New England Director of Cricket Andrew Strauss confirmed that Gillespie was been considered for the England head coach's role.
Load more updates