Readers of a popular Yorkshire magazine were asked to vote for their favourite Yorkshire's view. Here are the results.
Read the full story ›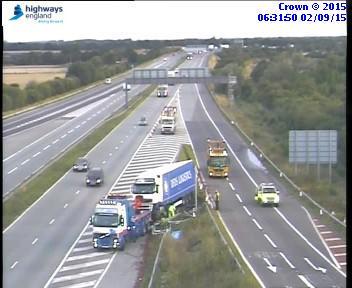 Advertisement
Thousands of people are dying prematurely from heart attacks across our region, new figures show.
The British Heart Foundation study revealed that across Yorkshire and the Humber, cardiac arrests claim 7000 lives every year - with tens of thousands more people living with coronary heart disease.
The charity is now calling for more funding to help prevent what they say are avoidable deaths. Our correspondent Rachel Bullock has the story.
#A1 J40-J39 s/bound. 1 lane closed and long delays due to a multi vehicle collision with injuries. @highwaysneast @wyp_rpu dealing.
Hundreds of office staff at the electrical distribution firm Northern Powergrid will go on strike from midnight tonight as part of a pay dispute.
Members of the union UNISON will walk out after what they claim is months of talks.
The company insists its pay offer is 'fair and reasonable', and says customers won't be affected.
The Chancellor has announced £1 million of funding for the Yorkshire Air Ambulance after Geoffrey Boycott wrote to ask for support.
Read the full story ›
Advertisement
The world's most endangered big cat, the Amur leopard, has given birth to three cubs at Yorkshire Wildlife Park.
The rare cubs, one of the most threatened species on the planet, were born at the end of June to parents Drake and Freya.
Their birth and progress at the park heralds a landmark in conservation and could be critical in an interntional plan to reintroduce them back into the wild.
Since their birth nearly two months ago every minute of their lives, including their birth, has been captured on film, with CCTV cameras.
They are unlikely to be seen in public for a few weeks and will be vaccinated later this week.
Smoking in our region is higher than the national average. Government health officials say they want to see GPs able to prescribe e-cigarettes on the NHS as they publish a review saying vaping is 95% less harmful than tobacco.
Percentage of smokers in each area:
Hull 29%
Leeds 22%
Lincolnshire 19%
Doncaster 21%
Bradford 23%
Tomorrow will mark 70 years since the Second World War came to an end and Japan surrendered to the allies. Tens of thousands of British troops were serving abroad and could finally come home while countless others were released from prisoner of war camps. David Wood has been to meet a woman who moved to Yorkshire after the war, when she'd worked as an interceptor.
Milk farmers say an industry crisis has driven them to extreme measures - from emptying supermarket shelves of milk, to leading cattle through the grocery aisles. But has there been a breakthrough in the relationship between retailers - and the farmers who claim they're being treated unfairly? Today, talks led to Yorkshire-based supermarket Morrisons promising to take action - as Helen Steel reports.
Load more updates