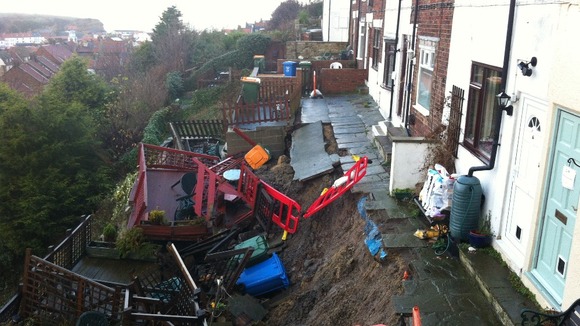 The five cottages which face demolition after a landslide in Whitby survived the night. There was minor slippage of the land in front of them overnight. Demolition contractors are now building a makeshiftroad at the back of Aelfleda Terrace so they can bring heavy plant equipment onto the site.
The cottages are likely to be brought down tile by tile, brick by brick to ensure that they don't fall onto cottages below. The terrace was undermined earlier this week when the gardens in front slipped away, sending a mound of rock and clay the size of a minibus crashing into holiday homes below.
Residents say the torrential rain may have precipitated the landslide, but they claim poor drainage work carried out by Yorkshire Water some years ago is to blame. The company says it it is too early to jump to conclusions about the cause of the collapse.