Mallard was one of 35 near-identical A4-class locomotives designed by renowned engineer Sir Nigel Gresley - the man behind the Flying Scotsman.
The six survivors include Dominion of Canada, which now sits next to Mallard at the National Railway Museum after it was shipped from Montreal last October and restored especially for the anniversary.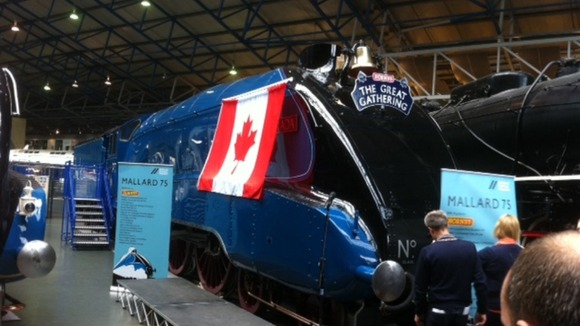 The Dwight D Eisenhower - another transatlantic expat - has also rolled back into York from America and been treated to a scrub-up for the occasion. Union of South Africa, the Sir Nigel Gresley and the Bittern have joined them around the museum's Great Hall turntable for The Great Gathering.
Bittern travelled from London Kings Cross under its own steam on Saturday after it was granted special permission to make a celebratory 90mph run up the East Coast Main Line to York - 15mph over the normal limit for steam trains. It reached a top speed of 92mph and arrived on time.