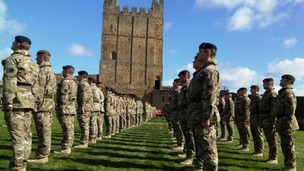 The Archbishop of York will join hundreds of soldiers at York Minster today for a remembrance service.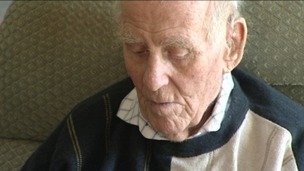 The funeral takes place today of World War Two hero Freddie Johnson. The former rear gunner, from Tadcaster, was awarded six medals.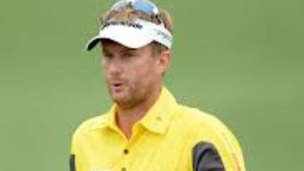 East Yorkshire golfer David Lynn set the early pace after carding an opening 68 on his Masters debut at Augusta National.
Live updates
Typhoons scrambled to intercept jet
Granada
Plane diverted from Manchester
The aircraft, which is still in the air, is a Pakistan International Airlines passenger plane which was flying from Pakistan to Manchester, a Manchester Airport spokesman said.
Woolwich soldier murder
Video: Drummer Lee Rigby's Yorkshire connections
Advertisement
Woolwich soldier murder
Drummer Lee Rigby's family: 'Lee was lovely'
The family of Drummer Lee Rigby have issued a statement, following the news of his death in Woolwich yesterday.
"Lee was lovely. He would do anything for anybody, he always looked after his sisters and always protected them. He took a 'big brother' role with everyone.

"All he wanted to do from when he was a little boy, was be in the Army. He wanted to live life and enjoy himself. His family meant everything to him. He was a loving son, husband, father, brother, and uncle, and a friend to many.

"We ask that our privacy be respected at this difficult time."
– The family of Drummer Lee Rigby
Birkby fatal fire: 9 arrests
Full report: nine arrested over Birkby fire
Woolwich soldier murder
Commanding officer pays tribute to Drummer Lee Rigby
Lieutenant Colonel Jim Taylor MBE, Commanding Officer of 2nd Battalion The Royal Regiment of Fusiliers has paid tribute to Drummer Lee Rigby, who was killed yesterday.
Death of actor Paul Shane
Death of actor Paul Shane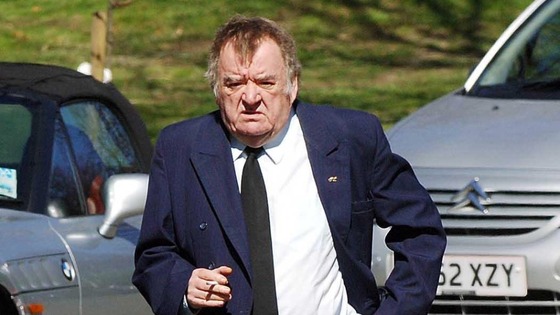 Rotherham born actor Paul Shane, famous for starring as Ted Bovis in Hi de Hi, has died, aged 72. The much loved entertainer died this afternoon after a short illness at Rotherham Hospice aged seventy two.
The former miner had entertained theatre and tv audiences for more than 40 years, appearing in numerous shows, including Emmerdale, Common as Much, A Touch of Frost, Doctors and Holby City. His agent, Linda Kremer, said tonight he will be sadly missed.
Advertisement
A compromise deal to shake up Europe's controversial fisheries policy has been hailed as bringing real benefits for British fishermen - if it wins approval from MEPs.
Marathon talks between EU fisheries ministers ended at dawn with agreement on plans to correct decades of failed attempts to restore dwindling fish stocks.
But the proposals do not include the proposed blanket ban on "discards" - the dumping of some fish back in the sea, dead, to avoid breaching restrictions on the size of landed catches. Instead the deal bans from 2015 only the dumping of pelagic fish - those living near the surface.
Hull FC's long search for a scrum-half ended today when they completed the signing of Australian Jacob Miller on a two-and-a-half-year contract.
The Black and Whites tried to sign the 20-year-old Wests Tigers player before the season started to enable him to line up alongside major signings Gareth Ellis and Daniel Holdsworth but the NRL club insisted he remained part of their plans under new coach Mick Potter.
Miller recently lost his place in the Tigers team, however, and he was today released by the club.
It's a timely acquisition for us in a position we have been looking to cover for some time now.

"Jacob is a player that has all the attributes to be a quality half-back and we feel can really benefit our side, as well as improving his own game."
– Peter Gentle, Hull FC coach
Fears for Tata Steel jobs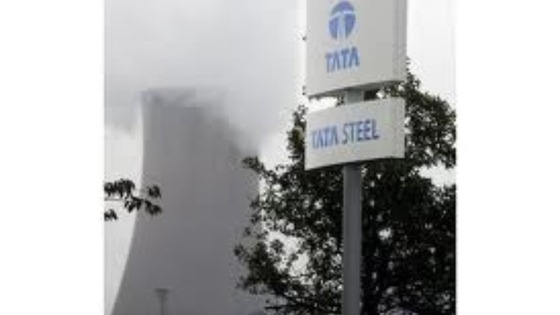 Fresh fears over the future of UK steel jobs were raised today after India's Tata Steel wiped £1 billion from the value of its European operations.
The group, which has UK operations at sites including Rotherham and Scunthorpe, blamed the tough economy in Europe where steel demand has slumped by about a third since the start of the financial crisis.
Unions said the huge writedown will worry its 18,500 staff in the UK who are still reeling from 900 job cuts last year.
Tata, which bought steel giant Corus in 2007 for £6.2 billion, has seen demand from construction and car-making dive, forcing thousands of lay-offs and plant closures.
Lord Ahmed resigns from Labour Party
Lord Ahmed "very disappointed" at treatment
Lord Ahmed - who has resigned from the Labour Party - said he was "very disappointed" with the way he had been treated by Labour.
"I don't want to appear before any kangaroo court where the rules of justice have been denied. All I want is any evidence in front of me so I can look at it and defend myself. I can't defend myself if there is no evidence produced."

"I don't want my friends in the Labour to think that I have walked away but the rules of justice demand it. It's very unfortunate."
Lord Ahmed said he had "never been anti-semitic" and had "unreservedly apologised" for any offence caused to the Jewish community.
He added his "heart" is still with the Labour Party.
The Rotherham peer was due to face a hearing over allegations he made anti-Semitic comments in a TV interview.
Load more updates