Police are appealing for witnesses after a serious car crash in North Yorkshire.
The one-vehicle crash happened at around 3:10am on Harrogate Road at High Bridge, in Knaresborough. The driver, a 25-year-old man from Harrogate, suffered a serious leg injury and was taken to Leeds General Infirmary.
Any witnesses are being urged to contact North Yorkshire Police on 101.
A man from Hull who has been unable to leave Iraq for more than seven months is hoping he will hear this weekend that he'll be allowed to return home. Kristian Nicholson's passport was confiscated after he was involved in a car accident.
Advertisement
Muslim communities across Yorkshire have raised around £6 million for charity during Ramadan.
It go towards aid charities in conflict zones. Fundraisers at the Makkah Masjid Mosque in Leeds contributed more than £100,000.
Qari Asim, from the mosque, says it is part of Muslim teachings that charity should be given to people of all cultures:
A hearing takes place in India today over whether to return the passports of three former soldiers from Yorkshire who were held in prison on suspected weapons charges.
Ray Tindall, Nicholas Simpson and Paul Towers had all charges dropped but the authorites have still not released their passports.
Civic leaders are meeting in Bradford tonight to recognise the efforts of people in Yorkshire who raised around £6 million for charity during Ramadan.
The Bradford Council of Mosques, estimates that more than £200,000 was raised every day throughout the holy month.
Guests invited to the event include senior Yorkshire Imams, scholars and community leaders as well as the Charity Commission and the Department for International Development, which has already pledged £600 million in aid towards the Syrian crisis.
The event is co-hosted by the Bradford Council of Mosques and Faith Associates; a non-theological organisation which works with ethnic minority faith-based communities across the UK.
We have been overwhelmed by the unprecedented response of local communities across the UK. Bradford is the second in a series of special events celebrating local community fundraising efforts and is also a platform to discuss what more can be done to help the humanitarian relief efforts on the ground in conflict zones.
– Shaukat Warraich, Faith Associates
A grandmother from North Yorkshire puts herself on the front-line of the fight against the Ebola outbreak that is engulfing Western Africa.
Cokie van de Velde, from Whixley, is an aid worker who has already been to both Liberia and Guinea supporting doctors as part of a team who are bravely battling to contain the deadly disease.
And despite the risk to her own safety, she is returning to Africa to try and save more lives as Gaynor Barnes reports.
Advertisement
A huge haul of potentially lethal cosmetics and electrical equipment has been seized, during an operation by the National Trading Standards eCrime Unit.
Officers based in North Yorkshire intercepted two large shipments of illegal goods bound for the UK.
The items, which came from China and the Far East, are often sold on Internet auction sites and contain unknown ingredients that can cause devastating consequences. Julie Harrison reports.
The world's two remaining Lancaster bombers that can fly have taken to the skies together over Lincolnshire for the first time this lunchtime.
A Lancaster from the Battle of Britain Memorial Flight and another known as Vera, which is usually based in Canada, took off at RAF Coningsby. They are preparing to take part in a number of airshows together in the next six weeks.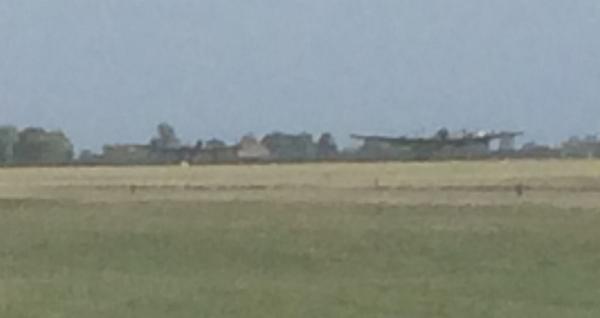 Bradford College is sending unwanted furniture following the closure of the college's McMillian Building to deprived schools in Pakistan.
Dr. Amjad Shaikh from the charity Rehabilitation Response and Jack Doyle from Bradford Rotary Club and 15 colleagues from removal firm, Business Moves Group, were on hand to load the lorry full of furniture.
The furniture which was mostly tables, chairs and drawers is now on its way to Chiniot, a small town in Pakistan.
"The furniture is going to a place that really needs it. When I visited the schools there were thousands of children sat on the floor trying to study. It was deeply upsetting to see the poor standards of their education environment, especially when these children are so keen to learn," said Dr Shaikh.
"We involve local Rotarians here and in Pakistan, so they can ensure that the furniture is not being misused."
With the vast redevelopments currently going on at Bradford College, the closing of their old buildings means over 160 containers have been sent to Pakistan and will continue to be sent over the upcoming months.
"Although we are lucky to be undergoing so many redevelopments at the college, we must remember that schools in these less developed countries have very little and it really is pleasing to know our old furniture is going to good use," said Ian Fox, Project Officer at Bradford College.
Load more updates