A grandmother from North Yorkshire puts herself on the front-line of the fight against the Ebola outbreak that is engulfing Western Africa.
Cokie van de Velde, from Whixley, is an aid worker who has already been to both Liberia and Guinea supporting doctors as part of a team who are bravely battling to contain the deadly disease.
And despite the risk to her own safety, she is returning to Africa to try and save more lives as Gaynor Barnes reports.
A huge haul of potentially lethal cosmetics and electrical equipment has been seized, during an operation by the National Trading Standards eCrime Unit.
Officers based in North Yorkshire intercepted two large shipments of illegal goods bound for the UK.
The items, which came from China and the Far East, are often sold on Internet auction sites and contain unknown ingredients that can cause devastating consequences. Julie Harrison reports.
Advertisement
The world's two remaining Lancaster bombers that can fly have taken to the skies together over Lincolnshire for the first time this lunchtime.
A Lancaster from the Battle of Britain Memorial Flight and another known as Vera, which is usually based in Canada, took off at RAF Coningsby. They are preparing to take part in a number of airshows together in the next six weeks.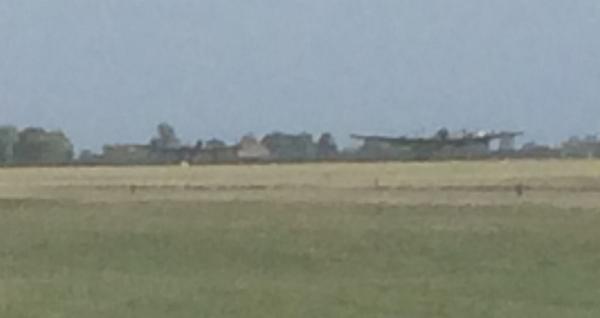 Bradford College is sending unwanted furniture following the closure of the college's McMillian Building to deprived schools in Pakistan.
Dr. Amjad Shaikh from the charity Rehabilitation Response and Jack Doyle from Bradford Rotary Club and 15 colleagues from removal firm, Business Moves Group, were on hand to load the lorry full of furniture.
The furniture which was mostly tables, chairs and drawers is now on its way to Chiniot, a small town in Pakistan.
"The furniture is going to a place that really needs it. When I visited the schools there were thousands of children sat on the floor trying to study. It was deeply upsetting to see the poor standards of their education environment, especially when these children are so keen to learn," said Dr Shaikh.
"We involve local Rotarians here and in Pakistan, so they can ensure that the furniture is not being misused."
With the vast redevelopments currently going on at Bradford College, the closing of their old buildings means over 160 containers have been sent to Pakistan and will continue to be sent over the upcoming months.
"Although we are lucky to be undergoing so many redevelopments at the college, we must remember that schools in these less developed countries have very little and it really is pleasing to know our old furniture is going to good use," said Ian Fox, Project Officer at Bradford College.
Thousands of pounds worth of fake cosmetics, some of them described as unsafe, which are from China and the Far East, have been seized by a North Yorkshire-based crime team.
The National Trading Standards eCrime Team run by North Yorkshire County Council and City of York Council, intercepted two large shipments of illegal goods bound for the UK
Among the goods seized were make-up, nail glue, nail gels, eye shadows, lipsticks, and unsafe UV lamps.
"These goods are not to be sold in the UK due to various pieces of registration on unlabelled goods being sold within this country. We know some of these goods are unsafe," said Sophie Davies of the City of York Council.
Mike Andrews, coordinator of the national eCrime team, said: "The eCrime Team will continue to crack down on companies that use the internet to scam consumers.
"The action we have taken in this case demonstrates that we will not allow potentially unsafe and dangerous products to be sold online.
"We are pleased that we have been able to prevent tens of thousands of these products from being sold on to unsuspecting consumers."
Mr Andrews said one man had been cautioned in connection with the imports.
Advertisement
Last week thousands of people gathered at RAF Coningsby in Lincolnshire hoping to witness a once in a lifetime sight - the last two operational Lancaster Bombers in the world, flying side by side.
Sadly, it was not to be. Bad weather meant that the historic flight had to be postponed
But the crowds did get to see a visiting Canadian Lancaster known as Vera land for a salute to former bomber command veterans.
Despite the disappointment plane spotters are still heading to the base in the hope of catching a glimpse of the bomber.
Al Mickelloff, from the Canadian Warplane Heritage Museum, said he had been disappointed - but it was still a historic occasion:
As the world mourns the passing of comic genius Robin Williams, we have dug into the archives for his 1999 interview for Yorkshire TV's "Tonight" programme with film critic and author Tony Earnshaw.
Williams is being interviewed about the film Jakob the Liar.
The movie is set in 1944 in a ghetto in German-occupied Poland and is based on the book by Jurek Becker about World War II Jewish ghetto life:
Yazidi Kurds living in Sheffield have spoken of their anguish, and fears for family and friends in Northern Iraq.
Hundreds of Yazidis and Christians have been killed by Islamic militants. More than thirty thousand others have been forced to flee towns and villages, to escape. The International community is now intervening, as the death toll rises. Tina Gelder reports.
Police have recovered a knife which is believed to be connected to a stabbing in York.
A 28-year-old man was stabbed on Stuart Road in Acomb in the early hours of Saturday morning. He remains in hospital in a stable condition.
A 39-year-old man was arrested in connection with the attack and has been released on bail
Any witnesses are being asked to contact North Yorkshire Police on 101.
Load more updates