Police investigating the murder of a missing woman have found human remains near Brimham Rocks, in North Yorkshire.
Gemma Simpson was 23 when went missing in Leeds in 2000.
Officers are now working to identify the body. Gemma's family have been informed of the developments.
The rain ruined the airborne reunion of the Lancaster Bombers, but thousands of people still braved the pouring rain to see the arrival of the Canadian Bomber, V-Vera at the end of its three and a half thousand mile journey.
Over the next few weeks it'll take part in a series of events with the Lancaster from the Battle of Britain Memorial Flight.
David Wood reports:
Advertisement
The weather has ruined plans for a historic fly-past of Lancaster planes in Lincolnshire.
The Battle of Britain Memorial Flight will now not take off - but it will meet the Canadian Avro plane on the ground at RAF Coninsgby.
There will still be a flypast of the Canadian plane and the Red Arrows.
RAF Coningsby is gearing up for special visitors today.
A Canadian Lancaster will join the Battle of Britain Memorial Flight over Lincolnshire today.
The Canadian plane will make its way over Scunthorpe just before 1pm, over Hilbadstow at 1pm, where it will be joined by the Battle of Britain Memorial Flight.
They will then fly towards Scampton where they'll be joined by the Red Arrows.
At 1.15pm all will fly over Lincoln Cathedral,
At 1.24pm the Red Arrows will fly over Newark, while the 2 Lancasters will fly over Cranwell.
At 1.28pm the Reds rejoin the Lancaster and BBMF over Tattershall, to fly together over Coningsby.
Thumper waits for Vera. Later today the Lancaster from BBMF will escort the Canadian Lancaster to her spiritual home http://t.co/MNAnxiAeDm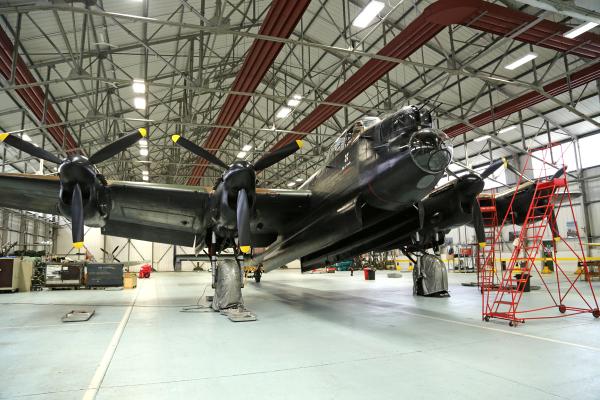 The last remaining airworthy Lancaster bombers will come together today in Lincolnshire.
The Royal Air Force Battle of Britain Memorial Flight, based at RAF Coningsby in Lincolnshire, will join the Canadian Warplane Heritage Museum as they fly their prized Avro Lancaster.
They will all fly over Lincoln Cathedral at lunchtime, before landing at RAF Coningsby.
It will be witnessed by 125 Lancaster veterans, and organisers expect thousands of others to turn out.
Advertisement
A man, 47, arrested on suspicion of making a bomb threat on board a plane has been sectioned under the Mental Health Act.
He was a passenger on board a Qatar Airways flight escorted into Manchester Airport by a Typhoon fighter jet. The airport was shut down while the plane was checked but no device was found.
Following his arrest he was assessed by medical staff and again by a mental health team. He was subsequently sectioned to allow for a fuller assessment and appropriate treatment.
A passenger onboard the plane which had to be escorted into land after a hoax bomb threat, has told ITV Granada Reports that he was 'terrified' when he saw the RAF typhoon jets, and asked himself: 'Is this moment real?'.
Josh Hartley spoke to ITV News after passing through security. He was one of two passengers onboard tweeting pictures and updates from the aircraft.
Another passenger aboard the Qatar Airways flight escorted into Manchester Airport today says children on board were crying amid "rumours there's a bomb on the plane".
Aurang Zeb, 60, returning from a holiday to his home in Bradford, said: "I thought there was something wrong because there was a jet flying so near."
Mr Zeb said the plane landed and was taken to an area well away from the terminal and other planes, where they waited for 45 minutes then moved again closer to the terminal.
"Then I saw all the police with guns. Lots of police everywhere," he added.
Mr Zeb said two armed police then came on and removed the suspect passenger, after sitting him up and telling him: 'Put your hands up'.
Police say the passenger held over an alleged bomb threat hoax on a Qatar Airways plane today is a 47-year-old man from the north-west.
"The incident arose when the pilot received information about a possible device on board the plane having been handed a note from a passenger," Greater Manchester Police said.
A full search of the aircraft had now been completed with nothing suspicious found, the force said.
Police say the man has been arrested on suspicion of making a bomb hoax and remains in custody for questioning.
Load more updates