Advertisement
Heart-breaking footage has been released of a puppy being dumped outside an RSPCA rescue centre.
The abandoned animal can be seen chasing after it's owners, who speed off in their car before being rescued by staff.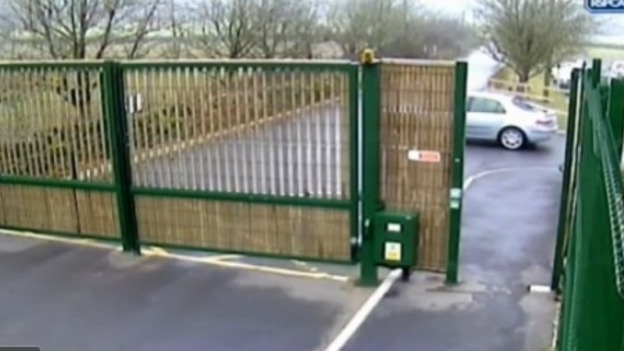 Tinsel was dumped in December last year but has now found a new home.
The video has been released as new figures reveal that around 30,000 animals have been abandoned in England and Wales this year, with more animals abandoned in the West Midlands than anywhere else in the Midlands.
Coventry's Tollbar Island is the worst roadworks blackspot in Britain, according to a study.
Traffic information provider, Inrix, revealed motorists are spending around 30 minutes of every journey stuck in rush-hour traffic, making the ongoing improvements to the A45/A46 junction the most disruptive roadworks in the country.
Some motorists working near Siskin Drive have previously claimed jams have added up to two hours to their journey times, with motorists crawling along at an average speed of ten miles per hour.
The queues are set to continue, as the £106 million development is only 14 months into its three-and-a-half year programme.
Advertisement
Three juveniles have been released on bail after being arrested in connection with a blaze in Lincolnshire.
Thousands of tonnes of straw were alight on Sunday evening next to the A15 south of Sleaford.
Crews were called out and police were forced to close some roads in the area.
The RSPCA has released a list of the most heartbreaking cases of animals that have been abandoned since last winter.
It comes as figures reveal more animals are abandoned in the West Midlands than anywhere else in the Midlands.
The charity is expecting around 140,000 calls in November and December alone, with around 50,000 animals needing help between now and Christmas.
A very ill horse wrapped in an industrial waste bag in an alleyway behind a housing estate.
Ten freezing kittens dumped on a box in the middle of a field.
An elderly dog with tumours the size of apples tied to a railings and abandoned.
A cat dumped in a taped-up washing basket and left inside a wheelie bin by a dual carriageway.
Four degus dumped in a cage behind some bins next to a layby.
Two puppies left to die in a box on a roadside embankment next to a fast food restaurant.
Exotic animals such as geckos, rare tortoises and a boa constrictor dumped in boxes and bins.
A cat tied up, with a plastic bag taped over her head and thrown in a bottle bin, who had been stolen from her owners and callously dumped.
A puppy, who was caught on CCTV being dumped by her owner outside the gates of the RSPCA Birmingham Animal Centre and Hospital. The heartbreaking footage shows the distraught puppy chasing after her owner's car as it sped away.
Stoke-on-Trent's Phil the power Taylor, will be signing copies of his new book later today.
The darts player has won the world championship a record 16 times.
He'll be meeting fans at the Potteries shopping centre from 4 this afternoon.
Load more updates
Back to top