A man has suffered life-threatening injuries after being hit over the head with a brick during a row in a Birmingham street.
The victim, 40, is believed to have been walking to his local shops along Stud Lane, Stechford, when he became involved in an altercation with another man at midday on Saturday.
A witness told police how his attacker "picked up a brick before striking him over the head" and leaving him unconscious in the street.
The victim has been placed in an induced coma in hospital while doctors assess his head injury.
Police said it was a "vicious attack on a local family man", describing it as "an outrageous response to a verbal spat in the street".
The suspect is described as a white male in his early 20s with mousy brown hair, and was wearing a light blue padded jacket, jeans and trainers.
Advertisement
A man received two stab wounds at 3am today on St James Street in Derby.
The man who was stabbed has now been released from hospital but the police are yet to make arrests.
As inquiries continue, the police are urging anyone with information to contact the Derbyshire Constabulary on 101 or Crime Stoppers on 0800555111.
According to the West Midlands Ambulance Service, city centre treatment units are used to help acute hospitals with the number of people drinking alcohol excessively.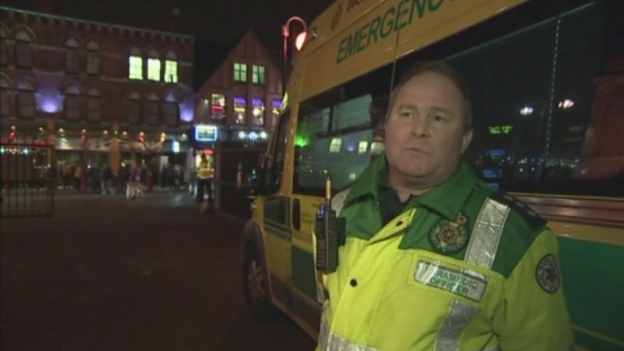 It comes after the West Midlands Ambulance Service had one it's busiest weekends during the festive period.
Yesterday, it received more than 3,000 calls and on Friday night it had nearly 150 call per hour.
Advertisement
West Midlands Ambulance Service has reported one of it's busiest weekends during the festive period - receiving more than 3,000 calls yesterday.
At one point on Friday night, the ambulance service had nearly 150 calls per hour.
To help relieve pressure at Accident & Emergency, a temporary medical unit was set up in Birmingham City Centre to deal with minor injuries or people who had drunk too much.
A special ceremony has taken place in Leicester to mark the Jewish festival of Hanukkah.
Also called the 'festival of lights', the eight-day celebration is marked by lighting a ceremonial candelabra known as menorah.
Last night, members of Leicester's Jewish community gathered at Victoria Park for a ceremony as the large menorah was lit up.
The event has been marked in this way in the city for over 20 years.
Load more updates
Back to top