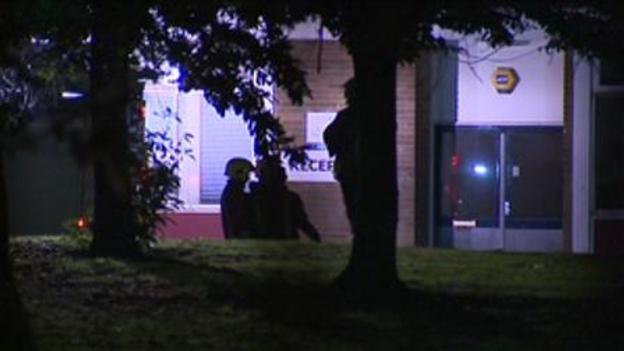 West Midlands Fire Service have reportedly discovered large amounts of asbestos while tackling a blaze at Wednesfield High School.
The cause of the fire at the derelict building on Lakefield Road, Wolverhampton, is still under investigation.
Around 25 firefighters are currently tackling a large fire at a derelict Wednesfield High School building.
There are also five fire engines at the blaze which is on Lakefield Road, Wolverhampton.
It is not yet known what has caused the fire.
Advertisement
Reports of accident on A518 Stafford Road near Sellman Street
Advertisement
Celebrities, MPs and other public figures have been queuing up to comment on Twitter after Leicester City's surprising 5-3 win over Manchester United. Here are a selection of our favourites.
Five people were arrested following disorder before and after the Port Vale v Barnsley match at Vale Park on Saturday, 20 September.
Staffordshire Police officers were called to Market Street at around 1.30pm where they made four arrests for affray and violent disorder.
After the match, a police officer was injured and missiles were thrown at other officers.
A 20-year-old man was arrested after the match for criminal damage and public order offences. He remains in custody while the others were released on bail.
Load more updates
Back to top